'The Bachelorette': Why Hannah Brown Asked Tyler Cameron out for a Drink Instead of Peter Weber
The Bachelor premiere aired the highly anticipated conversation between Peter Weber and Hannah Brown that the show's been teasing for weeks. And it was worth the wait. It was clear that both Brown and Weber still had feelings for each other, but neither of them knew what to do about it. Weber is the bachelor. What could they do about it?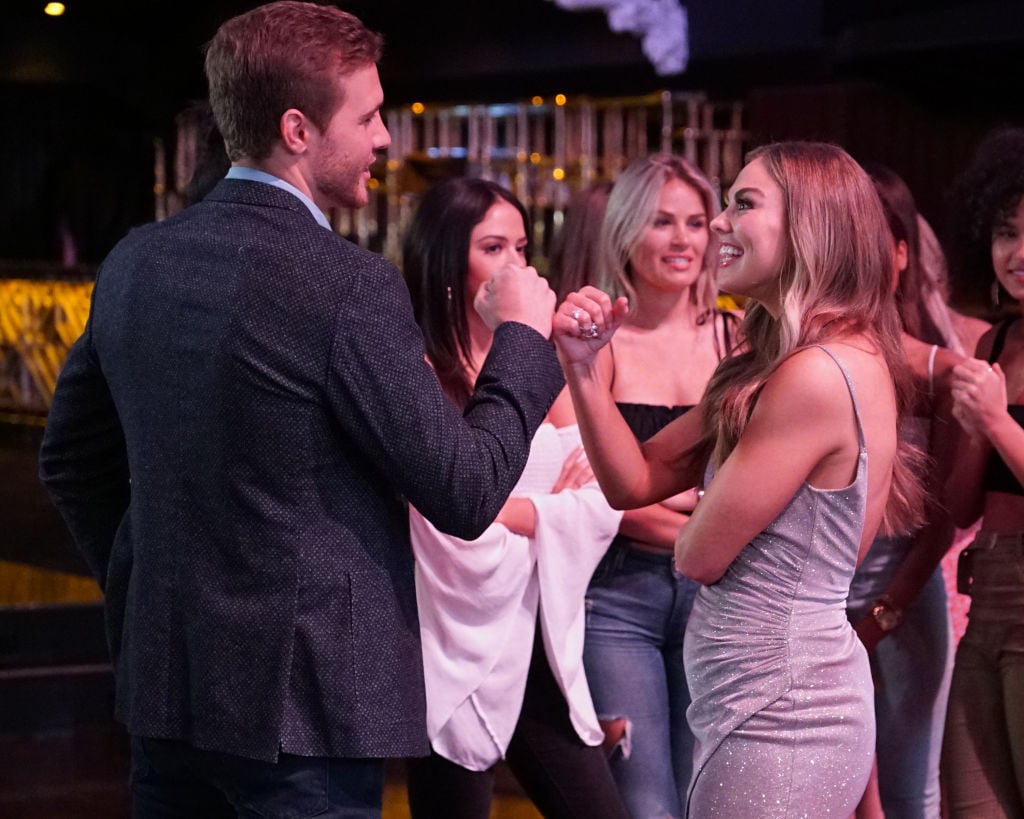 The conversation Peter Weber had with Hannah Brown during 'The Bachelor' premiere
We learned Weber was really hurt by the fact that Brown asked Tyler Cameron out on "After The Final Rose" and not him.
"Why didn't you like–I'm just being honest with you. Watching that next episode that night live and then seeing that happen–and then I was just like 'OK well then for me that's, that was it.' Like, I don't want to be someone's, like, third option. And so then it was just tough cause then I found out that you had moved 20 minutes from where I live and just all this stuff kept happening. I don't know. I feel like I thought that I was not confused but now I don't know. I don't know. What the [expletive] am I doing right now? I don't know what I'm doing," he told her during their emotional conversation.
Then, he asked her to join his season.
"What would you… this is so insane. What would you say if I asked you to come and be part of the house?"
"I mean maybe," Brown replied.
The bachelor asked Brown if she ever regrets sending him home in Greece.
"Yeah, Peter, I question it all the time," she said.
"I felt zero doubt. Even, you know, when you said Jed's name first. So sure that you were calling my name. And then, like, obviously you didn't. But that morning was there still…" Weber trailed off.  
"I mean I told you I had no doubts that you were going to be–It was you and Jed," said Brown. "Well, I don't think I wanted to change my mind about Jed. It was comfortable. I was falling back into the same thing. But like I broke everybody's heart in this and my own through this experience.
Why Hannah Brown asked Tyler Cameron out and not Peter Weber
So why did Brown ask Cameron out for a drink during "After The Final Rose" and not Weber when she felt such a strong connection with him?
Weber says he wanted another shot with Brown after she broke things off with Wyatt.
"I mean I swear to you, I remember I was at my aunt's house watching that live last episode and I was telling my parents, 'If she wants to try this again I am 100% on board.' And it just like, my heart just sank when you, like, asked Tyler out. And I love Tyler and it's nothing against him but I was just like 'Oh, like that hurts,'" he said.
Here's why.  
"Well, he was like reaching out and you didn't say anything. I didn't know where you were. I knew you were upset and dealing with it so I didn't reach out to you and you didn't reach out to me. I didn't know if you just wanted to get past it, wanted to be the bachelor. I mean, I thought you wanted to be the bachelor. And I walked out there–when I saw you, I felt a lot more than I thought I was going to. Like, I didn't think it it would be that much spark, because I knew there was still something there," she said.
Where the episode ended, Brown and Weber seem to be more confused than ever. In the preview we see the two of them cozied up on the couch together sans tears. What conclusion did they reach?
Read more: 'BIP': Hannah Godwin Roasts Dylan Barbour, Calls Him 'So Oily'