'The Bachelorette': Why is Hannah B. Called 'The Beast'?
Before Hannah Brown was The Bachelorette, she was Hannah B. on Colton Underwood's season of The Bachelor. When we first met Hannah B. she was a quirky southern former beauty pageant winner who couldn't make a toast to save her life. As the season progressed, she grew more and more comfortable with herself, and with Colton. Her nerves took a backseat and she started to open up.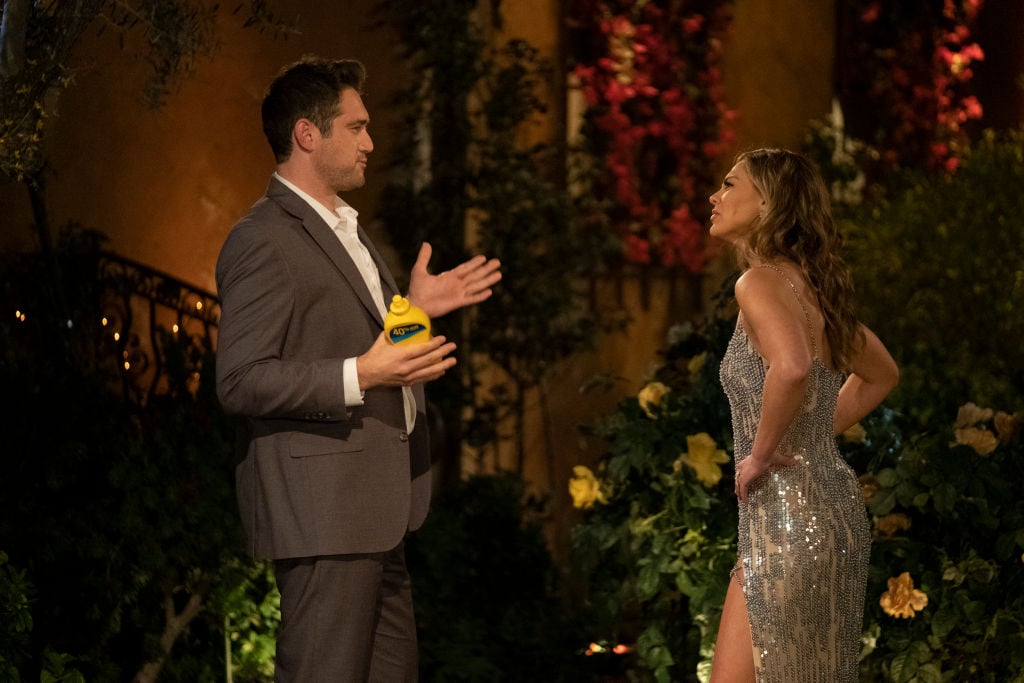 A few episodes into the season, it was revealed that there was some bad blood between Hannah B. and contestant Caelynn Miller-Keyes from their beauty pageant days. The two were close, they even lived together for a time, and then, all of a sudden, their relationship went south.

Their relationship was a big plot point during Colton's season, and it's what first introduced us to Hannah Beast.

Why is Hannah B. called Hannah Beast?

It all started during the first pool party that took place during Colton's season. The Hannah B./Caelynn drama had surfaced and Colton used the pool party as an opportunity to try to get to the bottom of the feud.

Hannah B. saw Colton and Caelynn walk by, holding hands, flirting, and told contestant Heather Martin:

"If Caelynn's talking crap about me she better beware. There's a beautiful monster inside of me and I'm about to let it out. Inside there is a tank of range and it is full. I'm full. And the beast is 'bout to come out."

Cue: the famous Hannah Beast demonic growl.

In Caelynn's conversation with Colton, she told him her side of the story.

"We were really close and then I noticed when I was getting more attention in terms of Miss USA stuff is when she started to get in her head. I was first runner up at Miss USA, but she didn't place, and in that moment she started to talk s*** and started to do things. It was like manipulation, deceitfulness, and talking not kind things about me. It's just such a pattern of behavior and I've noticed it in the house, too, where she kind of spirals whenever I have the slightest bit of success, which I hate," Caelynn told Colton.

Colton, of course, went to Hannah B. and told her that Caelynn brought her character into question.

When Hannah B. told him that her allegations weren't true he asked her why she'd make them up.
"Becaus she's manipulative and fake. She can put on a show of whatever Caelynn wants to be for whatever goals in mind. She's not showing all of who she is when she's with you," replied Hannah B.

And there you have it, the birth of Hannah Beast. The claws first came out because another contestant brought her character into question and the nickname stuck.

It's why her first impression rose winner, Luke P., growled when he first entered the mansion.

Are Hannah B. and Caelynn friends now?

After the "Women Tell All" episode of Colton's season, Hannah B. was asked by ET if she thinks Caelynn is a genuine person.
After taking a minute to laugh and compose herself she replied:
"I think that Caelynn has done a lot of great things in her life and has gone through things that I can't even imagine and has really done a lot of great things during her time at The Bachelor and has really inspired a lot of people. And I commend her for that, but after our relationship ended I can't really speak about anything other than that."
So let that be a lesson to all: Do not bring Hannah B.'s character into question or she'll unleash The Beast and blacklist you for life.
Read more: 'The Bachelor': What The Contestants Eat At The Mansion
Check out The Cheat Sheet on Facebook!