'The Bachelorette's' Chad Johnson Posted Problematic Instagram Post That Warranted Welfare Check by Police
Chad Johnson is one of Bachelor Nation's most controversial contestants. Now, after Johnson posted a problematic image, the police did a welfare check.
Chad Johnson is the outspoken TV personality that has found himself at the center of controversy throughout his stints on The Bachelorette, Bachelor in Paradise, Famously Single and Celebrity Big Brother and Ex on the Beach. Over the weekend, Johnson made headlines again after posting a disturbing image to his Instagram stories feature, leading police to do a welfare check to ease loved ones' concerns. Here's what we know.
Chad Johnson's arrest may have triggered something bigger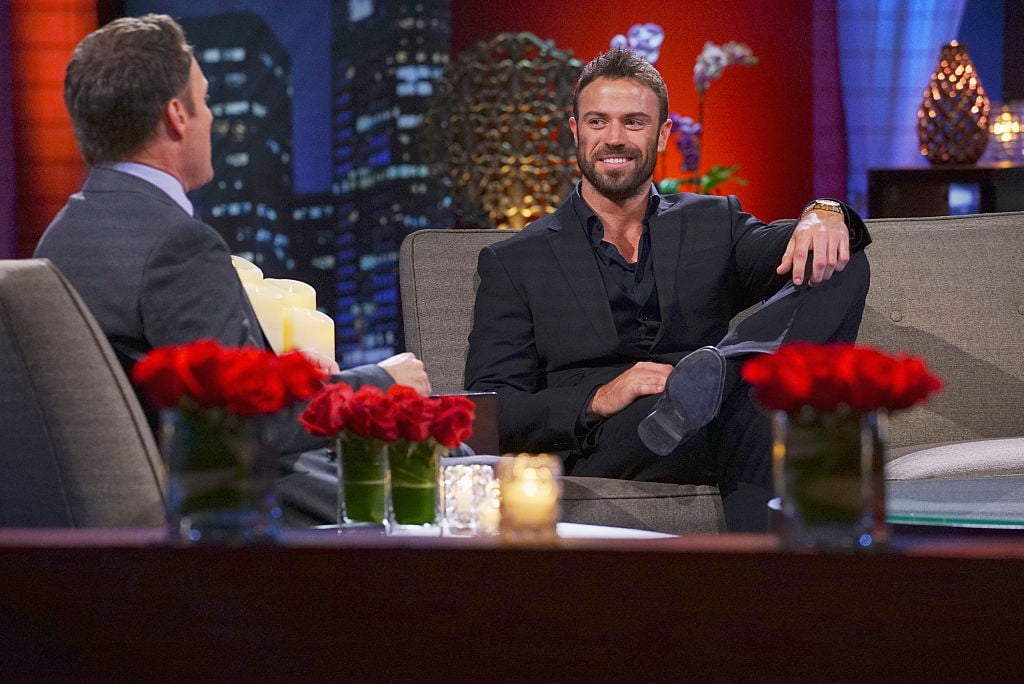 According to TMZ, Chad Johnson, was cut from "Battle of the Bachelors" boxing match after Johnson's arrest. He's facing felony domestic violence and robbery charges.
The arrest stems from an argument between Johnson and his girlfriend, Annalise Mishler. She claimed the argument became physical, adding Johnson stole her phone during the altercation.
Police found "visible red marks" on Mishler's face and booked Johnson. Mishler posted videos of a confrontation after he allegedly punched a hole in the wall.
Reality Steve captured the videos that have since been deleted from Mishler's stories. According to Los Angeles County Sheriff's Department records via Page Six, Johnson was taken to the Valley Jail in Van Nuys, California. Bail was set at $100,000.
What sparked a police welfare check on Johnson?
E! News confirmed that police conducted a welfare check on Johnson at the request of an unnamed friend who contacted police after seeing Johnson's post to his Instagram stories feature. The image of a rope tied to a door with the caption, "it'll be okay," has been deleted.
The photo in question was enough to spark fears of possible suicide. The Los Angeles Police Department revealed to TMZ they received a call to check on Johnson at 11 a.m. PST on Friday, Feb. 28.
After the welfare check, authorities determined "he was not a threat to himself or others." 
Here's what Johnson says about the situation
There hasn't been an official comment in regards to the welfare check as of yet. Johnson posted an apology video to explain the events of his arrest. The reality TV star said his actions came as a result of a relapse in his sobriety.
"I made a promise to myself and my girlfriend that I wouldn't [drink] anymore, and as most of you know, that has been an issue in my life. Whenever I do drink, I don't act right," he said. 
He took responsibility in part but denies physical violence. Johnson feels "100 percent confident" those charges will be dropped.
"I have never laid hands on a woman any time in my entire life," he said, adding that he "was in the Marine Corps and was taught core values." That aside, he has "a sister," and considers himself a "very overprotective brother."
He continued: If she ever felt in danger, I would want her to call. If any women out there ever feel like they are in any danger, I urge you to call 911."
He returns to court next month.
How to get help: In the U.S., call the National Suicide Prevention Lifeline at 1-800-273-8255. Or text HOME to 741-741 to connect with a trained crisis counselor at the free Crisis Text Line.