'The Bachelorette's Hannah Brown Details Her February 2020 Hookup With Peter Weber
Hannah Brown opens up about her February 2020 hookup with Peter Weber on the 'Ben and Ashley I. Almost Famous' podcast.
Hannah Brown and Peter Weber shared a strong connection during her season of The Bachelorette. The two will go down in Bachelor Nation history for their intimate night in a windmill. Ultimately, Brown ended up with Jed Wyatt at the end of her season, but her feelings for Weber remained. 
Brown later appeared at the beginning of Weber's season of The Bachelor, causing an uproar among the women vying for his heart. Surprisingly, Brown had nothing to do with the drama between Weber, Hannah Ann Sluss, and Madison Prewitt in the aftermath of his season. But Brown and Weber did reconnect after his breakup with Sluss. Now, she's detailing the night she and Weber hooked up.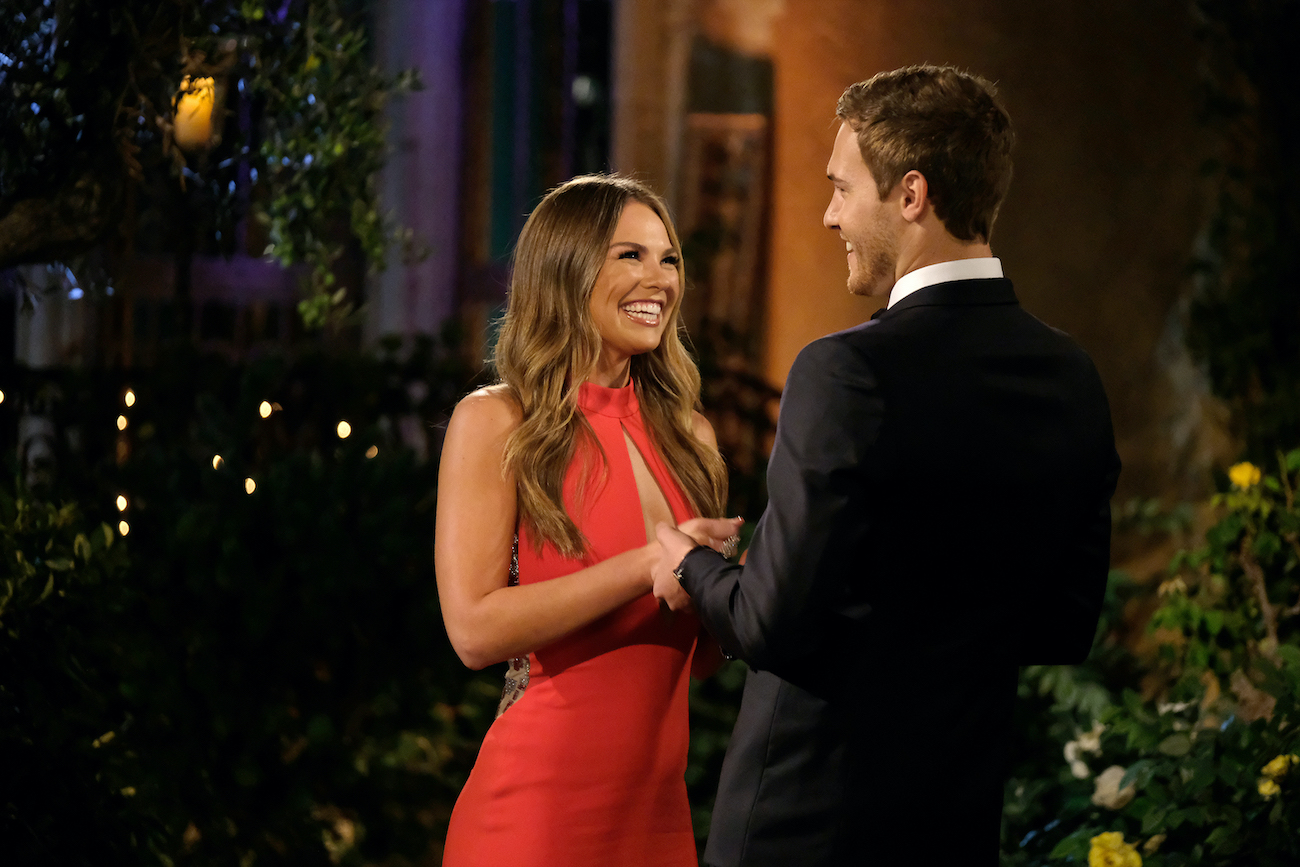 Bachelor Nation stars reconnect at Dylan Barbour and Hannah Godwin's engagement party
Brown was a guest on the Ben and Ashley I Almost Famous podcast. During her conversation, Brown opened up about her relationship with Weber after his season of The Bachelor. Brown said she kept it touch with Weber, but it was "nothing crossing the line…it was just supporting him." 
"It was weird and I wasn't really happy about being part of all that," Brown said of her involvement in Weber's season. The two reconnected for the first time in person at Dylan Barbour and Hannah Godwin's engagement party. They talked about their experience on the show — a conversation that lasted late into the night and eventually moved to the Weber household. 
'The Bachelorette' Hannah Brown stayed up talking with Peter Weber's mom
Initially, Brown didn't think anything of her conversation with Weber. "We're just catching up, that's what it felt like," she said on the podcast. When they got to Weber's house, Brown discovered Weber's mother Barb was still awake. 
"I ended up being in the living room with Barb for like two and a half hours," she detailed. "Peter goes upstairs and leaves me down there and I'm like, 'What do I do at this point? I don't have a ride home.' It's some ungodly hour." 
Barb offered to make Brown a bed since The Bachelor star had already gone to sleep. Brown said she wasn't in the "best emotional place" at the time, so she stayed in Weber's brother's room that night. 
Peter Weber asked Hannah Brown to 'cuddle' the night they hooked up 
After Brown settled into Weber's brother's room, he texted her. "He said, 'Come cuddle,'" Brown said, continuing:
"There's obviously still some chemistry and I'm like at this point, 'None of these guys love me.' I wanted that so bad because I made mainly poor decisions for myself. I went in there and I remember knowing, 'This is such a bad idea. I don't need to be here.' We ended up hooking up and I remember being like, 'What did I just do? This is not good for anybody.'" 
Brown said she was confused about the whole thing. "He hands me money to get in the Uber and that was when I was … kind of done after that. I didn't feel the chemistry." 
Weber later texted Brown: "So good to see you, bud. Glad we have each other." The next day, Weber allegedly called Brown to talk about how he still had feelings for Prewitt. 
Today, Brown is in a relationship with Adam Woolard, a public relations director and model. The couple started dating in January 2021.