'The Bachelorlette' Fans Have Changed Their Tune About Tyler Cameron and Hannah Brown
When the most recent season of The Bachelorette ended, it seemed everyone wanted Hannah Brown and Tyler Cameron to get back together. Fans of the show anxiously awaited news of a reconciliation, but it never came to fruition. Brown has since gone on to perform on ABC's Dancing with the Stars, and Cameron recently left a supportive comment on her Instagram post. Instead of being happy about Cameron's support, some fans of The Bachelorette had the opposite reaction.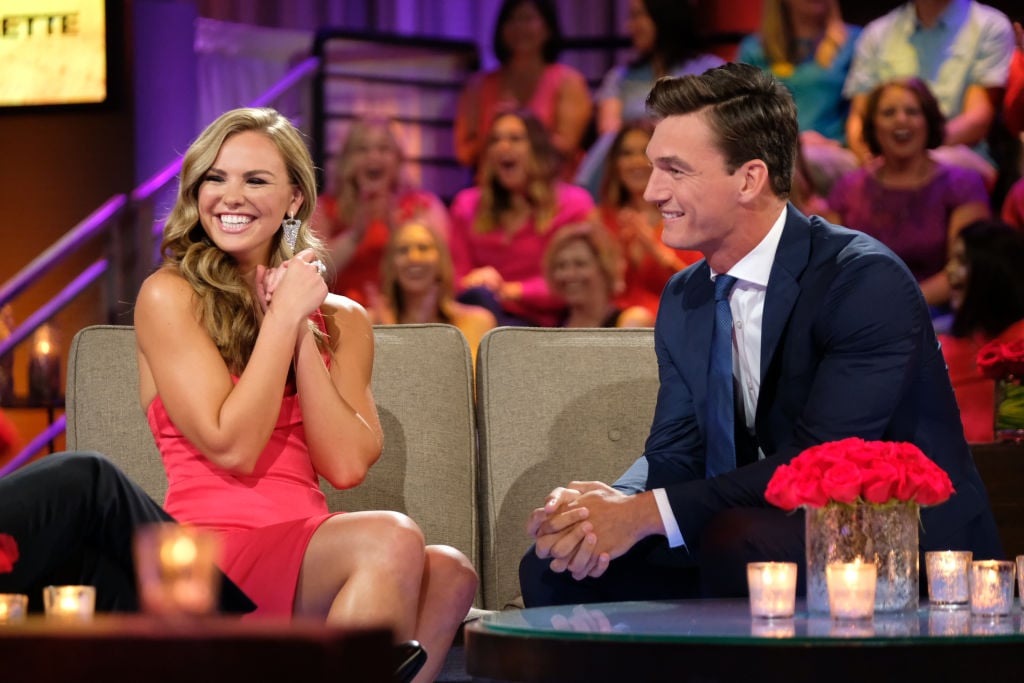 Tyler Cameron commented on Hannah Brown's Instagram post
After a tough week on Dancing with the Stars, Brown wrote an emotional post on Instagram.
"This experience has been harder than I could have ever imagined. When I decided to do DWTS I thought it would be a fun way to channel all my energy after a whirlwind experience as the Bachelorette," Brown wrote in the post. "I came into this experience a little broken and confused—more than I've shared. Everyday has brought its challenges with my past, my fears, and the uncomfortableness of opening myself up again to be judged on something VERY scary like learning a new skill to perform each week."
She continued, "Last night was really defeating for me and a lot of suppressed emotions started to surface from this amazing, but grueling experience."
After Brown posted on Instagram, several Bachelor alums commented their support. Cameron was one of those people.
"Fall down 7 times, get up 8! You got this HB. Be where your feet are and enjoy the ride. You're doing amazing," Cameron commented.
Some fans want Tyler Cameron to leave Hannah Brown alone
After Cameron commented on Brown's post, headlines appeared swooning over Cameron's support. However, not every headline was positive. In fact, one daring article in Cosmopolitan asked for Cameron to leave Brown alone.
Emily Tannenbaum wrote in Cosmopolitan, "Supportive bae is his whole brand, but it's getting to be a bit exhausting. His posts are beginning to feel less like a way to uplift his friend and more of a cry for attention. Like, 'Hey, remember me, world? It's your Internet boyfriend! I'm still here!'"
Some fans of The Bachelorette seem to agree with Tannenbaum's interpretation.
"I couldn't agree more. I don't feel it's genuine. I feel it's all for tabloids," one fan tweeted.
"This!! @TylerJCameron3 leave her alone! If you did not text her privately with your support then it's all for clout," another fan wrote on Twitter.
Hannah Brown is focusing on herself right now
In October 2019, Brown appeared on The Ellen DeGeneres Show with guest host Justin Hartley. Hartley asked Brown about where things stood between her and Cameron.
"You know, I have been so busy and I think he's been so busy. Um, wish him well, and I'm just focusing on me right now," she said.
Even though Cameron seems to be single after his breakup with Gigi Hadid, it does not seem like Brown wants to reunite. A few days after Brown's appearance on The Ellen DeGeneres Show, Brown appeared in a YouTube video for ELLE. In the video segment, a fan asked Brown if it was okay to continue being friends with an ex.
"I think you can support each other," Brown said. "But as far as being 'besties who text' I don't think that's going to be helpful for anybody involved."