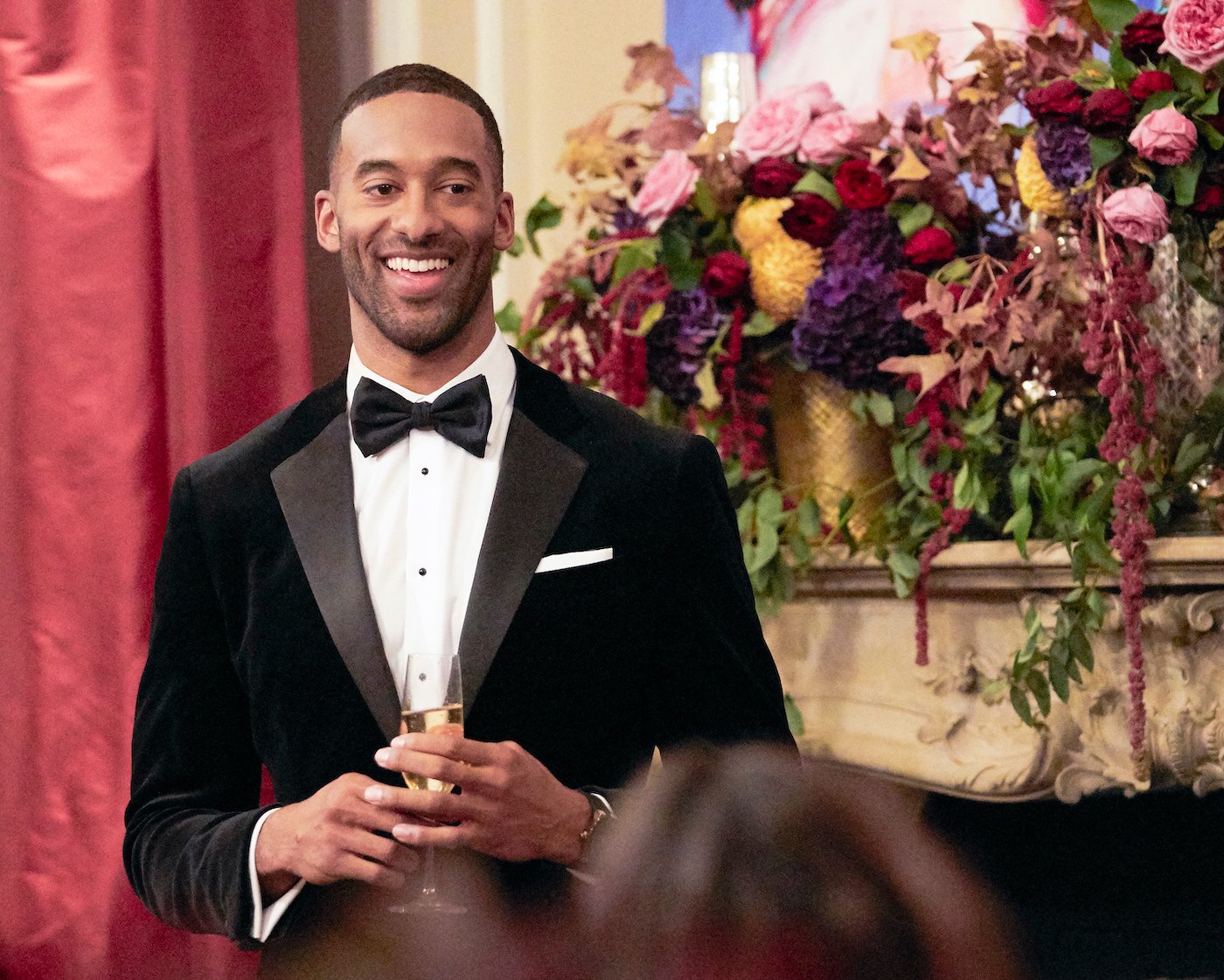 Exclusives / Thanks, I Hate It
The Bachelor's Matt James Jokes His 'Golden Bachelor' Mom Will 'Hate Him' for Revealing Thanksgiving Secret [Exclusive]
Matt James from 'The Bachelor' says his mom's oatmeal chocolate chip cookies are 'fire' but other dishes, not so much.
Many people look forward to mom's home-cooked Thanksgiving diner – well, most people. But The Bachelor's Matt James admitted that his mom, Golden Bachelor hopeful Patty James, isn't the best cook in the world.
"My mom's going to hate me when she hears this, but – how do I say this – my mom isn't the best cook out there," he dished with Showbiz Cheat Sheet.
"There's things that my mom has that she's wonderful with, but cooking isn't one of them. So there really isn't much I miss of hers besides her oatmeal chocolate chip cookies," he added.
"Her oatmeal chocolate chip cookies are fire. They're out of a bag but the way she does it, she finesses them in a way that's out of this world. But if you ask my mom, she'd give you six recipes that she'd love to make for you. But for me, I'm going home for those oatmeal chocolate chip cookies."
Peggy briefly appeared on the first Golden Bachelor and left after the first episode. When she didn't make the cut during the rose ceremony she chalked it up to fate. "It wasn't meant to be," she shared on Instagram. "God has [a] plan for me (and you)."
Matt James says 'Thanksgiving lasagna' is always on the menu
While Peggy will likely make her famous oatmeal chocolate chip cookies, Matt says his aunts do more of the heavier lifting.
"Her sisters put together a mean lasagna so over the holidays, we'll do like a Thanksgiving lasagna so I look forward to that," Matt said. "Like you don't have to make your traditional Thanksgiving food on Thanksgiving – which might be a hot take – but I love when there's something contrary on the menu."
This year Matt may be contributing his own dish to the menu: a mashed potato dish he created with Lay's. He opened up about how he designed his signature dish.
"Well, it was simple," he said about how he created the dish. "I looked at my favorite thing to eat around the holiday, something that's complimentary to other dishes that I enjoy and it's mashed potatoes. Mashed potatoes make their way into every component of my holiday eating whether I'm dipping something in my mashed potatoes, whether I'm pouring gravy into my mashed potatoes, I wanted to put together a dish that somebody who is going to a Friendsgiving or someone who is cooking for the first time might not be comfortable in the kitchen or with that type of assignment can get behind."
How to make Matt's Lay's mashed potatoes recipe
Matt revealed his secret to the recipe. "So what better way to do it than using potato chips – think about it," he said. "They're going to be explaining to people – I tell them they should work in reverse: you serve the dish and then explain it after because people are going to enjoy the heck out of their dish like 'how did you make these? What's in these?' And then you tell them how you made it and what's in it. And then – Boom. That's how it takes off."
"The key though is that – and I don't think people understand – these are real mashed potatoes we're talking about," he explained.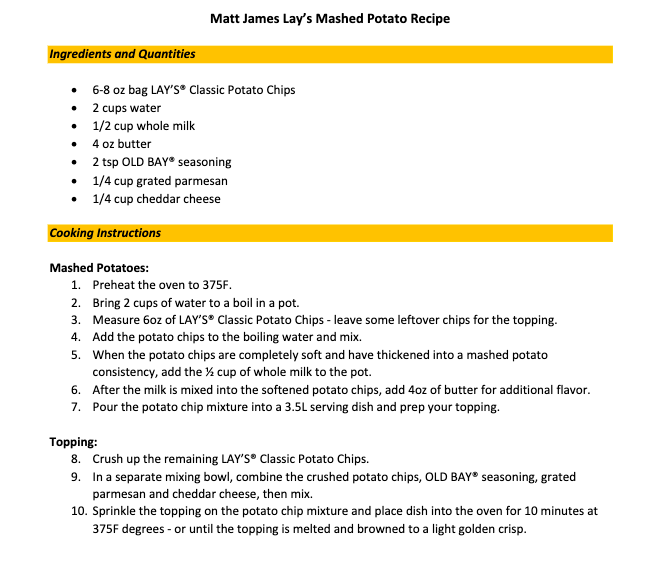 "And that's why it works," he said. "You're boiling down a real potato into its raw form which is pretty amazing. And when I saw it for the first time, I was in shock. I'm like how can this be? This isn't real. This is witchcraft, which sorcery is this? I had to try it myself and it worked for me."
"People are going to enjoy the heck out of this because it was fun watching it in real time and I felt like I was a kid again," he said.
"Like it made me feel like – I'm dating myself – but we used to have book fairs and people would buy science kits at the book fair and you could go home and do these experimental things and this is like being able to do that again. It's just bringing joy back into the kitchen and you should want to have fun and be joyful when you're creating something like this and if it's not, you should reassess why you're doing it and who you're doing it for."
Girlfriend Rachael Kirkconnell and Matt James will celebrate 'Friendsgiving'
Matt plans to keep the Thanksgiving party going and will join his girlfriend Rachael Kirkconnell and her friends for Friendsgiving.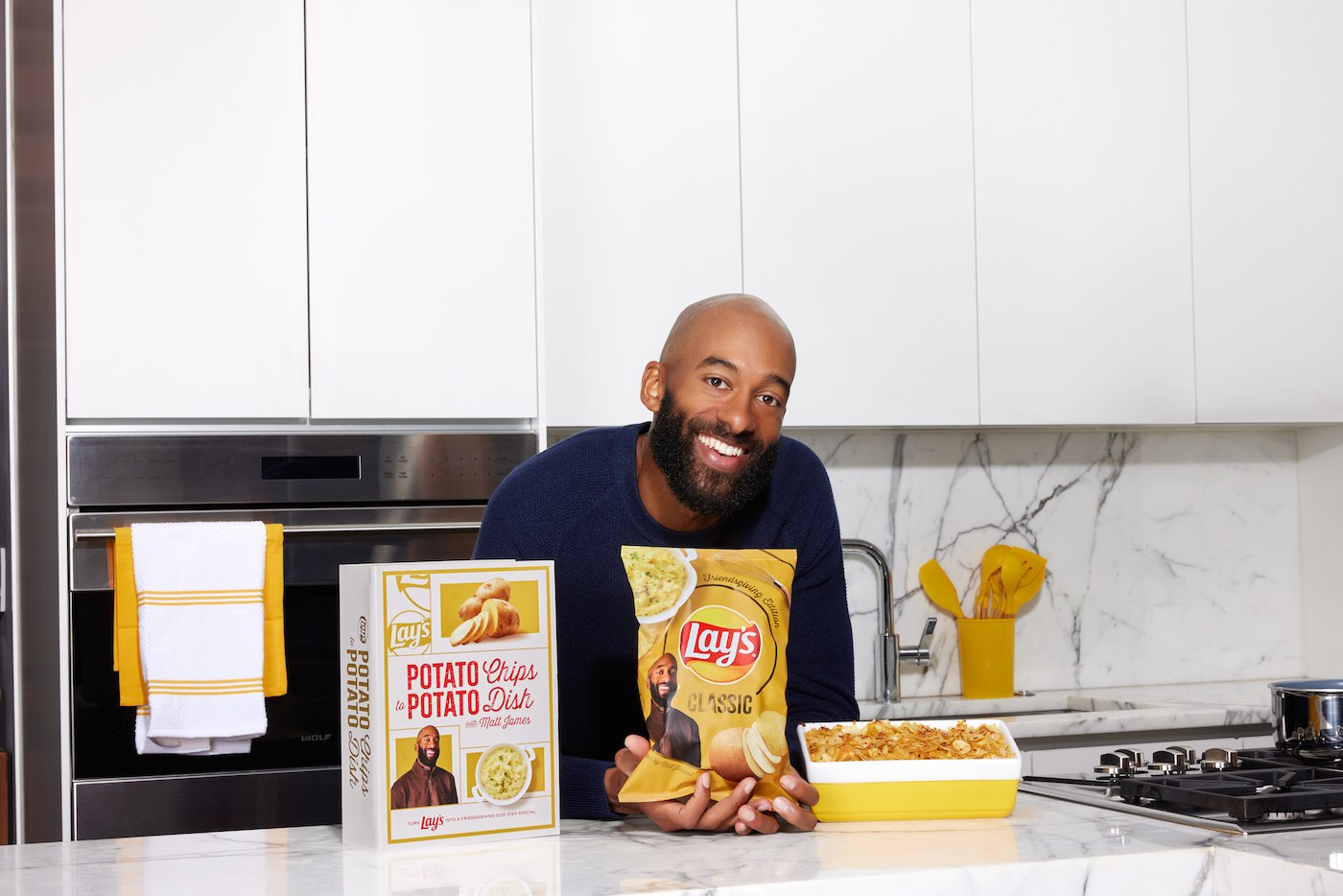 "It'll probably be Rachel's friends," he said who will plan Friendsgiving. "I feel like they do a better job of gathering and planning. If my friends were in charge of it, it would be so unorganized, and everyone would just end up buying stuff so it'd be like a catered dinner or lunch which isn't any fun. Friendsgiving gives you the chance to show off something you're proud of and this is something a lot of people would be proud of."
Matt also has a way to win a special Friendsgiving kit, compliments of Lays.
"So what's in the Friendsgiving kit is an honorary custom bag of Lay's potato chips that have my face on them so I've been hyping it up to everybody because who doesn't want a bag of potato chips with your friend's face on them?" he joked. "The recipe for the mashed potatoes is also included in the kit, and then to enter for a chance to win a kit of your own, go on social and check out my Instagram page which includes a collab post with Lay's. To enter you can 'like' the post, follow myself and Lay's on Instagram and comment with a potato emoji using the hashtags #LaysMashedPotatoes #Sweepstakes. It's going to be a lot of fun."
Through today, can win an exclusive "Potato Chip to Potato Dish with Matt James" kit for their very own Friendsgiving by following Lay's and Matt James on Instagram, liking the launch post, commenting with a potato emoji, and using the hashtags #LaysMashedPotatoes #Sweepstakes. Fans can also win by following these same steps on X. For more information and official rules, see here.