The Beatles Album George Harrison Said Was a 'Full-Fledged Pothead' Record
When The Beatles broke onto the scene in England, the band couldn't have sounded more innocent. "Love Me Do," the group's first song to chart in the UK, featured lyrics about loving someone and always staying true. In 1962, that sounded about right coming from the clean-cut Fab Four.
Not long after, the band was passing through New York following its 1964 "invasion" courtesy of "I Want to Hold Your Hand" and similar tracks. While laying low in their Manhattan hotel one night that summer, the lads from Liverpool met Bob Dylan and smoked marijuana for the first time.
The following year, it was hard to ignore how the songwriting of John Lennon, Paul McCartney, and George Harrison had changed. Instead of "She Loves You," you heard John pleading for "Help" and Paul "Looking Through You."
By the time they released Rubber Soul in late '65, fans were listening to an entirely different band, and it was no coincidence. George called the album was "the first one where we were fully-fledged potheads."
On 'Nowhere Man' and 'Girl,' John wasn't hiding the influence of weed.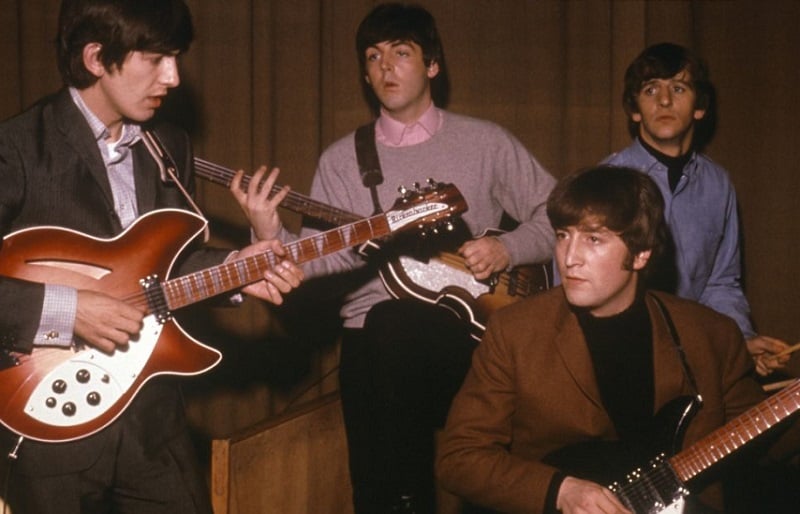 With a track like "Nowhere Man," John was delving deep into psychedelia. The song's character "has no point of view" and "knows not where he's going to," but "isn't he a bit like you and me?" John called this songwriting period his Dylan phase, but he also called Rubber Soul "the pot album."
On "Girl," another brilliant Lennon track from the album, John had several tricks up his sleeve. The first was the heavy breathing, which has been interpreted as a reference to smoking weed or a bit of sexual innuendo.
But John wasn't finished there. In the backing vocal tracks of the middle section, he and Paul sang "tit tit tit tit" simply because they thought it was funny. (Producer George Martin thought they were singing "dit dit dit" in the vein of "la la la.")
But the influence of marijuana definitely didn't end there. George's explorations on the sitar and other tracks by the band's three songwriters reflected a completely new way of thinking.
The Beatles' pothead album had all kinds of surprises.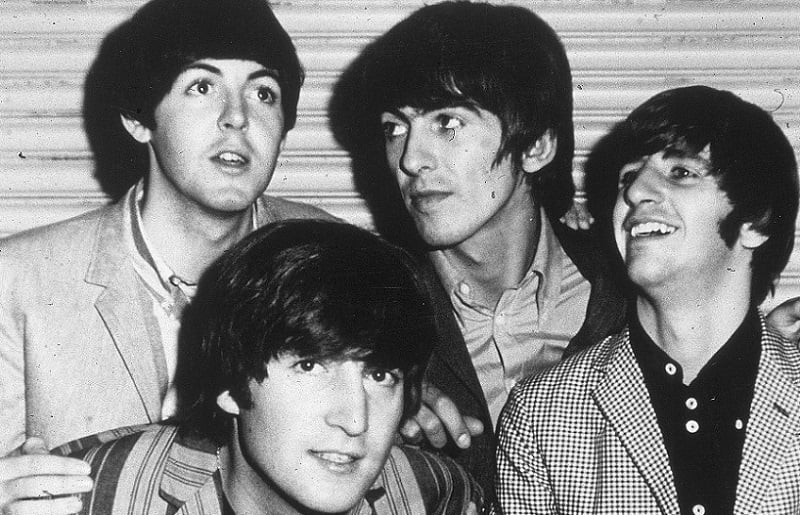 Along with the joking-around and the introspection, The Beatles were trying out different styles. George had already begun his work on the sitar and played a respectable part on the instrument on John's clever "Norwegian Wood."
Then there was "The Word," John and Paul's collaboration that anticipated the hippie movement that would come a few years later. Before his death, John spoke about the band's frame of mind while recording that track.
"You read the words, it's all about getting smart," John told Playboy's David Sheff. "It's the marijuana period. It's a love and peace thing. The word is 'love,' right?" After they'd finished writing it, Paul told his biographer he and John smoked pot and drew up a colored lyric sheet.
Other tracks showcased the folk-rock influences of bands like The Byrds. When listening to George's "If I Needed Someone," it's easy to imagine him writing "My Sweet Lord" and other classics that were to come. It all started with the Beatles' "pot album," Rubber Soul.
Also see: The 'Abbey Road' Song John Lennon Called 1 of His All-time Favorites