'The Beatles: Get Back': Everything We Learned From John Lennon and Paul McCartney's Secret Conversation
In Part 2 of Peter Jackson's 'The Beatles: Get Back,' John Lennon and Paul McCartney had a private conversation that was secretly recorded.
We felt a part of The Beatles for about eight hours while watching Peter Jackson's three-part documentary, The Beatles: Get Back. Or at least a fly on the wall, watching as all the collaborations and drama unfolded. During one pivotal moment, though, there really was a fly on the wall, or in this case, a small microphone hidden in a flowerpot. We're talking about that private conversation between John Lennon and Paul McCartney that wasn't so private in Part 2.
Michael Lindsay-Hogg, the director of Let It Be, stuck a small microphone in the flowerpot on the table in the cafeteria at Twickenham Studios. He managed to get one of the most revealing conversations Beatles fans have ever heard between the songwriting duo. Here's all we learned from John and Paul's conversation.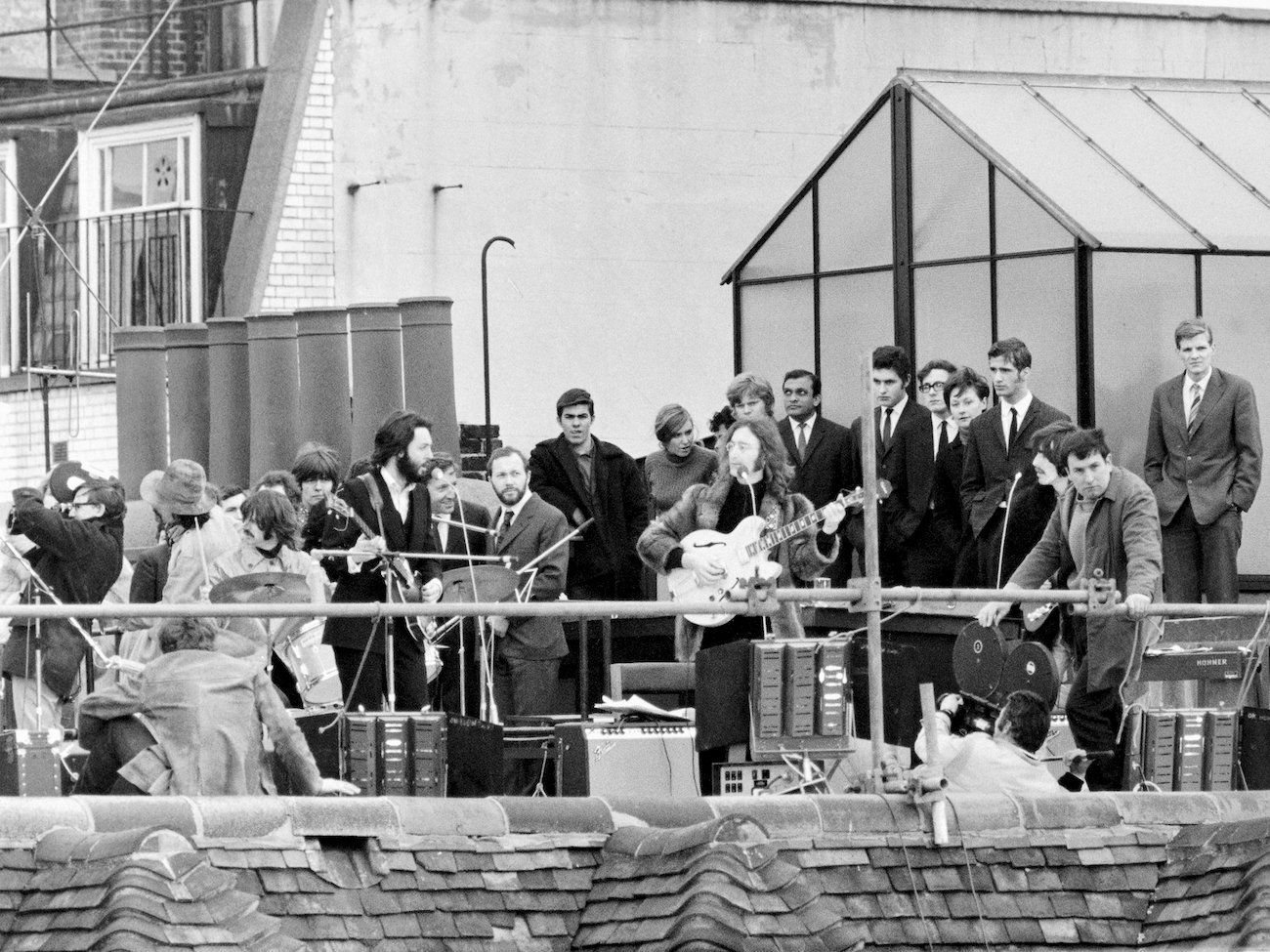 John Lennon sided with George Harrison
Following the events of Part 1, things were not going well for The Beatles. George Harrison had unexpectedly quit, and the band's fate was hanging in the balance. Things got chaotic after that. The rest of the group proceeded to run through some of the songs they had been working on like they were Nirvana, Paul swung on the scaffolding, and Yoko Ono gave us a lovely wailing.
The next day, Ringo was the first to show up at Twickenham Studios, then Paul. John briefly went M.I.A. and wasn't answering his phone. Eventually, John showed up, and he requested to talk to Paul. They went into the cafeteria, where Lindsay-Hogg had strategically placed the microphone.
Paul asked where George was, and John replied, "Well, he doesn't want to be here." John explained that George would go home, and so was he. "I'm gonna go home to record in the studio rather than go through this with anybody," John said. "It's like George said, he didn't get enough satisfaction anymore because of the compromise he had to make to be together."
"It's a festering wound that we've allowed to… and yesterday we allowed it to go even deeper, and we didn't give him any bandages." Paul tried to explain what he was trying to say to George, but John interjected with the painful truth.
"You see, the point is now, we both do that to George this time, and because of the build-up to it…," John said. "Yeah, we treat him a bit like that. See, because he knows what we're on about. But I do think that he's right," Paul interjected. "That's why I think we've got the problem now, the four of us. You go one way, George one way, and me another."
John said that Paul's bossiness stemmed from a fear that George wouldn't play as Paul expected. "And that's what we do, and that's what you do to me. And I'm not going to tell you what to play."
John shared his regret
What came next likely shocked a couple of fans. John revealed that one of his biggest regrets was letting Paul take some of their past numbers to a place he disagreed with.
"Now, the only regret about the past numbers is when, because I've been so frightened, I've allowed you to take it somewhere where I didn't want. And then, that my only chance was to let George take over, or interest George in it," John explained.
"If you give me your suggestions, let me reject them and pinch the one I like is where my writing side is," he continued. "Same goes for the arranging 'cause there was a period where none of us could actually say anything about your arrangements 'cause you would reject it all.
"A lot of the times you were right – and a lot of the times you were wrong… I don't think The Beatles revolve around the four people. It might be a f***in' job," John explained.
Then, Paul gave John the ugly truth as well.
Paul McCartney said that John was 'the boss' of The Beatles
Paul interjected with his opinion next, and it was equally as shocking as John's. "I'll tell you what. What I think… the main thing is this: You have always been boss. Now, I've been sort of secondary boss." John interjected with, "Not always." Paul replied, "No, listen. Listen. No, always."
"Really, I mean it is gonna be much better if we can actually just stick together and say, 'Look George, on 'I've Got A Feeling,' I want you to do it exactly like I play it.' And he'll say, 'I'm not you, and I can't do it exactly like you do it,'" Paul explained.
"But this year, this year what you've been doing and what everybody's been doing… I've not only felt guilty about the way we're all guilty about our relationship to each other because we could do more," John said. "And look, I'm not putting any blame on you. I've suddenly realized this because that was my game, but me goals, they're still the same. Self-preservation. I know what I like. I've let you do what you want and George too. If we want him, if we do want him, I can go along with that because the policy has kept us together."
Paul said he assumed George was coming back. If he didn't, then it was a new problem. "And probably when we're all very old, we'll all agree with each other, and we'll all sing together," Paul said in his closing remarks. John and Paul left their private meeting to meet with George again. Thankfully, The Beatles' second meeting went better than the first.
Still, this was one of the most shocking moments in the whole documentary. Now, we've been given a window into how Paul and John discussed things with one another. We know what their views were at the time. We know a little more about the cracks forming in the biggest band in the world. It's like John said; they all had egos.