'The Beatles: Get Back' Shows George Harrison Reject John Lennon and Paul McCartney's Big Idea
'The Beatles: Get Back' director Peter Jackson shared some of the moment he found restoring the 'Let It Be' footage. In one, Jackson says George Harrison shut down a big idea John Lennon and Paul McCartney were formulating.
The Beatles: Get Back will show The Beatles like fans have never seen them before. Director Peter Jackson pored over all the footage captured for the film Let It Be and assembled previously unreleased footage into a new three part series. Jackson promised many surprises for Beatles fans, including one moment where George Harrison put his foot down with John Lennon and Paul McCartney.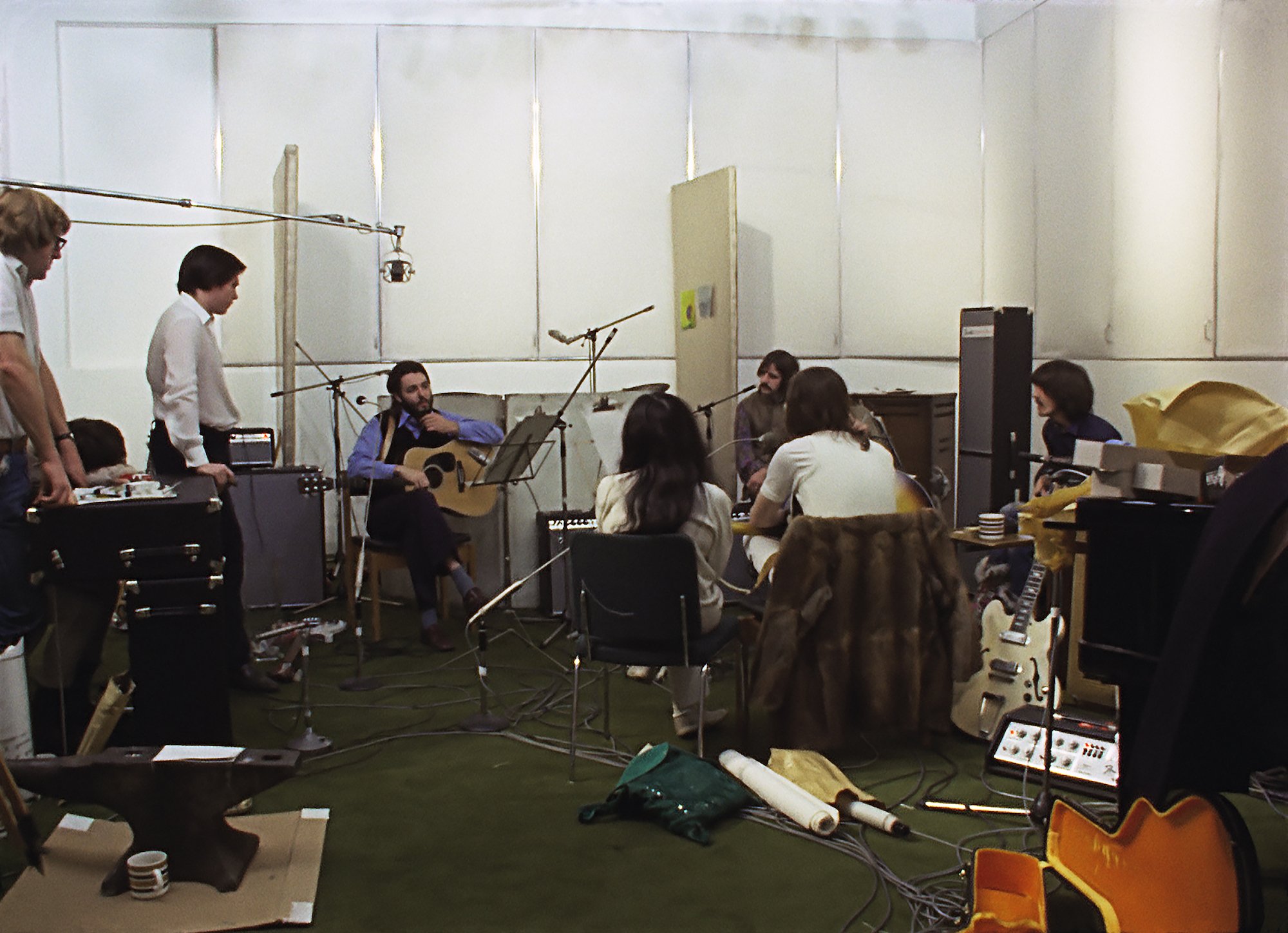 Jackson spoke about The Beatles: Get Back in a Zoom press conference on Nov. 16. New parts in the series premiere Nov. 25, 26 and 27 on Disney+.
George Harrison was the voice of reason in The Beatles 
The personalities of each of The Beatles came through to Jackson as he reviewed the footage. He found Harrison to be the voice of reason. 
"George, I love," Jackson said. "One, he's the pragmatic one which everyone needs that."
The Beatles: Get Back shows the band discussing their final concert in the theater ruins in Libya. That concert might have been even more elaborate if Lennon and McCartney had gotten their way. Apparently, Ringo Starr stayed out of it.
"There's this thing where they go to Libya to do a concert in the empty theater," Jackson said. "They realize that in Libya, John's thinking as the sun comes up, we can play the middle 8. They're all going wow, wow. Paul and John are having this romantic notion. They realize hang on, that means the audience are going to be Arabs. They won't be able to understand us, they're not Beatles fans. Okay, we'll bring all the audience from England. We'll hire the QE2, we'll bring them here, we'll go to Libya, we'll bring over audience on the QE2."
George Harrison vetoed shipping Beatles fans to Libya
Harrison wasn't shy to let Lennon and McCartney know how he felt. History will show that The Beatles did not ship their fans over to Libya.
"You just see George, 'I think it's a bloody stupid idea. What a stupid idea,'" Jackson said. "You think God, George, you're the sensible guy in the room. You're the sensible one. It's fun because he's that really pragmatic guy. He's very, very funny, George."
George Harrison was more committed than he gets credit for 
Jackson said The Beatles: Get Back reflects very well on Harrison. Let It Be includes many classic Beatles tracks, and Harrison was committed to them all.
When they really lock into Seville Row and they want to record these tracks, the John and Paul songs, the 'Don't Let Me Down's, the 'Get Back's, the 'Dig a Pony's and everything, when they're working on those, George is so committed to them. George is the most vocal. He's almost more vocal than Paul and John when he's suggesting things. 'We could change this chord, we could do this, we could do this.' George is totally committed to John and Paul's songs, to make them as good as he can. I was sort of expecting George to be a little bit 'I'll do what you want me to do.' He just throws himself into John and Paul's song.

Peter Jackson, The Beatles: Get Back press conference, 11/16/21
Jackson said he noticed Harrison become more nervous when The Beatles worked on songs he wrote.
"He's got more confidence suggesting ideas for their songs," Jackson said. "When it comes to his songs, he's a little bit, which is actually a human thing, it's a very human thing. You always judge other people's work much better than you can judge your own. You get this very vulnerable feeling with George when they're his songs. He's bloody nervous as hell. He's got fantastic songs but when they're John and Paul's songs, God, he's so committed to them."