'The Beatles: Get Back' Shows The Beatles Had Over a Hundred Songs to Choose From for 'Let It Be'
During Peter Jackson's three-part documentary, 'The Beatles: Get Back,' The Beatles performed over 100 songs. Way more than what actually appeared on 'Let It Be.'
If you watched The Beatles in Peter Jackson's new three-part documentary, The Beatles: Get Back, then you know how much music they played. Even if they were just fooling around, there was hardly a quiet moment in Twickenham and Apple Studios. Still, even when the future of The Beatles was hanging in the balance in Part 1, the band only wanted to make music, albeit furiously.
The Beatles had to write 14 songs they could perform during a TV special (the plans for that were still unknown). But they played just over 100 songs during the six+ hours we saw and another 300 in the rest of the unseen footage. Throwbacks from their idols, songs from earlier Beatle days, or songs that either appeared on the next Beatles album, Abbey Road, their future solo albums. They could have chosen any.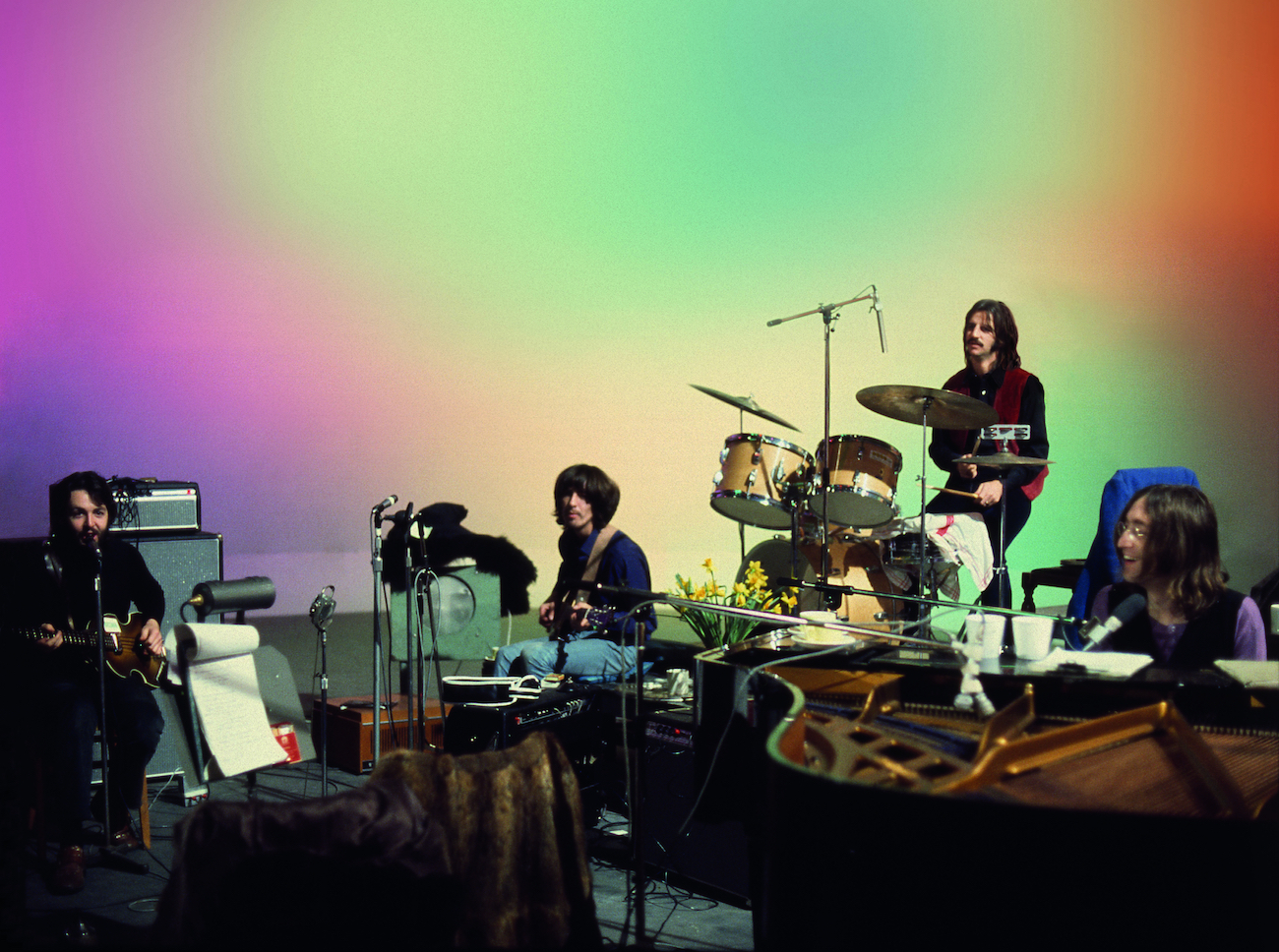 The Beatles songs that appear on 'Abbey Road'
The Beatles rehearsed a lot of songs that eventually landed on Abbey Road, their actual swan song.
While at Twickenham, Paul McCartney played an early version of "She Came In Through The Bathroom Window" and "Maxwell's Silver Hammer." The latter gave their friend and road manager, Mal Evans, the chance to happily clink away with his hammer on the anvil. Next, Paul played "Golden Slumbers," after which he wittily remarked, "I should be ready for a 'Songs For Swinging Lovers' album soon," and "Carry That Weight."
Later came "Mean Mr Mustard," "Oh! Darling," "Polythene Pam," and "Hey Majesty." George Harrison and Ringo Starr briefly collaborated on "Octopus's Garden" in Part 2 too.
George later worked on "Something." He joked that he'd use the line, "Attracts me like a pomegranate," because he couldn't figure out what attracted him. George said he'd been working on the song for six months. "Old Brown Shoe," also later became the b-side to "The Ballad Of John And Yoko."
The last song the band worked on that eventually appeared on Abbey Road was "I Want You (She's So Heavy)." At one point, John Lennon and keyboardist, Billy Preston worked on it with the lines from Martin Luthur King Jr.'s "I Had A Dream" speech.
Songs that appear on The Beatles' solo albums
Who knew that John had the early versions of two songs that appeared on his solo album, Imagine, while working on Let It Be? During the documentary, John played "On The Road To Marrakesh/Child Of Nature," an early version of his future solo hit, "Jealous Guy." Later, he played "Gimme Some Truth."
Like John, George also offered up a song, "All Things Must Pass," which later became a hit in his solo career. "Is this a Harrisong?" John quips. "There's no solo or anything complicated," George said. Still, it was interesting hearing The Beatles perform the title track.
Meanwhile, Paul worked on "Another Day," which became his debut solo single, and "The Backseat Of My Car," which later appeared on Ram. He also played "Song Of Love," which eventually morphed into "Maybe I'm Amazed."
Songs from John Lennon and Paul McCartney teenaged writing sessions
Paul and John felt the pressure of coming up with 14 new hits before the proposed TV special. As a last-ditch effort, they started revisiting some of their earliest songs from their teenaged writing sessions. However, this period allowed John and Paul to reminisce and collaborate like they used to.
They played the unsophisticated "Just Fun," "Because I Know You Love Me So" ("I don't think that ever got there, did it?" Paul laughed), "Thinking Of Linking," "Won't You Please Say Goodbye," and "Fancy My Chances With You." The only oldie but goodie that did wind up on Let It Be was "One After 909," a song John wrote when he was 15 years old.
Besides these songs, The Beatles performed countless tunes from their early and current influences. There were a couple of Bob Dylan hits, as well as Chuck Berry. The Beatles also reminisced with "When I'm Sixty Four," "Help!" "Love Me Do," "You're Gonna Lose That Girl," and "Strawberry Fields Forever."
Other songs they penned during those sessions died and remained unfinished. Then, there was the fooling around tunes the group jammed on like, "God Save The Queen," "Danny Boy (Londonderry Air)," "Shake, Rattle And Roll," and "You Are My Sunshine."
So, The Beatles had tons of material. They could have gotten Let It Be done and finished a lot quicker if they'd just picked some and cut out the long, mostly pointless, and nonsensical jam sessions. But we guess those jam sessions allowed the band to bond after the awkwardness of Part 1. You can't rush a perfect album either. The songs on Let It Be were meant to be there.