The Beatles' Producer Scrapped George Harrison's Solo on 'This Boy' for a John Lennon Vocal
In October 1963, The Beatles had yet to break through in America, but they had gotten well on their way in the UK. The Fab Four's momentum really picked up in May '63 when their debut Please Please Me began its run at the top of the UK charts.
But those were still humble days in many ways. After recording the majority of their debut LP in just 10 hours, The Beatles made their follow-up (With The Beatles) in a still-brisk seven days. Compare that to, say, the five months they'd later spend on Sgt. Pepper's Lonely Hearts Club Band.
In other words, The Beatles' debut success didn't buy them a ton of time in the studio. And Parlophone chief George Martin, who'd produced them from the start, still very much controlled the band's recording sessions.
You can see these dynamics in play during the October '63 session that produced the "I Want to Hold Your Hand" single and "This Boy" B-side. When Martin found George Harrison's guitar solo unimpressive, he scrapped it from "This Boy."
Producer George Martin considered George Harrison's guitar solo unusable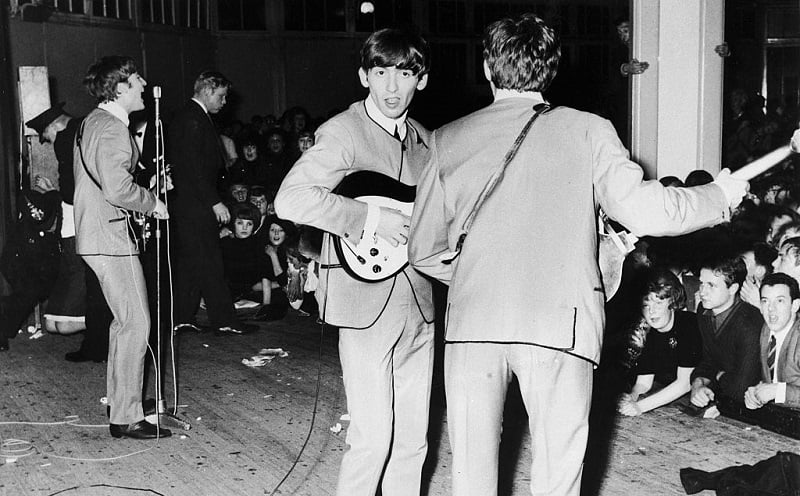 If you want to check the record of how The Beatles spent their studio time, Mark Lewisohn usually has the answers. In The Complete Beatles Recording Sessions, he notes 17 takes of "This Boy," of which the first 15 were full run-throughs of the track. (The last two were overdubs.)
According to Lewisohn, all 15 takes were complete from start to finish. If you were wondering why the band bothered to run through it so many times, he innocently notes that "the middle eight originally featured a guitar solo."
Geoff Emerick, working as second engineer in the studio that day, recalled what happened to that solo George had played on the earlier takes. "George Martin didn't like [the solo] one bit," Emerick wrote in Here, There and Everywhere.
Emerick, never one to pull punches when describing George's guitar work, called his "This Boy" solo "particularly uninspired." And he said Martin insisted on putting John's vocal in place of the solo.
John Lennon didn't have any trouble double-tracking his vocal break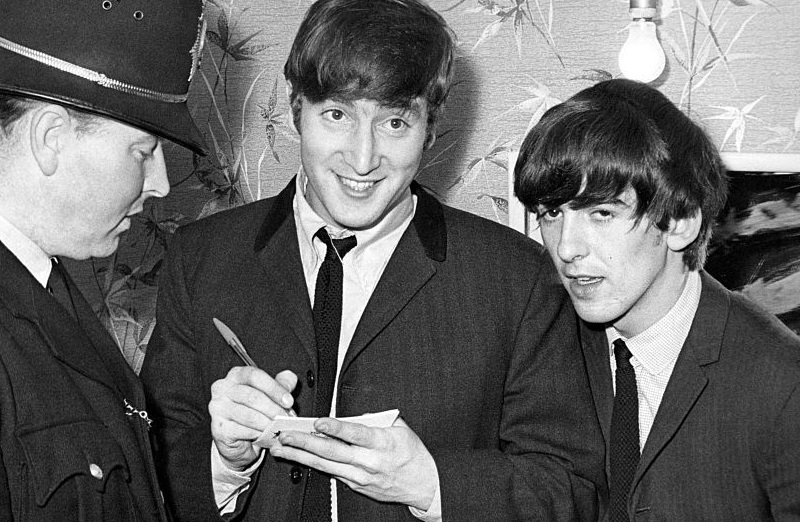 Listening to "This Boy," a standout feature is the three-part harmony sung by George, John Lennon, and Paul McCartney. According to Emerick, the three Beatles nailed it perfectly on just about every take. (An amusing exception appeared in Anthology.) But Martin thought they needed something better for the middle part.
When you had John Lennon and a microphone at your disposal, that always seemed to work. And that's what Martin went with in the studio that day. Rather than continue the harmonized vocals, John took off with a "solo" in the middle of "This Boy."
Emerick marveled at how Lennon double-tracked the vocal, "hitting every pitch and inflection spot-on." For a B-side, the Fab Four made quite a record that day. As for George seeing his solo knocked off the record, he'd watch that happen regularly in the following years.
Also see: George Harrison's Memories of 'Let It Be' Don't Match New Beatles Documentary's Pitch