The Beatles: This Is How Many Wives Paul McCartney Has Had
Paul McCartney is an entertainer and quite arguably one of the biggest names in the music industry. In fact, ask around and you'd be pretty hard-pressed to find anyone who is not familiar with at least one of his many songs. McCartney's contributions to the world of music have been so great that his efforts were recognized by Queen Elizabeth, and as a result, he was knighted on March 11, 1997. That is an amazing honor for anyone to be able to enjoy.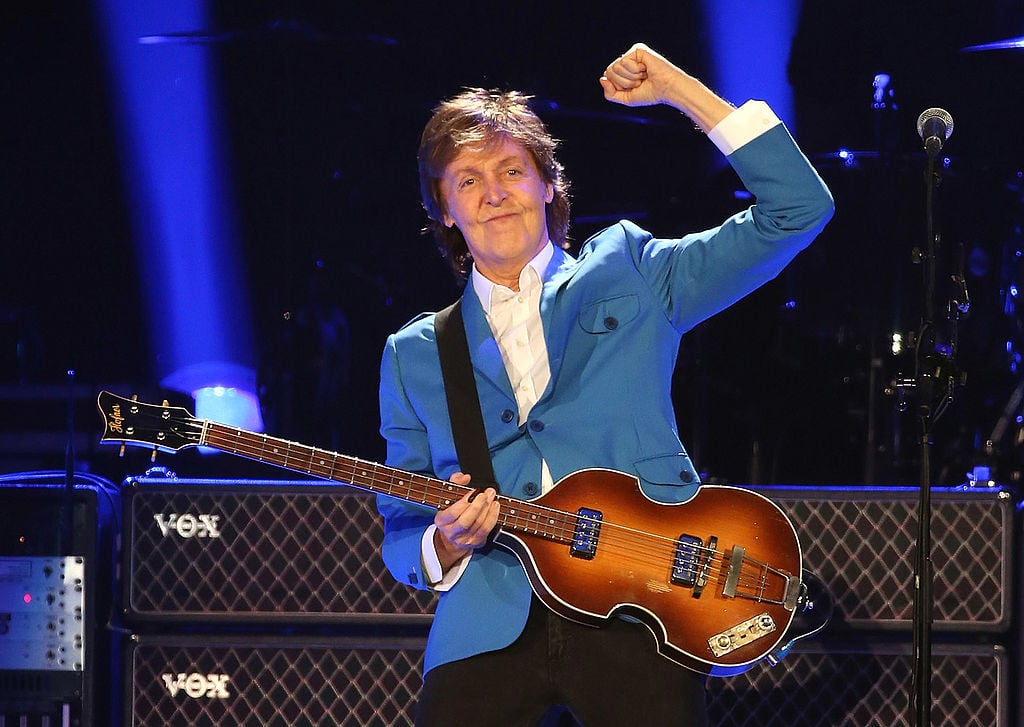 The British singer and songwriter was born in Liverpool, England on June 18, 1942, and has had a spectacular life. He has been inducted into the Rock and Roll Hall of Fame two times and has won an impressive 18 Grammy awards. He started at age 15 in a band called the Quarrymen, and three years later, The Beatles had formed. Throughout his musical career, McCartney performed with some of the most talented singers in the world.
In addition to his musical accomplishments, McCartney has been married a number of times. So, how many wives has McCartney had?
Paul McCartney's first marriage
McCartney married Linda Eastman in 1969, on a cold and rainy day in London. Eastman was a photographer who met McCartney two years earlier at a club called Bag O'Nails. According to the U.K.'s The Telegraph, she caught McCartney's eye, and he made her acquaintance as she walked by his table, seizing the opportunity to say: "My name is Paul. What's yours?" He also told his children that had it not been for that exact moment in time "they wouldn't be here."
As reported by Ultimate Classic Rock, things were a bit crazy on the morning of McCartney and Eastman's wedding. They had an argument the night before the big day and almost canceled the whole thing. On the day of the nuptials, McCartney's best man — his brother, Mike McGear — was an hour late, and what was supposed to be a private event was invaded by fans and the press.
The couple was together for 29 years, during which they were practically inseparable, and had three children together. Rolling Stone reports that during this time, McCartney and Eastman only spent ten nights apart when the singer was in jail on drug charges. Sadly, Eastman passed away from breast cancer in 1998 at the age of 56.
Paul McCartney's marriage to Heather Mills
It was in 2002 that McCartney married his second wife, Heather Mills, after meeting her at a charity event in 1999. After tying the knot at a castle in Glaslough, Ireland, they stayed together for four years, during which they welcomed a daughter: Beatrice. Ultimate Classic Rock reports that their divorce was extremely turbulent, with Mills receiving a settlement that totaled over $30 million.
Paul McCartney married for the third time
McCartney certainly didn't give up on marriage after his divorce, going on to exchange vows with Nancy Shevell, whom he had met 20 years prior when she was married to her previous husband. According to ABC News, the couple began their relationship in 2007 and, by 2011, they were officially husband and wife. The bride wore a design by Paul's daughter, fashion designer Stella McCartney, as she walked down the aisle and became Lady McCartney. The couple is still presently married, and ABC News reports that friends say they intend to "stay together forever."
Linda McCartney helped Paul McCartney live a normal life
According to the Beatles World, McCartney said in an interview that Eastman, his first wife, helped him to live a normal life in the midst of his fame. He said that the woman he loved so dearly was "down to earth" and "taught him to relax."
It is evident that he loved Eastman, and truly loves Shevell, his current wife. That said, the relationship with Mills was not nearly as strong as the first two. Daily Mail reports that McCartney even went so far as to say that his second marriage was his "biggest mistake."
We are happy that the former Beatle is currently in a wonderful relationship with someone who makes him happy.