How The Beatles Went From Wearing All Leather to 'What We Thought Were Quite Good Suits'
Article Highlights:
The Beatles started wearing leather jackets in Germany
Leather jackets soon grew to leather pants plus leather jackets
'Too many people would laugh' at the band's outfits so they switched to suits
In addition to being musical icons, The Beatles were fashion icons. Known for their mop top haircuts and mod suits, the band had seminal style. But how did John Lennon, Paul McCartney, George Harrison, and Ringo Starr find their signature look? In a 1963 BBC documentary, Lennon, McCartney, and Harrison reveal how they landed on suits.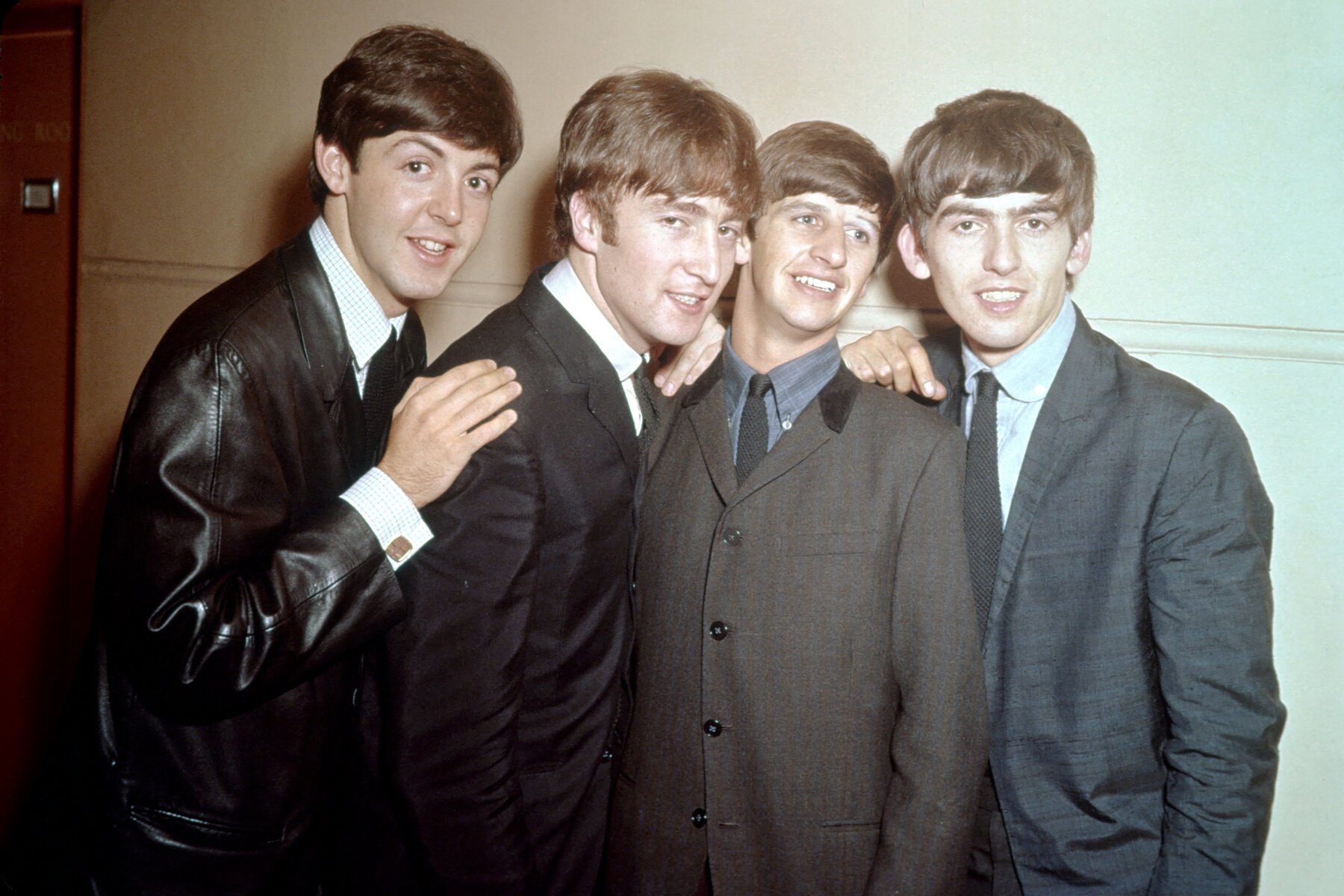 John Lennon urged The Beatles to 'Mach schau!'
In the interview, Harrison said he believes the group found their style in Hamburg.
"We developed our style because of this fella [Lennon]," he said, as recorded in the book George Harrison on George Harrison. "He used to say, 'You've got to make a show for the people,' and he used to come up every night, shouting, 'Mach Schau! Mach schau!' So we used to 'mach schau,' and John used to dance around like a gorilla, and we'd all, you know, knock our heads together and things like that. Anyway, we got back to Liverpool and all the groups there were doing Shadows type of stuff. [The Shadows were a popular guitar-based instrumental group of the period. —Ed.] And we came back with leather jackets and jeans and funny hair, 'maching schau,' which went down quite well."
Being influenced by The Shadows, leather jackets just seemed to match the "mach schau" philosophy of giving people a show.
The Beatles all wanted to wear leather jackets
Lennon said that one member of the band started wearing a leather jacket to shows and the trend caught on with the rest of the group.
"We just wore leather jackets," he said. "Not for the group—one person wore one, I can't remember—and then we all liked them, so it ended up we were all on stage with them."
Previously, the boys had just worn jeans "because we didn't have anything else at the time."
RELATED: Twiggy Wishes She Wrote The Beatles' 'Yesterday'
But with their new leather style, The Beatles "got quite a few bookings." By the time they returned to Germany, the group was all-in with leather.
"They all thought we were German; you know, we were billed as [being] from Hamburg and they all said, 'You speak good English,'" said Lennon. "So we went back to Germany and we had a bit more money the second time, so we wore leather pants and we looked like four Gene Vincents, only a bit younger, I think. And that was it, you know. We just kept the leather gear till Brian [Epstein] came along."
Paul McCartney said people 'would laugh' at their leather outfits
In the end, the all-leather getups didn't have the effect the band was hoping for.
"It was a bit, sort of, old hat anyway, all wearing leather gear, and we decided we didn't want to look ridiculous going home because more often than not too many people would laugh," said McCartney. "It was just stupid. We didn't want to appear as a gang of idiots. And Brian suggested that we just, sort of, wear ordinary suits. So we just got what we thought were quite good suits and got rid of the leather gear. That was all."