The Best Connection Between 'Chicago Fire' and 'Chicago P.D.' Is Also the Sweetest
In the first episode of Chicago Fire in October 2012, Randall McHolland, aka Mouch, was a single senior firefighter assigned to Truck Company 81 at Fire Station 51. In 2016, during the second season of Chicago P.D., a single, mature Trudy Platt was introduced as the desk sergeant of District 21. So, how did the …
In the first episode of Chicago Fire in October 2012, Randall McHolland, aka Mouch, was a single senior firefighter assigned to Truck Company 81 at Fire Station 51. In 2016, during the second season of Chicago P.D., a single, mature Trudy Platt was introduced as the desk sergeant of District 21. So, how did the two become a favored married couple in the One Chicago trilogy? Let's take a look.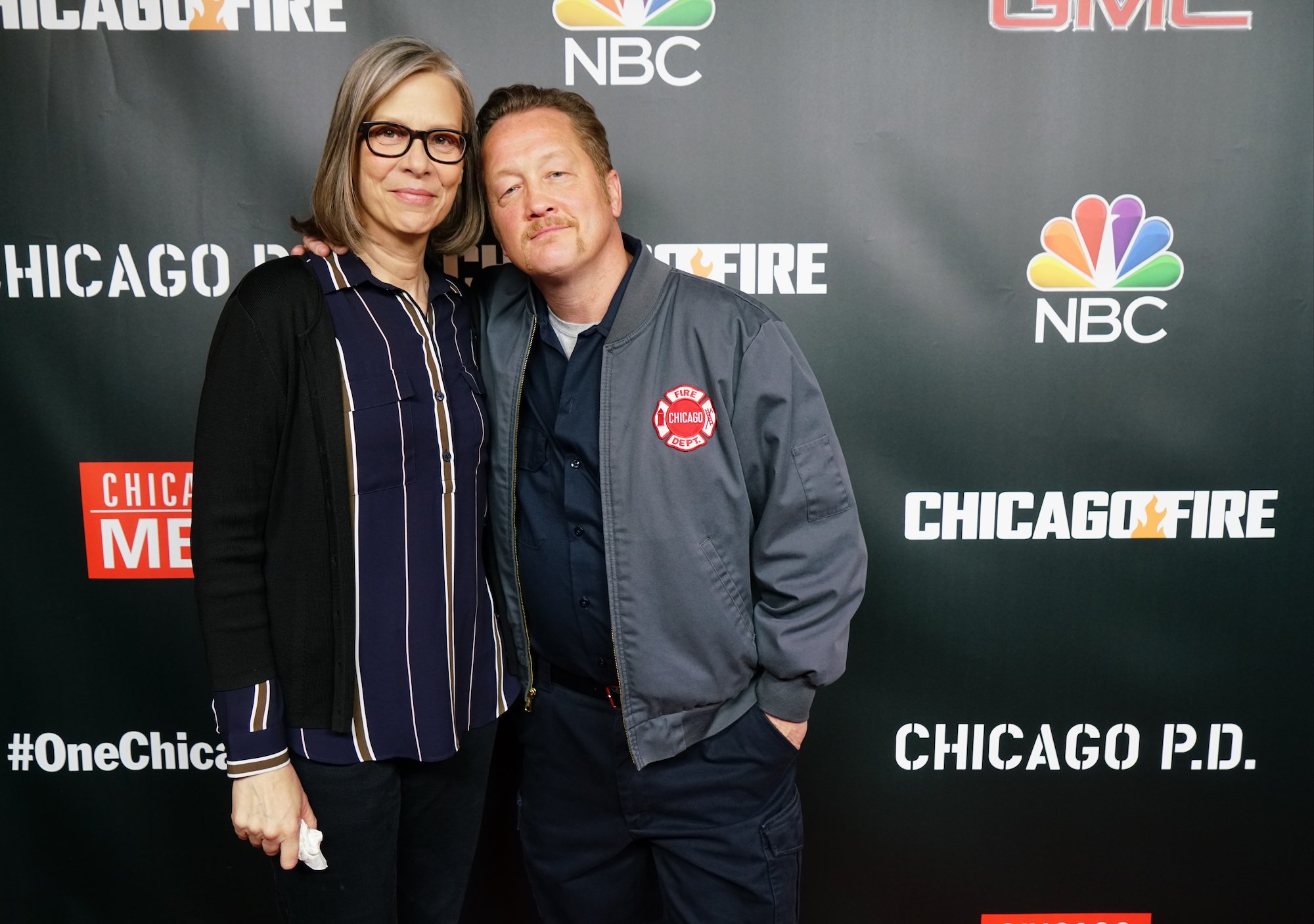 Mouch before Trudy
Mouch, portrayed by 57-year-old Christian Stolte, earns his nickname from constantly watching TV from the couch when not out on a call. The term is taken from the words "man on couch."
Along with his work, Mouch serves as president of the Firefighters Union. He also serves as a union representative serving his fellow members from Station 51. But, despite his variety of activities to keep him busy, Mouch still was looking for female companionship.
He takes lessons to learn Japanese and subsequently meets a woman from Japan online. She decides to travel to Chicago to meet him. She eventually leaves to return home with Mouch saying he would try to travel to visit her. But, that doesn't happen.
Subsequently, on the advice of Fire Station 51 paramedic, Leslie Shay (Lauren German), Mouch tries an online dating app. However, none of his dates from that pan out.
When Mouch meets Trudy
At the end of the second season of Chicago Fire, Battalion Chief Wallace Boden (Eamonn Walker) gets married. It is during the wedding that Mouch meets Trudy, played by 62-year-old Amy Morton, as the wedding was attended by members of Chicago P.D. as well as the fire department. They hit it off and start dating.
On Chicago P.D., Trudy generally hides most of her emotions. She has shared with undercover officer Adam Ruzek (Patrick Flueger), that back when she was on patrol, there were not many women officers. As such, she didn't garner much respect. She continues to fight for that respect today.
Her tough exterior doesn't seem to bother Mouch much as their relationship grows. Toward the end of Chicago Fire's Season 4, they get married in the familiar venue of Molly's, a bar Mouch and Trudy, as well as fellow Chicago firefighter, Christopher Herrman.
Following their wedding 
While there are sibling and friendship crossovers between Chicago Fire, Chicago P.D., and Chicago Med, the marriage of Mouch and Trudy becomes and remains the only crossover married couple in the trilogy. 
While each remains on their own show, Mouch, a firefighter on Chicago Fire, and Trudy, the desk sergeant on Chicago P.D., their names get mentioned on their spouse's show often, and they occasionally guest star on each other's show. At the end of Chicago Fire's fifth season, Mouch has a heart attack fighting a fire that could have left one of several of the series' firefighters dead. While everyone did make it out OK, as revealed in the Season 6 premiere, and Mouch did recover, Trudy decides it is time he takes on a "healthier lifestyle."
Before the wedding came along, Trudy was beaten up and her father killed in a Chicago P.D. episode. Mouch hurried to tend to her. For Chicago P.D.'s 100th episode, Trudy was almost blown up while being interviewed by a local TV channel, a bomb goes off at the station. Mouch and others are watching from the firehouse and, he again rushes to her.
When firefighter Christopher Hermann (David Eigenberg) loses his investment partners in Molly's, he needs another partner. After Mouch overhears Christopher turns down a possible loan, Christopher wonders if Mouch might be interested. At first Mouch declines saying he really doesn't have the funds. But, after speaking with Trudy, he tells Christopher that in fact, together, he and Trudy would like to be Christopher's partners.
While each was popular before they got together, Mouch and Trudy as a married couple have become fan favorites. We can't wait to see what future episodes of each show have in store for them including potential crossover events.