The Best Moments From the Snoop Dogg vs. DMX Verzuz Battle
Two of hip-hop's big dogs met up for their Verzuz face-off: Snoop Dogg and DMX. Since its humble quarantine beginnings, Verzuz has become a welcome celebration of music and camaraderie, taking fans back in time while blowing out our speakers.
The lead-up to the battle between these two legends reminded everyone of their hard personas, brotherly respect, and their mark on hip-hop history.
While the Snoop and DMX party had more than a few memorable moments, here are some highlights from the East-West match-up that was filled with love and respect.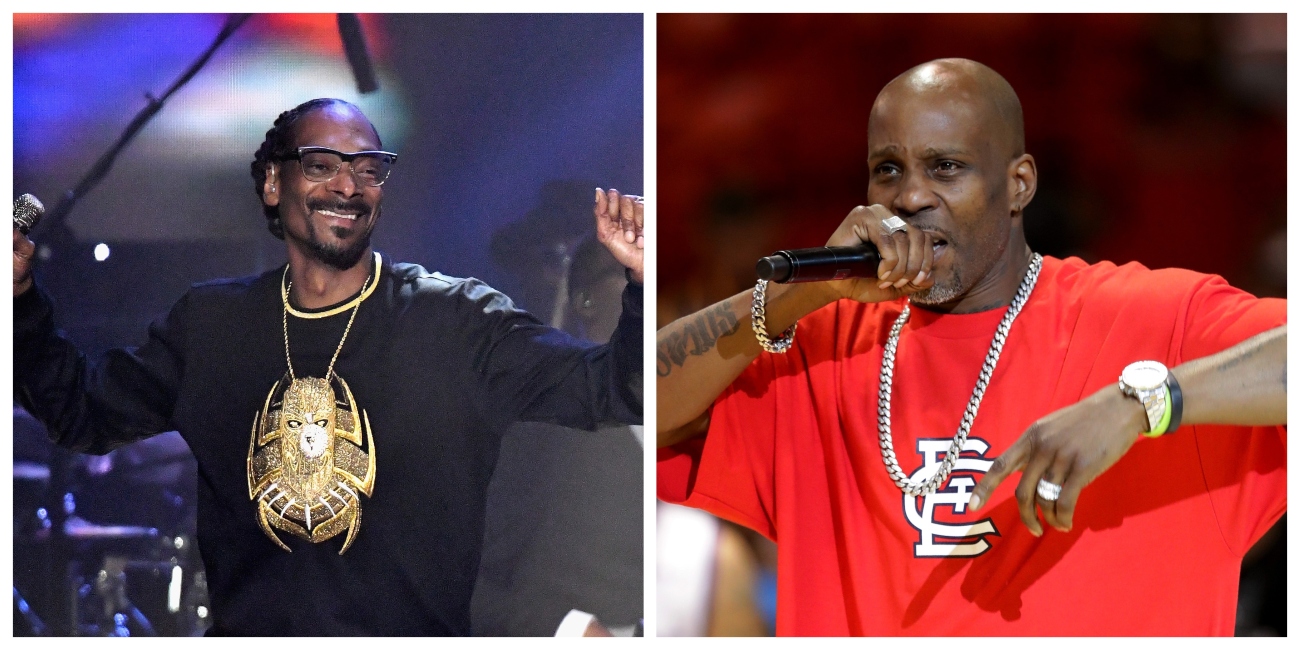 DMX raps a prayer
Before the friendly duel kicked off, DMX opened up with a prayer. Not only did he deliver it in that signature growly voice, but he did it with rhymes. That's right.
DMX rapped a prayer for over a minute that included: "Please walk with us through the bad times as well as the good, may we be heard and understood from the suburbs to the 'hood."
DMX shares origin of 'Get At Me Dog' for the first time
Who knew Snoop Dogg was the inspiration behind "Get At Me Dog?" It's one of DMX's greatest hits and he told the story about its inspiration.
Snoop bumped into DMX at the club during a visit to New York. They greeted each other and he said, "Yo, get at me dog," to DMX, not realizing he was giving him a hot phrase.
He decided to take turn it into something. "I said to myself, that's some slick sh** right there, and I made it my own," said DMX.
Snoop Dogg reminisces about special feature on 'Doggystyle'
Snoop had the audience hooked with all the classics from Doggystyle, but before launching into "Gz and Hustlas," he played a skit from the album.
He shared that he wanted to include this little six-year-old boy on the album, but because it was filled with curse words and violence, they needed a workaround.
"Dre found a way to insert him on a skit. Now this six-year-old kid ended up becoming a big a** rap star after that: Bow Wow." Snoop added Bow Wow did all the kids' voices heard on the skit.
DMX and Snoop kept entertaining the crowd with jokes
The virtual crowd loved the musical lineup, but also laughed at these two rap kings' comedy chops.
In between songs, they checked in with Swizz Beatz who shocked them with the high viewership numbers. DMX said if they made it to 10 million, he'd take off his shirt, and then joked if he did that, he and Snoop would look like the number "10." It was one of many funny moments during the night.
Snoop Dogg's dances were everything
We'd be remiss if we didn't mention that there's a reason Snoop is one of the coolest people on the planet. His dancing didn't disappoint when he rode the beat with his lyrics or bopped to one of DMX's hits.
Thanks to the internet, some of his moves will be immortalized in memes. You have to watch the entire Verzuz playback and check Snoop Dogg out on "Nuthin' But a Gangsta Party," and every other track.
DMX dropped 'Ruff Ryders' Anthem' and 'Party Up'
It wasn't his last song of the night, but when DMX broke out the "Ruff Ryders Anthem," it hit hard for fans. There's no doubt everyone was chanting along at home on this one. Stop, drop, shut 'em down open up shop!
When he spit the lyrics to "Party Up," it took everyone back — up in here! Snoop recalled doing a deejay set in New York and playing this record when DMX showed up. Snoop said DMX did an impromptu performance and rapped over it like he was in the studio. "That was a beautiful night!" he said.
Snoop Dogg's freestyles were golden
Snoop killed the instrumentals all night. But he shined on the freestyles with his sharp, laidback style. Fans agreed they were fire, but the live performances from both stars were epic.