'The Bold and the Beautiful': Eric and Donna Rekindle Their Affair
'The Bold and the Beautiful' leading man Eric Forrester appears ready to leave Quinn Fuller for his ex-wife Donna Logan.
The Bold and the Beautiful character Eric Forrester (John McCook) is a ladies man. Since 1987, Eric has seduced many of the show's leading ladies, including Stephanie Forrester (Susan Flannery) and Brooke Logan (Katherine Kelly Lang). The Forrester patriarch is back to his scoundrel ways with a shocking affair.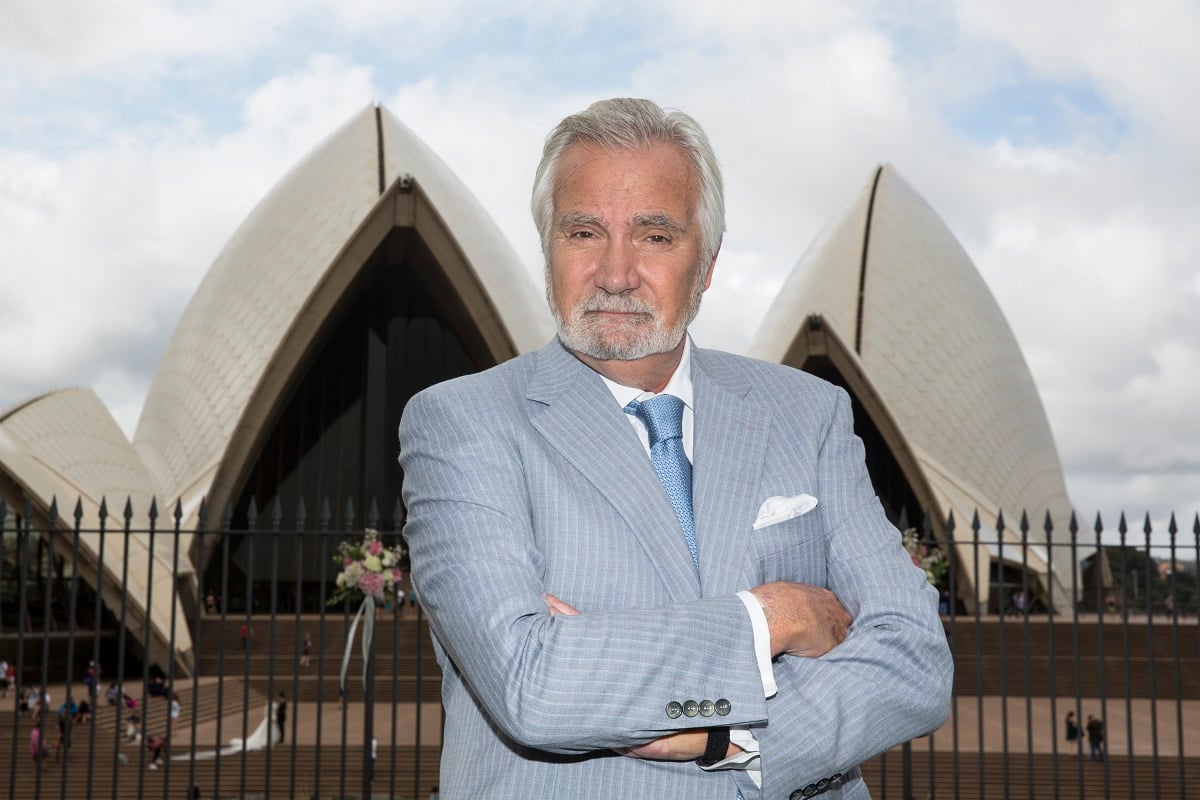 Eric Forrester is cheating on his wife Quinn Fuller on 'The Bold and the Beautiful'
After Stephanie's death, Eric found love again with Quinn Fuller (Rena Sofer). Eric and Quinn were one of The Bold and the Beautiful's most surprising couples, yet became a fan favorite. However, the pair's marriage hasn't always been rosy. 
Last year was a challenging time for the couple. Eric's erectile dysfunction and Quinn's affair with Carter Walton (Lawrence Saint-Victor) strained their marriage. However, the two weren't ready to give up. 
Quinn broke up with Carter to stay with Eric, yet she may be regretting that decision. Despite Eric's declaration of love, the Forrester patriarch is unfaithful to his wife. As fans saw in the May 3 episode, Eric is having an affair with his ex-wife Donna Logan (Jennifer Gareis).
Eric Forrester and Donna Logan's affair was a surprise
The Bold and the Beautiful hinted at an Eric and Donna reunion for a while. When Eric was diagnosed with erective dysfunction, Donna was the one who miraculously cured him. Although Eric was moved by Donna's confession that she still loved him, the Forrester patriarch refused to leave his wife.
Quinn was furious when she learned about Eric and Donna's encounter and forced her husband to cut ties with her. Eric then fired Donna and ended their friendship. Everyone thought that was the end of Donna's hopes of reuniting with her Honey Bear. Yet, the writers had a surprise for viewers.
While Quinn was at work, Eric snuck away to rendezvous with Donna. The couple enjoyed an intimate moment in bed with their bottle of honey. The scene was enough to generate buzz on Twitter, with fans reacting to the shocking moment.
"I won't lie. I like Donna and Eric together. That was a pleasant surprise!" wrote one viewer.
"So all Quinn had to do is get a bottle of honey. Why did he take her back? What was the reason if he just wanted to get busy with Donna?" asked another user.
"As long as I get Quarter, I'm happy. I mean, Eric didn't have the decency to visit his own granddaughter after she was shot and is more worried about his honey bottle…disgusting," another commenter chimed in.
A heartbroken Quinn Fuller seeks comfort from Carter Walton
The Bold and the Beautiful pulled a massive surprise with Eric and Donna rekindling their affair. While some fans are happy with the reunion, others want to know what will happen to Quinn. So far, she's in the dark about her husband's extramarital activities. But eventually, she'll discover Eric's betrayal, and this time it seems like they won't be saving their marriage.
Quinn will be heartbroken over losing Eric to Donna; however, she won't be lonely for long. Lately, Quinn's been spending more time with Carter, leading to speculation they'll reunite. Quarter fans loved the pair and were upset they broke up. However, Carter becoming Quinn's knight in shining armor after her divorce is an excellent way to reunite them.