'The Bold and the Beautiful' Fans Can't Believe Brooke and Ridge Have Been On and Off For Decades
Every soap opera has that one couple that keeps breaking up only to reconnect. Sometimes they break up for a couple of episodes, and sometimes it's for years at a time. For The Bold and the Beautiful, that couple is Brooke and Ridge. 
The two have had a tumultuous relationship over the years that has left fans eager for more. From multiple marriages to love triangles, the two have helped shape the show in more ways than one. Fans have recently taken to Twitter to express their opinion.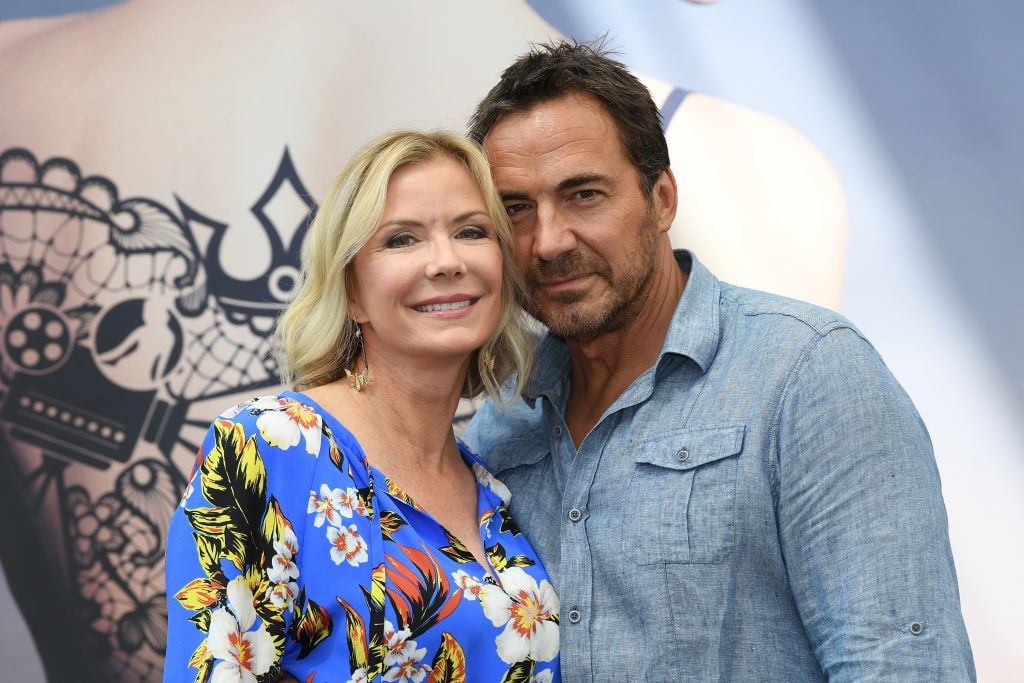 Who are Brooke and Ridge and why do fans like them?
Brooke Logan has become one of the most polarizing characters on the show. Some viewers enjoy seeing what she does next while others can't help but roll their eyes every time she hits the screen. In fact, many fans are not pleased to see reruns featuring Logan.
Ridge Forrester is a fan favorite who has actually been played by two actors. First by Ron Moss, and later by Thornton Kaye, who is the current Ridge, the character has won the love of the masses. He's currently the CEO of Forrester Creations. Many fans are displeased that he chose to be with Brooke instead of Taylor.
Brooke and Ridge have had some wild moments over the years
Brooke and Ridge have made quite the impression over the years. Soap Hub reports the two first met when Brooke visited the Forrester mansion while working for her mother's catering business. She was intrigued by Ridge and got close to his jilted fiancé Caroline in order to get closer to him. That pretty much set the trend for the rest of their storyline. 
Ridge did eventually marry Caroline, but that ended tragically when she died from leukemia. He later married Taylor, who supposedly died in a plane crash. During this time, Ridge married Brooke, but then found out their wedding was invalid because Taylor was still alive. 
Brooke went on to have multiple relationships with other men, including Ridge's little brother Thorne and half-brother Nick. Over the years, Brooke has gone so far as to hide love letters that Ridge wrote to other women, bump up their wedding date so Taylor couldn't tell Ridge that she was pregnant with his child, and even refused to marry Ridge because she thought he was in love with his stepmother Quinn.
According to Soaps.com, Ridge and Brooke have been down the aisle, or tried to at least, a total of 11 times. Most people think it's extreme to remarry the same person more than once, and yet this couple seem to be going for a solid dozen. The total number of times they have officially been married is eight.
Fans can't believe Ridge and Brooke are still an item
One of the biggest criticisms of this relationship is the fact that Brooke has been with so many different men over the years. This makes it hard to believe that what Brooke and Ridge have is real. One fan said, "Brooke had been so "in love" with so many men the weddings are laughable..not romantic."
Still, some viewers like Brooke and Ridge, and hope that things finally work out between the two. According to one fan, "Brooke n Ridge make a beautiful couple. Brooke very pretty now hoping for the wedding." Another fan stated, "Hope they put Ridge and Brooke back together. Since going back to work I cannot watch the Bold & Beautiful."
Whether Brooke and Ridge make it this time around is unclear. This is The Bold and the Beautiful, after all. They might be end game, and then again, they might break up soon. Either way, devoted fans will doubtless be tuned in to find out what happens next.