'The Bold and the Beautiful': Fans Love Katie Throwing Shade at Brooke
The Logan sisters give off the impression of a happy family on The Bold and the Beautiful. Yet, things haven't always been rosy with Brooke Logan (Katherine Kelly Lang) and her younger sisters. As with many soap opera families, the sisters have had their share of turmoil. Although their past issues seem to be water under the bridge, Katie Logan (Heather Tom) couldn't resist dissing Brooke when the opportunity arose.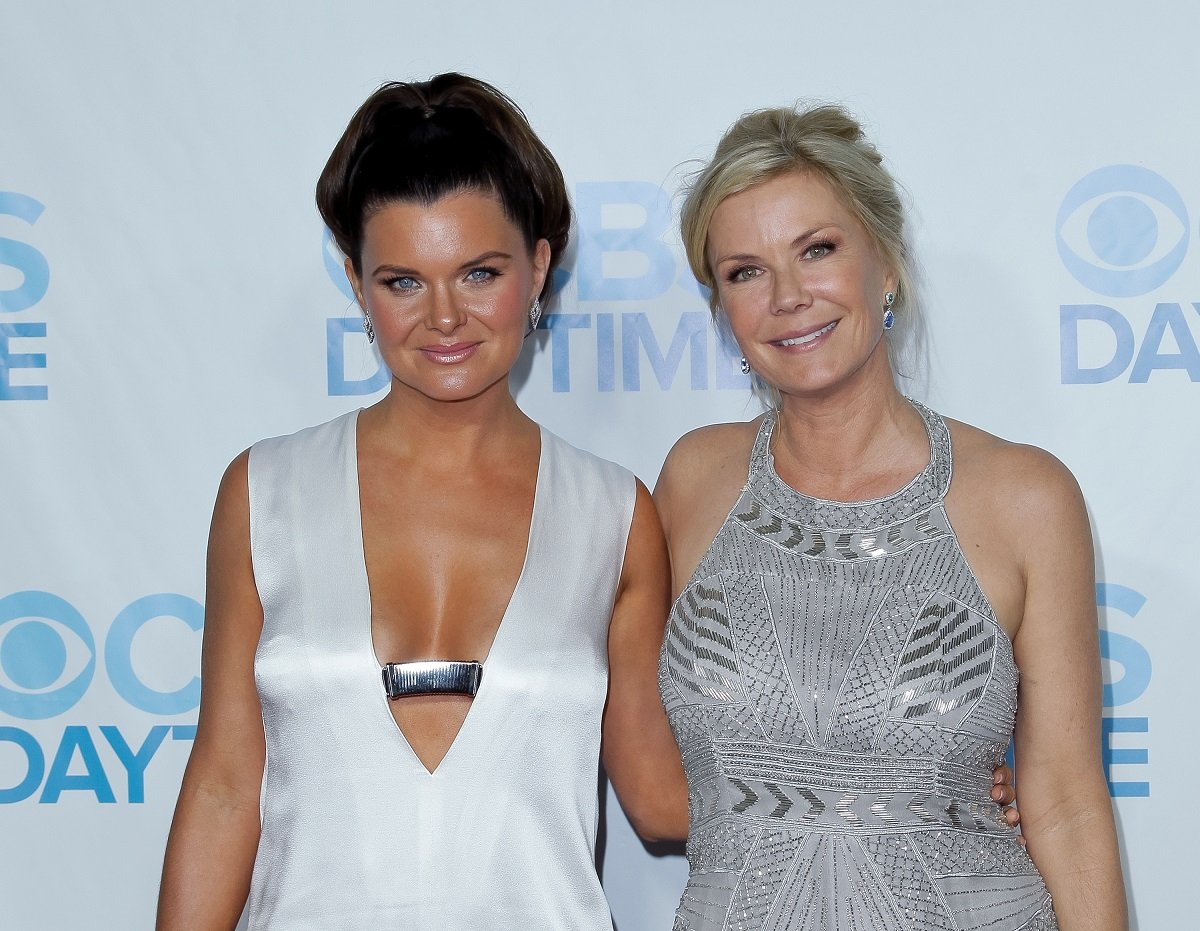 'The Bold and the Beautiful' Katie Logan disses her older sister
The Logan sisters have a reputation for being meddlesome. Lately, they've inserted themselves in the Quinn Fuller (Rena Sofer) and Carter Walton (Lawrence Saint-Victor) affair. The sisters were very judgemental toward Quinn and Carter for their betrayal toward Eric Forrester (John McCook). However, Katie's talk with Carter made her realize he was in love with Quinn.
Once again, Quinn and Carter were the topics of discussion during a recent Logan gathering. When Brooke was criticizing Carter, Katie jumped to his defense. Katie told Brooke that "he was following his heart. Something you know a little bit about."
Katie's subtle jab at Brooke stunned fans, which quickly lit up Twitter with their reactions. "Preach Queen Katie, preach!" one viewer wrote. "Katie shamed Brooke! And Donna's like 'Oh, no, you didn't?!' Katie Logan is my favorite Logan sister." Most of the reactions were positive, and fans believed Brooke deserved the diss. "She hasn't had a good read since Stephanie, and it is long overdue!"
Following her heart has gotten Brooke Logan into trouble
The Bold and the Beautiful knows Brooke always follows her heart when it comes to men. Since 1987 she's been chasing after her true love Ridge Forrester (Thorsten Kaye). Even when Ridge was with other women, including Taylor Hayes (Hunter Tylo), that didn't stop Brooke from fighting for him.
Brooke's quest for love has caused plenty of destruction. Aside from trying to break up Ridge and Taylor, she also broke up Eric and Stephanie Forrester's (Susan Flannery) marriage and stole Thorne Forrester (Winsor Harmon) from Macy Alexander (Bobbie Eakes). Brooke's most heartwrenching betrayal came when she slept with her daughter Bridget Forrester's (Ashley Jones) husband Deacon Sharpe (Sean Kanan). Brooke and Deacon's affair led to the conception of Hope Logan (Annika Noelle), but it almost cost Brooke, her other daughter.
Katie Logan suffered betrayal from Brooke Logan
Aside from betraying Bridget, Brooke also fractured her relationship with Katie. Like the Bridget situation, Brooke slept with Katie's husband, Bill Spencer (Don Diamont). However, their affair ended when Bill went back to Katie after her heart attack. Brooke becomes pregnant but later loses Bill's baby. Yet, her secret is revealed by Taylor.
Upon learning of the couple's affair, Katie ends her relationship with both Bill and Brooke. However, over time Katie manages to forgive them. Katie reconciles with Bill, yet they split again when she sees a video of Bill and Brooke kissing. The latest betrayal tears Katie and Bill apart for good. Yet, it doesn't impact her and Brooke's relationship since the two are still close.