'The Bold and the Beautiful' Fans Love Ridge and Taylor Together
After decades of ups and downs, Taylor Hayes and Ridge Forrester are finally back together. The pair reunited following Brooke Logan's infidelity—or rather, the kiss that sealed her marriage's fate. Who would have thought? The Bold and The Beautiful fans have shipped Ridge and Taylor for years and love seeing them together.
Fans love seeing Ridge and Taylor together
Taylor and Ridge have been a long time coming for fans. The pair have always had a strong love for one another throughout the years. And although they are divorced, their love still rings true. Ridge sought Taylor out after Brooke kissed Deacon Sharpe and decided to lie—even to the child who saw the whole thing unfold—instead of coming clean about it.
However, in her defense, it was a kiss that Brooke felt very bad about. Still, it doesn't excuse the potential infidelity, which brings us back to Ridge seeking Taylor's comfort through this difficult time. Ridge leaned in to kiss Taylor, who pulled away, warning that she wasn't ready to go through this emotional rollercoaster with Ridge again.
The Ridge–Taylor–Brooke love triangle has gone on for decades, with Taylor always on the losing end after Ridge constantly chooses Brooke. Therefore, her reservations about Ridge's intentions are understandable. However, Ridge came clean, asserting that he wanted to come back home if she would allow it.
The pair embraced and kissed passionately. And fans can't help but eat it up. When the show tweeted a photo of Ridge and Brooke embracing, some fans felt they had made a mistake, correcting the error.
One fan posted two photos of Taylor and Ridge, saying, "I'm just here to be petty…#Tridge." Another fan expressed their fatigue at the Brooke and Ridge pairing, asking writers to "Let him go to Taylor." Another fan said they want Ridge and Taylor back together, stating, "At least she won't cheat on him the moment there is a hiccup."
Fans are tired of Brooke and Ridge together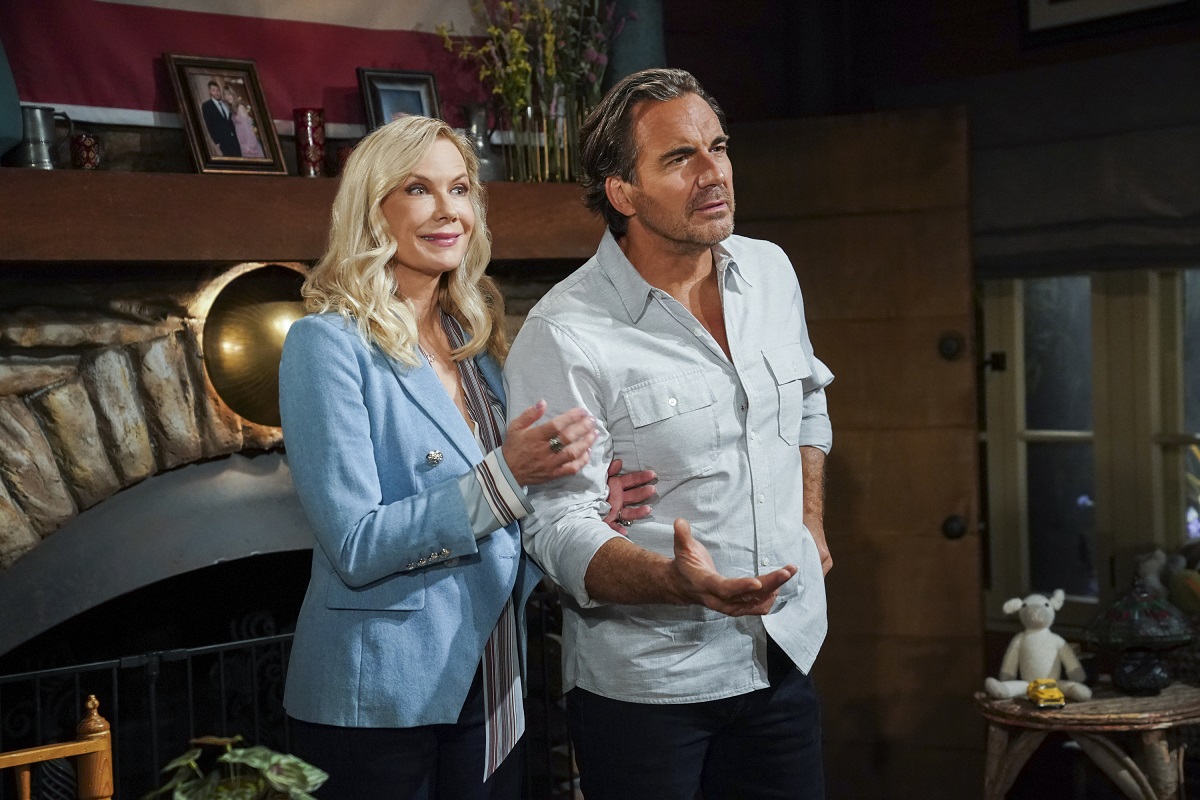 Brooke and Ridge have been a fan favorite for years. However, many fans feel as though their relationship has run its course. Others feel the pair is better off with other people, with Taylor constantly thrown into the mix.
In the same tweet, many fans agreed that Brooke should get a new love interest to allow them both to move on from one another. One fan compared another couple on a different soap, General Hospital, saying, "Even the ultimate supercouple of Luke and Laura on General Hospital went their separate ways eventually, so Ridge and Brooke can certainly split as well. Their relationship doesn't work anymore, so it's time to move on."
The fan offered Nick as the best man for Brooke, calling them the "best pairing anyway." However, another fan believes Brooke and Ridge were suitable for one another, but they'd rather see them with other people, offering Brooke for Bill and Ridge for Shauna or Taylor.
Others called out Brooke for her inability (if we may) to stay faithful. Another fan had a sinister reason for wanting Brooke to hook up with Bill. They said she "should hook up with Bill and take down that company again," hinting at Forrester Creations.
Is Taylor setting herself up for another heartbreak? Fans think so
The on-again-off-again concept isn't new in soaps, especially The Bold and The Beautiful. The show can't resist revisiting some of its iconic pairings, with Taylor and Ridge being the latest. However, fans feel Taylor's acceptance of Ridge might set her up for future heartbreak.
Taylor has always seemed like Ridge's rebound, often leaving her heartbroken, and fans want her to be careful. One said, "I am not investing in Tridge… We've lived through this scenario several times. We know how it ends." Many also pointed out that it hasn't been long since he and Brooke broke up, and he's already looking for a distraction in Taylor.
RELATED: 'The Bold and the Beautiful' Weekly Recap: Here Ridge and Taylor Go Again!