'The Bold and the Beautiful': Fans Loved This Sweet Moment With Quinn and Eric
Quinn Fuller and Eric Forrester are one the most talked-about couples on 'The Bold and the Beautiful.' The two have experienced marital problems recently, but are committed to staying together. A recent scene of Eric serenading Quinn has fans swooning over the sweet moment and rooting for the couple.
The Bold and the Beautiful knows how to write relationship drama. Quinn Fuller (Rena Sofer) and Eric Forrester's (John McCook) marriage has experienced plenty of angst recently. Viewers are split on whether the couple should stay together. However, this sweet moment between the two has some fans supporting the pair.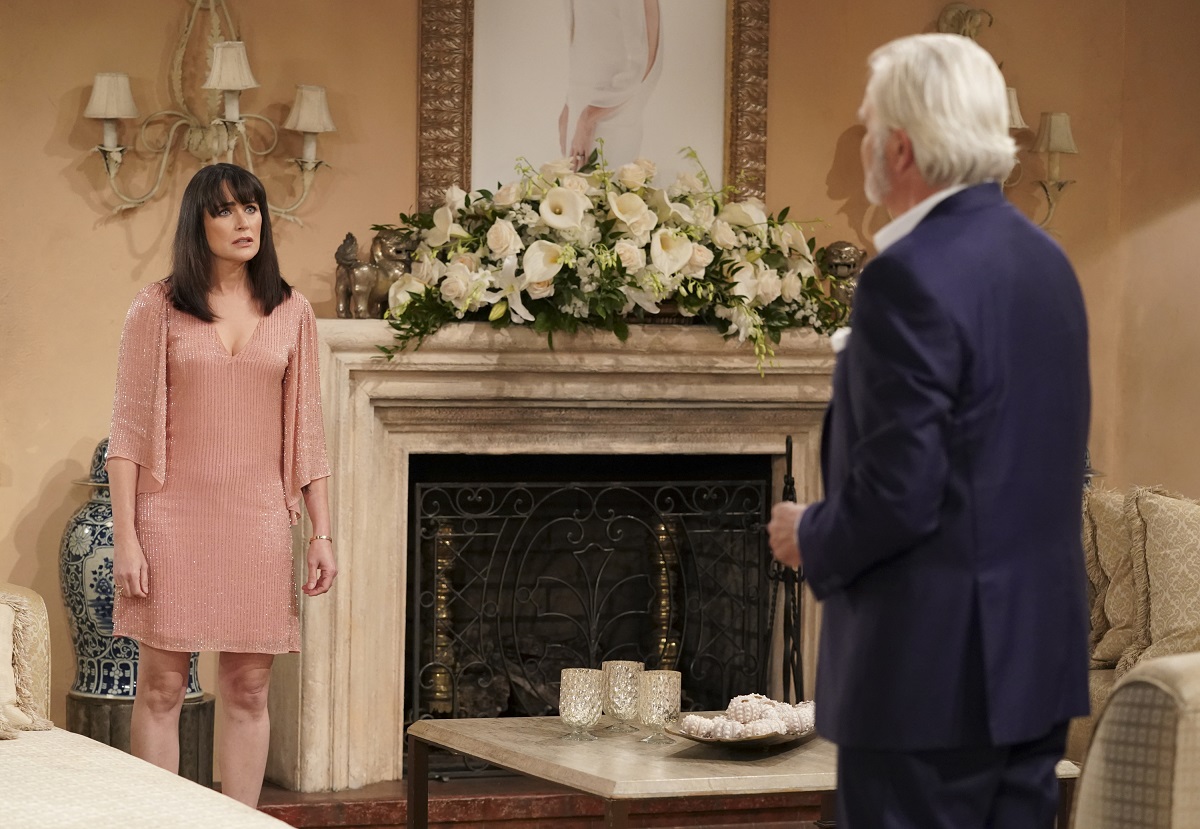 'The Bold and the Beautiful' fans love Eric Forrester serenading Quinn Fuller
Quinn and Eric have experienced their share of turmoil in The Bold and the Beautiful. The couple's latest issues stem from problems in the bedroom, which caused Quinn to stray. Despite their difficulties, Quinn and Eric are committed to working on their marriage.
In a recent episode, the couple discusses their problems, and Quinn expresses doubts about Eric wanting to be with her. Quinn walks away, then Eric plays the piano and sings "It Had To Be You." Quinn becomes emotional as Eric proclaims his love for her and the two kiss.
The sweet moment between the couple generated buzz on Twitter. "That was such a tender scene," wrote one fan. "Always going to love them together," a viewer replied. Another commenter chimed in with, "I love them as a couple, and if Eric stops listening to the Logan sisters, he could be happy with Quinn."
The Logan sisters remain a problem for the couple
Quinn and Eric are happy for now, but The Bold and the Beautiful fans know it's not going to last. The Logan sisters are a big problem, and they're not going to stop meddling in the couple's marriage. Eric's ex-wife Donna Logan (Jennifer Gareis) admitted she still loved him. Eric and Donna's recent interactions have cured his condition and angered Quinn.
Upon learning about their interactions, Quinn demanded Eric fire Donna and cut off all contact. Quinn got what she wanted, yet it's not going to stop the Logans' interference. Quinn's enemy Brooke Logan (Katherine Kelly Lang), tries to break up the couple's marriage.
In Brooke's opinion, Quinn isn't good enough for Eric. Donna is the perfect woman for Eric, and Brooke's trying to convince him to reunite with her sister. Although Eric's made it clear nothing will happen with him and Donna, that's not going to deter Brooke's plan.
Is Quinn Fuller still in love with Carter Walton?
Aside from the Logans, Carter Walton (Lawrence Saint-Victor) remains an issue. Quinn cheated on Eric with Carter, who gave his blessing for the affair to continue. Since Eric could not be intimate with Quinn, he asked Carter to fulfill his wife's needs.
Recently, the trio's arrangement ended. Although Carter asked Quinn to be with him, she decided to stay with Eric. With Carter and Quinn officially over, the attorney is moving on. Carter's recently became friends with Katie Logan (Heather Tom), which has sparked speculation of a blossoming romance.
Carter and Katie's closeness isn't going to go unnoticed by Quinn. Seeing the two together might spark jealousy in Quinn and have her rethinking the decision to stay with Eric.