'The Bold and the Beautiful' Fans Think Eric Should Leave Quinn
Despite forgiving Quinn for her many dishonesties over the years of their marriage, Eric has had enough of Quinn's behavior on The Bold and The Beautiful and considered divorcing her. She has earned his forgiveness for lying, cheating, and even attempted murder, but her actions against Brooke crossed the line and made it clear that Eric cannot trust her anymore. It was only a matter of time before Quinn and Shauna's secret would come out, and now Quinn is getting a taste of the consequences. Fans think it's about time, too.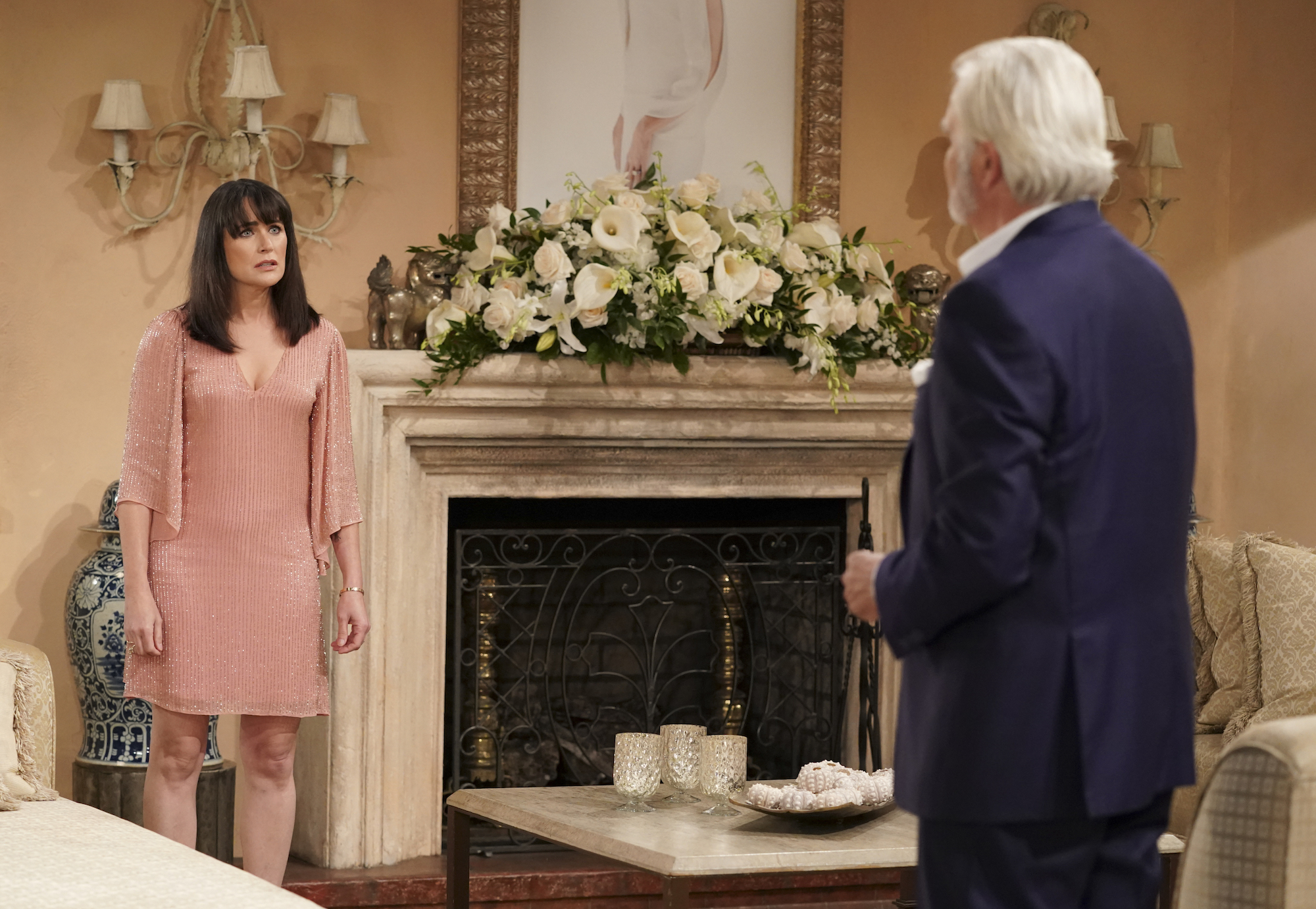 What's happened with Eric and Quinn in the last few months?
The last few months have been life-altering for Eric and Quinn in recent The Bold and The Beautiful episodes. Their marriage has been strong for the most part, but Quinn's devious behavior is getting more difficult for Eric to keep excusing and forgiving. Her latest scheme involves her plot to ruin Brooke and Ridge's relationship by supporting Shauna's pursuit of Ridge and scheming to help make it happen. When Eric finds out, he is furious with her regression into her dark old ways. While she initially tries to defend her actions, saying it was because she was worried about losing him and that she actually thought Shauna was good for Ridge, he doesn't want to hear it anymore.
Desperate for his forgiveness again, Quinn insists, "I have changed!" but Eric isn't having it anymore, and he tells her, "I begged you not to go back to your old ways, but that's exactly what you've done [and] I can't do this. You've crossed the line. You crossed a line that I cannot forgive!"
Since overhearing her scheme with Shauna and confronting her, Eric has been determined to end the relationship and move on. Quinn has been set on earning back Eric's trust and forgiveness, and although he has kicked her out of the house, she's committed to repairing their marriage. However, recent episodes see sparks flying between Shauna and Eric, making Quinn's chances for forgiveness a lot less likely!
The cause of their tension
The tension between Eric and Quinn begins with Brooke, which isn't too surprising when you think about it. Brooke has always been a tension in the couple's marriage, so it's no surprise that she'd be the source of their (possible) divorce. However, the surprise is in the scheme developed between Shauna and Quinn that led to Eric's rage.
It started with Shauna's pursuit of Ridge. Quinn is friends with Shauna and publically anti-Brooke, so when the opportunity arose, she was quick to help Shauna trick Ridge into leaving Brooke. Divorce papers were signed (due to a text not sent by Ridge!), and Ridge, in no condition to go through with it, married Shauna right after. The secret was supposed to stay between the two women, but Katie overheard and told Ridge. Not to mention, Eric found out and was outraged. 
Since this betrayal against Eric's son (and Eric himself, as he is fed up with her lying), there has been irreparable tension between them. More tension continues to surface as fans watch a potential romance ignite between Quinn's very own BFF Shauna and her beloved Eric. 
Fans think Eric shouldn't forgive Quinn this time and don't think she'll ever change
Recent tension aside, Quinn has a long history of scheming and plotting against people around her, and fans are over it just as much as Eric, if not more. The consensus is that she'll never change, so if Eric isn't up to forgiving her a couple more times in their marriage, maybe it is time to call it quits. Nonetheless, fans have a lot to say about it, and they're not holding back.
While some fans think Eric is just following through on his vows — through better or for worse — and think it's honorable he's sticking by Quinn. However, other fans think it's time for Quinn to pay the price of her scheming and free Eric from her drama. Fans aren't convinced she's changed and want Eric to get out before another famous Quinn scheme comes to stir things up.
On a more positive note for Quinn, some fans on Soaps agree Eric shouldn't forgive Quinn, but for her sake, not his. "I say good, let Eric not forgive Quinn, she deserves better than Eric."