'The Bold and the Beautiful': Fans Tired of Brooke and Ridge's Constant Reunions
'The Bold and the Beautiful' couple Brooke Logan and Ridge Forrester are headed for another reunion after being briefly separated.
Brooke Logan (Katherine Kelly Lang) and Ridge Forrester (Thorsten Kaye) are The Bold and the Beautiful's super couple. Since 1987 viewers have watched their on-again, off-again relationship. While Brooke and Ridge, aka Bridge, were a famous couple, their popularity has waned.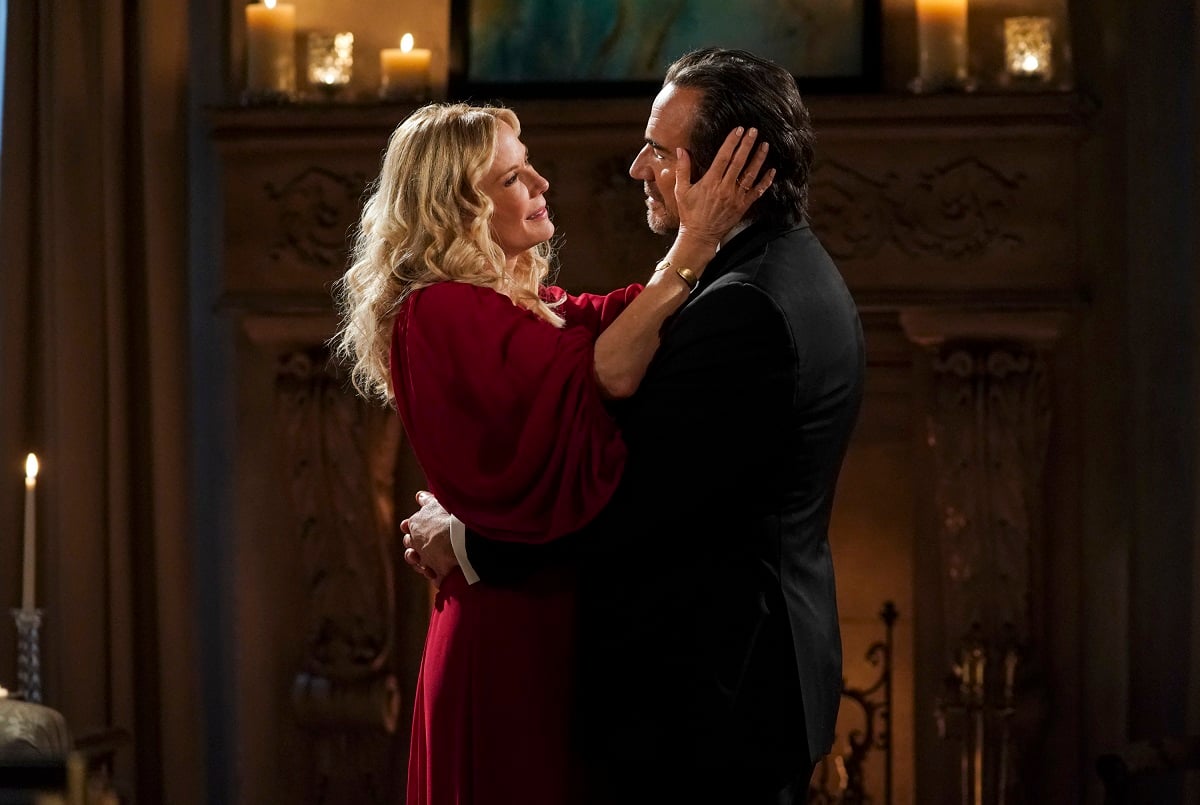 'The Bold and the Beautiful' fans have had enough of Bridge's constant splits and reunions
Like many, The Bold and the Beautiful couples, Brooke and Ridge have split up several times. Yet, like any iconic love story, the two find their way back to each other. It's been the same song and dance with the two for the past 35 years.
While Brooke and Ridge were once entertaining, they've become boring to fans. Their predictable reunion storylines have viewers turning against the couple. With the duo reuniting after another brief separation, fans voiced their disappointment on Twitter.
"Ugh, another dry, boring, meaningless reunion (What is this number 257?) Free TK from this awful material!" wrote one viewer.
"What count are we on here for this 'so-called' destiny couple? Their 50th time at getting bk together now? Couldn't give us something new, could you?" asked one user.
"It's time to burn Bridge for good," suggested one commenter.
"So Ridge & Brooke back together again for the thousandth time. Who cares. On to the next storyline plz," wrote one fan.
Brooke Logan and Ridge Forrester are reuniting again
2022 has been a tough year for Brooke and Ridge on The Bold and the Beautiful. The couple split up after Ridge learned Brooke got drunk and kissed Deacon Sharpe (Sean Kanan) on New Year's Eve. After walking out on Brooke, Ridge immediately went to his other ex-wife Taylor Hayes (Krista Allen).
Yet, Tridge fans knew not to get too excited because Bridge would end up reuniting. Their prediction turned out to be accurate. After learning Sheila Carter (Kimberlin Brown) switched Brooke's champagne, it changed Ridge's perspective on the situation.
Realizing he wants to be with his Logan, Ridge is ready to come home. However, before he does, Brooke will have to remove Deacon from her life. Brooke is willing to give up Deacon and bar him from the property. Yet, Brooke shouldn't be too happy because more trouble is coming for her and Ridge.
Ridge Forrester and Brooke Logan will split again on 'The Bold and the Beautiful'
The Bold and the Beautiful fans know Brooke and Ridge's reunion isn't going to last long. More drama will test the couple and might lead to another separation. Their reunion is already causing trouble for Hope Logan (Annika Noelle).
Hope won't be pleased with Brooke and Ridge's decision to bar Deacon from the property. Hope wants a relationship with her dad, and since it's her home too, she should invite whoever she wants. Brooke and Ridge will clash with Hope over the situation. The new arrangement could lead to Hope breaking their rules or moving off the property.
Aside from Hope and Deacon, Taylor will be a source of contention for the couple. While Ridge is with Brooke, he still has feelings for Taylor. When Taylor moves on with a new suitor, Ridge will be jealous and interfere in the relationship, much to Brooke's chagrin.
Fans better start placing bets on how long it'll be before Brooke and Ridge split again.