'The Bold and the Beautiful': What Happened to the Original Sally Spectra?
These days soap fans are used to Courtney Hope playing Sally Spectra. The scheming redhead started on The Bold and the Beautiful before heading to The Young and the Restless. Many fans may not know that Hope's character is the niece and namesake of another The Bold and the Beautiful character. Actor Darlene Conley originated the role of the first Sally Spectra, a character that would become loved by soap fans.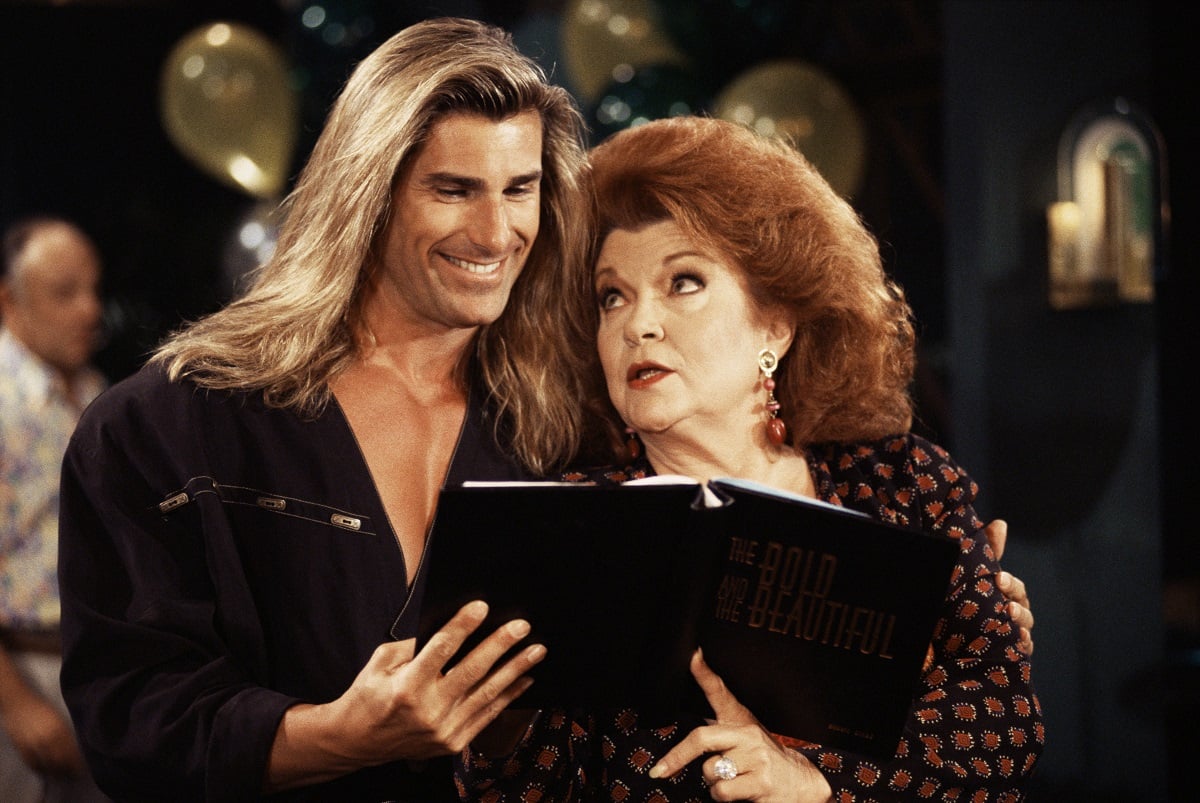 Darlene Conley was the original Sally Spectra on 'The Bold and the Beautiful'
In 1989, Conley joined the cast of The Bold and the Beautiful as the eccentric Sally Spectra. With her red hair, curvy figure, and funny personality, Sally stood out from the rest of the cast. The character is introduced as the owner of Spectra Fashions, a rival company to Forrester Creations. Throughout the years, Spectra and Forrester would settle their battles on the runway.
With the help of her friends, Darla Einstein (Schae Harrison) and Saul Feinberg (Michael Fox), Sally proves she's competition for the Forresters. Sally often takes their rivalry too far when she steals designs from Forrester Creations. Her feud and friendship with Stephanie Forrester (Susan Flannery) is a key storyline throughout the show. In one of the duo's famous scenes, a drunk Sally gives Stephanie a haircut.
Aside from her fashion house, Sally's personal life also takes center stage. Sally's daughter Macy Alexander (Bobbie Eakes) begins an on-again, off-again relationship with Thorne Forrester (Winsor Harmon). Sally is there to support Macy as her daughter deals with heartache and alcohol addiction.
Sally's marriage to fashion designer Clarke Garrison (Daniel McVicar) is also a prominent storyline. Their marriage produces a son C.J. Garrison (Mick Cain), but the couple splits after Clarke has an affair with Kristen Forrester (Tracy Melchior). Although Sally and Clarke separate, they remain friends, and he continues to work at Spectra Fashions.
What happened to the original Sally Spectra?
Following Conley's death in 2007, The Bold and the Beautiful fans wondered how the show would write her off. Instead of having Sally pass away, producers had Sally sell her fashion company, and retire to the Canary Islands. A fitting ending for a beloved character.
Sally continues to be mentioned several times throughout the years. During one scene, Stephanie calls her friend and is surprised to find male model Fabio answering the phone while Sally is lounges poolside. In 2017, the show introduced Sally's niece to the show, who, like her famous aunt, hopes to make a splash in the fashion industry.
Courtney Hope's version of Sally Spectra
The new version of Sally Spectra was met with mixed reactions by fans. However, they warmed up to Hope and her character. Young Sally becomes popular due to her romance with Thomas Forrester (Matthew Atkinson) and her rivalry with Steffy Forrester (Jacqueline MacInnes Wood). Sally's desire to restart Spectra Fashions is opposed by Bill Spencer (Don Diamont).
Sally eventually loses her business, and her relationship with Thomas ends. However, things become better when she lands a job at Forrester Creations and dates Wyatt Spencer (Darin Brooks). Yet, the underdog fans love turns into a bad girl when she pretends she's dying to keep Wyatt with her. After Sally's deception is discovered, she leaves town for a fresh start.
RELATED: 'The Young and the Restless: What's Next for Sally After Her and Tara's Scheme Is Exposed?
Sally made her arrival on The Young and the Restless in November 2020. Her bad-girl ways were in full force as she looks to get ahead at Jabot. She immediately made enemies in Summer Newman (Hunter King) and Phyllis Summers (Michelle Stafford), something she'd soon regret.
As reported by Soap Opera Network, Sally's latest scheme with Tara Locke (Elizabeth Leiner) was busted by Phyllis. As if things couldn't get worse, Sally lost her job and her boyfriend, Jack Abbott (Peter Bergman). Yet, Sally won't be down for long because she gets a new job opportunity from Chloe Mitchell (Elizabeth Hendrickson). Let's hope this time Sally's learned her lesson.