'The Bold and the Beautiful': Liam's Caused Hope More Disappointment Than Deacon
The Bold and the Beautiful couple Liam Spencer (Scott Clifton) and Hope Logan (Annika Noelle) are again having marital issues. The source of their latest drama is Hope's father, Deacon Sharpe (Sean Kanan). Liam is trying to protect Hope from more heartbreak from Deacon. Yet, Liam seems to have forgotten the pain he's caused Hope throughout the years.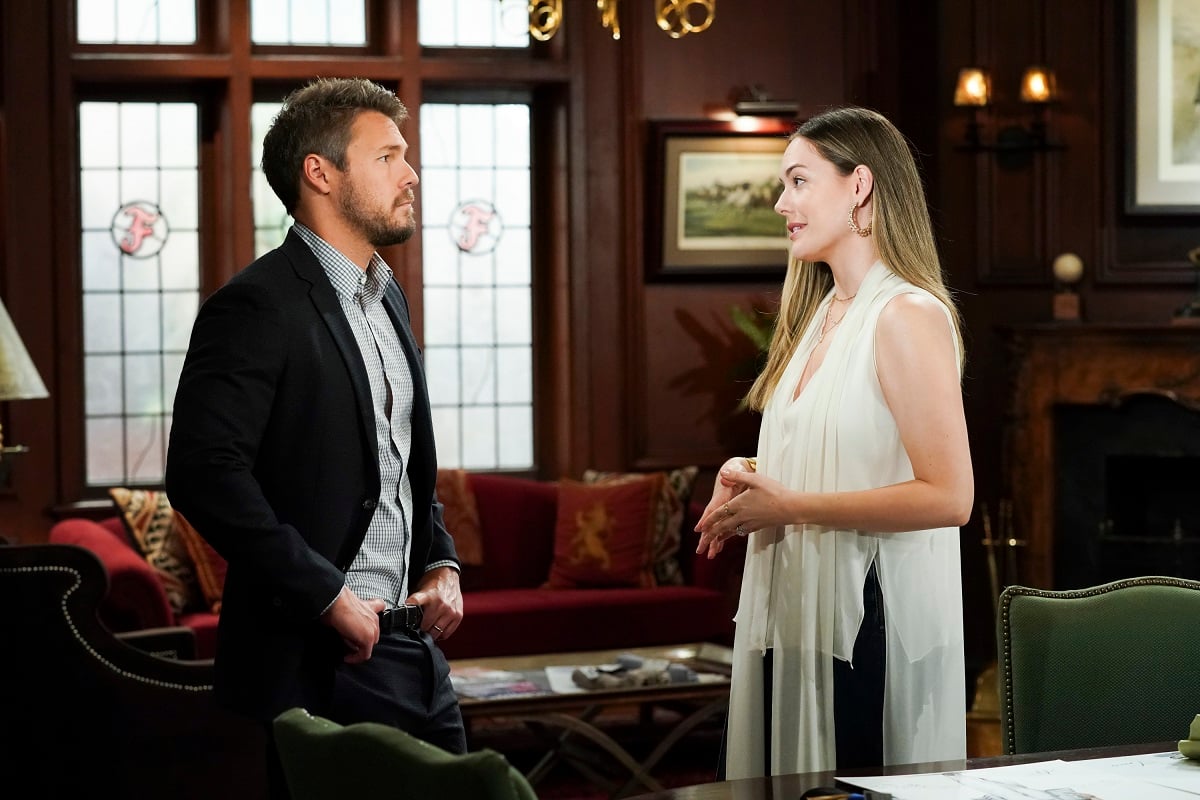 'The Bold and the Beautiful' Liam Spencer is the cause of most of Hope Logan's heartache
Since Deacon's return to The Bold and the Beautiful, Liam's made it clear he doesn't want his father-in-law in their lives. Hope feels her dad deserves a second chance and tries to convince Liam to see her side in the situation. Yet, Liam is being his stubborn self and refuses to change his mind.
Liam's trying to spare Hope from disappointment from her father. However, like The Bold and the Beautiful fans pointed out, it's Liam who's disappointed Hope the most. As one Twitter fan wrote, "Hope doesn't need to be protected from Deacon. If anything, Hope will need lifelong protection from Liam's waffling and indecision because he waffles once per year about who he should be spending his life with."
Fans are very vocal in their opinion on Liam, who is the show's most disliked character. Although Liam thinks he's a loving and protective husband, his actions over the years prove otherwise.
Liam Spencer's created plenty of drama over the years
The Bold and the Beautiful has written Liam as a hero, the good guy that every woman loves. However, his actions are far from pure. Viewers have watched Liam toy with the affections of Hope and Steffy Forrester (Jacqueline MacInnes Wood) for the past decade.
Liam has a reputation as a waffler. Every time there's a problem with Hope, he goes running back to Steffy. Hope's been left heartbroken by Liam's indecisiveness throughout the years. Whenever she tries to move on, Liam interferes in her relationship with promises of a future together.
Yet, Hope's dreams of a happy life with Liam are disrupted. Most of the time, he's the cause of the couple's drama. Last year, the couple separated when Liam confessed to a drunken one-night stand with Steffy, which left her pregnant. After Liam discovered he wasn't the father of Steffy's second child, he and Hope reunited.
Yet once again, the couple has turmoil, and Liam's actions may break up his marriage.
Will Hope Logan and Liam Spencer break up again?
The Bold and the Beautiful fans knew Liam and Hope's happiness wasn't going to last long. Given the current direction of their storyline, it's a matter of time before they break up again. Deacon will continue to be a massive issue for the couple. Liam's feelings toward Deacon and his plotting with Steffy will undoubtedly upset Hope.
With Hope and Liam having problems, viewers already know what happens next. Liam will seek comfort from Steffy, who is also experiencing her own marital issues. Old feelings will reignite for the exes, which will lead to a Steam reunion.
So it appears Hope's next disappointment will be from Liam and not Deacon. Wonder how Mr. Spencer will talk his way out of this one?