'The Bold and the Beautiful' Odds and Ends: Kimberlin Brown Has Sexy Times with Lawrence Saint-Victor
In this week's The Bold and the Beautiful odds and ends news roundup, Lawrence Saint-Victor and Kimberlin Brown have some "sexy times." Plus, Don Diamont welcomes a new member to his family. And veteran soap star Anna Maria Horsford stays booked, blessed, and busy.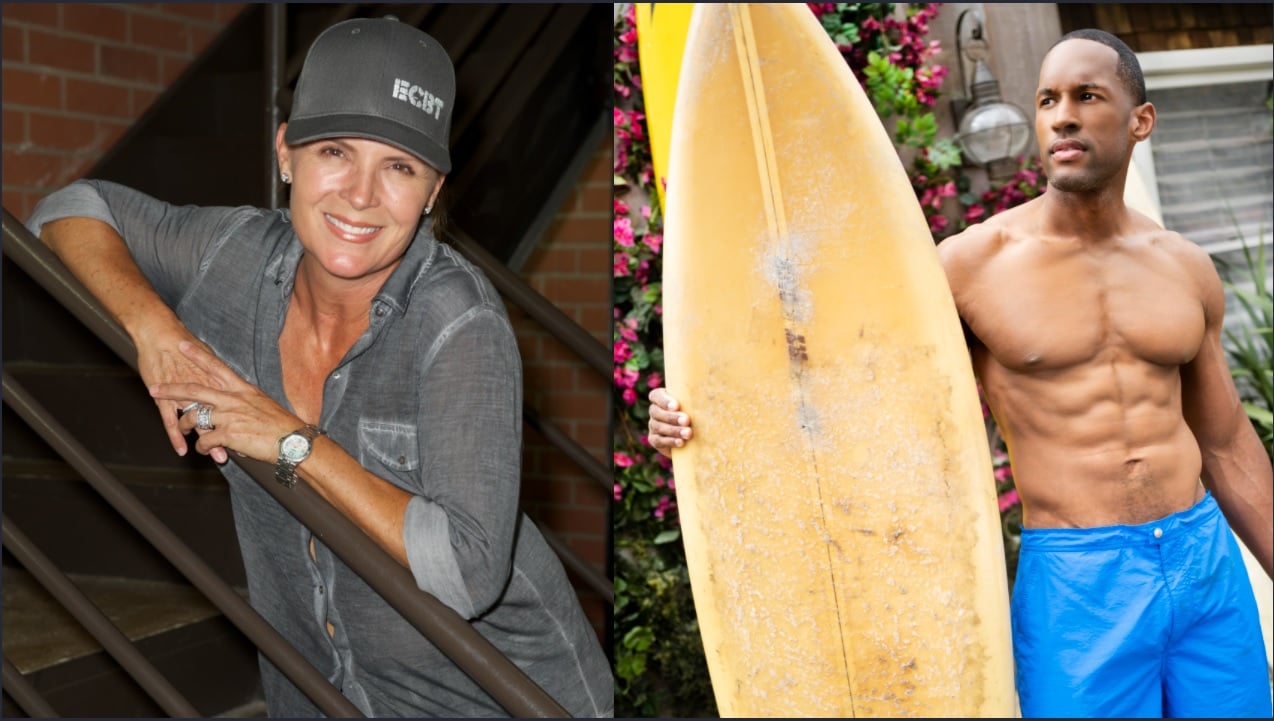 'The Bold and the Beautiful' star Kimberlin Brown did body-painting (of sorts) on Lawrence Saint-Victor
Kimberlin Brown plays the villainous Sheila Carter on The Bold and the Beautiful. But behind the scenes, she's not afraid to have some sexy times with her fellow cast members. (Don't worry, though — it's all PG-rated.)
In a recent Instagram post, Brown showed her fans how The Bold and the Beautiful cast get along behind the scenes. She took a makeup brush and started "painting" a shirtless Lawrence Saint-Victor, who has been burning up Quinn's bedroom as Carter. And she asked for help from a makeup artist named Chris as she laughed along with the cast and crew.
"Makeup tip number one… How to make that hunk look even hunky'er with contouring," Brown wrote. Well, alright then, Ms. Kimberlin. Go on with your bad self. Check out the results of the "contouring" — and the laughs and good times — below.
Don Diamont gets a new daughter-in-law!
"Dollar Bill" Spencer may be the father-in-law from hell on The Bold and the Beautiful, but Don Diamont sounds like a dreamboat in real life. The father of seven was recently on hand when his doppelganger son, Alexander, got engaged to his longtime girlfriend, Ashley. And needless to say, he was thrilled to be gaining a daughter-in-law.
"It was definitely an eventful week," he said on his Instagram page. "Headlined by Alexander and Audrey @aud.feys GETTING ENGAGED! Welcome to the family "Blueberry"!!!" He then shared photos of Alexander popping the question to his longtime girlfriend, and pictures of the new and happy family.
Diamont also shared photos of his other son, Anton, playing football. He plays for the University of Nevada — Las Vegas, and his first game was at Allegiant Stadium. But he couldn't stop gushing about his new daughter-in-law. "We're so thankful, grateful, and happy for our boys, and future daughter-in-law‼️," he wrote.
Anna Maria Horsford gets a new gig
The Bold and the Beautiful fans best know Anna Maria Horsford as Vivienne. But she remains blessed, booked, and busy to this day.
According to Deadline, the veteran actor just signed up for a recurring role on the hit CBS comedy series, B Positive. Horsford joins an all-star lineup that includes Linda Lavin, Jane Seymour, and Hector Elizondo. Horsford will play the role of a hospital administrator set in the fictional Valley Hills.
"Horsford plays Althea Ludlum, the no-nonsense administrator of Valley Hills. She's a thorn in Gina's side, but Gina needs help running the place," they wrote. Horsford also starred in Hacks and Pose before joining the B Positive cast. We can't wait to check it out!
RELATED: 'The Bold and the Beautiful' Spoilers: Eric Catches Quinn with Carter, Sheila Becomes More Insufferable