'The Bold and the Beautiful' Odds & Ends: Tanner Novlan Spills Tea, Krista Allen Gushes About Being Dr. Hayes
In this week's The Bold and the Beautiful odds & ends news roundup, Krista Allen talks about being cast in an iconic role. As fans of the long-running CBS soap know, Allen plays Dr. Hayes — a role originated by Hunter Tylo. Needless to say, Allen had nothing but good things to say about her character. Plus, Tanner Novlan — who plays Dr. John "Finn" Finnegan, aka "Dr. Dumb" — spills some behind-the-scenes tea on his character and some upcoming storylines.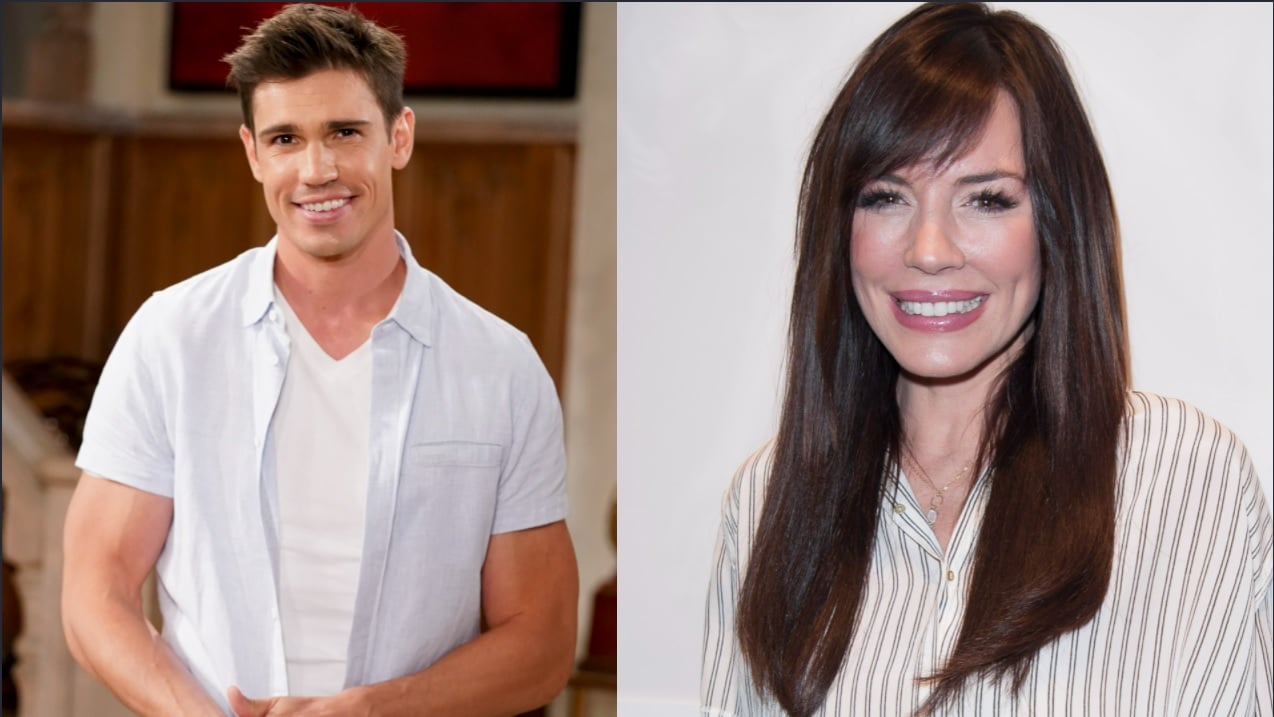 Krista Allen talks joining 'The Bold and the Beautiful'
Entertainment Weekly was the first to report that Krista Allen was joining The Bold and the Beautiful. If Allen looks familiar, it's because she has a long and storied history on soap operas. From 1996 until 1999, she played Billie Reed — the role originated by Lisa Rinna, now on The Real Housewives of Beverly Hills — on Days of Our Lives.
A source close to The Bold and the Beautiful production told the outlet that they tried to reach out to Hunter Tylo to reprise her role, but they were unsuccessful in reaching her. What's more, the outlet said that when Tylo left the show in 2019, the show claimed she was doing "missionary work" in another country.
Allen's first scenes as Dr. Hayes will be with her ex-husband Ridge, and with her daughter Steffy. And when asked about the role, Allen had nothing but good things to say about everyone on the show, and the role itself.
She has nothing but good things to say about everyone
Allen spoke exclusively to Soap Opera Digest about her new role, and needless to say, she couldn't stop gushing about everyone on The Bold and the Beautiful.
"I got a call that they were looking for a new Taylor, and I got so excited that they were recasting and that I was even in the mix that they were coming to me!" she said. "If there was ever any type of role to come back to daytime with, it would be this one."
Allen also acknowledged that stepping into the role that Hunter Tylo made famous was a bit daunting. However, she was up for the challenge. "I couldn't have asked for a better role to step into — or bigger shoes to fill," she said. "I love a good challenge. The day I was offered the role, I was bouncing off the wall. I was just so excited and I felt so grateful and so blessed and just so lucky. Those are the three things I felt. I am really excited!"
Meanwhile, Tanner Novlan spills some tea
Finally, this week's The Bold and the Beautiful odds and ends wraps up with Tanner Novlan's appearance on his wife, Kayla Ewell's, podcast. And he gave some exclusive behind-the-scenes tea about the show.
For starters, he said, the show does a lot of "mixing and matching" because it's only 30 minutes long, as opposed to most soap operas that are an hour long. And, along the way, some people get confused about their on-screen familial relationships. A perfect example can be found with his on-screen wife, Jacqueline MacInnes Wood, "making eyes" at someone she shouldn't have been making eyes at.
"[She] was in a scene, and she was kinda making some eyes at Zende, and then Ed Scott, who's the showrunner, comes on over the loudspeaker and goes, 'Jacqui, that's your cousin.' And she was, 'Oh. Is he?'" Novlan said, according to Soaps @ SheKnows.
Things can definitely get interesting on The Bold and the Beautiful!