'The Bold and the Beautiful' Sneak Peek: Finn Confides in Hope As Liam Confides in Steffy
Fans can count on The Bold and the Beautiful for two things: bringing Sheila Carter back from the dead at the most inopportune times and making a mess out of the Forresters' love lives. As if it wasn't enough that Eric Forrester was going through it with his wife and her lover, now Steffy Forrester is going through it with her husband and his potential new lover. The latest The Bold and the Beautiful sneak peek reveals that this "love square" is about to kick off with a bang. Buckle your seatbelts, because the ride is about to get bumpy.
[Spoiler alert: Potential spoilers for upcoming episodes of The Bold and the Beautiful are up ahead.]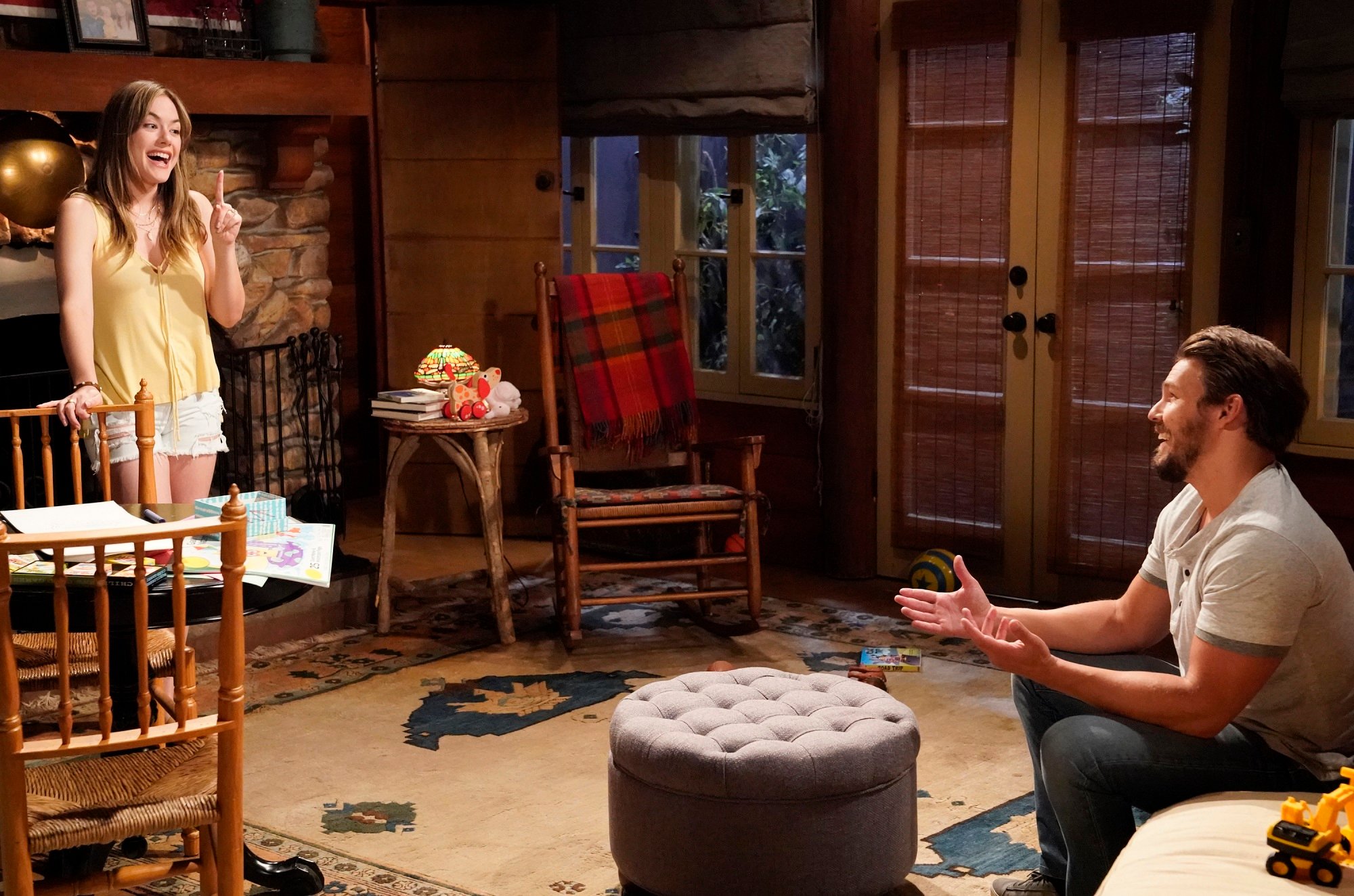 On 'The Bold and the Beautiful,' the Finn and Hope affair has been teased for a while
Way back in December 2020, Soaps @ SheKnows teased that Finn and Hope would soon have an affair on The Bold and the Beautiful. To be fair, Steffy was really going through it at the time — she was hooked on drugs, and she couldn't seem to get over Liam. Yet, even though Finn was still holding out hope that Steffy would pull through, Hope was looking like a nice consolation prize.
"None of this has been lost on Hope, who has been perhaps the biggest cheerleader of Steffy and Finn's burgeoning relationship," they wrote. "But lately, she's also been downright appreciative of him in ways that have nothing to do with her longtime romantic rival. There was no real reason for her to confide in him about Thomas having kissed the mannequin which happens to look exactly like her, but she felt comfortable enough with Finn to do so. There's clearly a bond developing between the two of them that extends beyond that of doctor/friend-of-patient-and-girlfriend."
Alas, Finn and Steffy got through it. They got married. They had a baby. And they began dealing with the mother-in-law from hell.
Now that their marriage is in turmoil, Finn needs to talk to somebody. And who does he pick as his latest confidante?
Finn will begin confiding in Hope
One can almost understand why fans of The Bold and the Beautiful call Finn "Dr. Dumb." This man has a habit of confiding in everyone except his wife about his issues in the marriage. Dude, really? All those brains, and not an ounce of sense?
According to Celeb Dirty Laundry, as Finn hits more speed bumps in his marriage, he'll begin confiding in Hope even more. Steffy will go visit Liam and do the whole "co-parent" thing. And that will leave the opportunity wide open for Finn and Hope to reconnect. Look for these two to start making a mess of things this week.
But if Finn starts confiding in Hope, Steffy will start confiding in Liam. And that's going to lead to a whole new set of problems.
Steffy will run into Liam's arms
The absolute last thing that Hope wants is a Liam and Steffy reunion. And she'll do anything to make sure that doesn't happen.
So, expect upcoming episodes of The Bold and the Beautiful to feature Hope begging Steffy to forgive Finn. It's not Hope being a "bestie" to Steffy. It's Hope praying that Steffy doesn't snatch her man.
Of course, Steffy will always do what she wants to do. And if she wants Liam back, she'll definitely get him. (Besides, it can be argued that she always had a soft spot for Liam, after all.) Once Liam steps between Finn and Steffy's relationship, will it be all over for the #Sinn shippers?