'The Bold and the Beautiful' Speculation: Bill's Ulterior Motive in Reuniting Brooke and Ridge
The Bold and the Beautiful hunk Bill Spencer (Don Diamont) is a bad boy. The Spencer Publications CEO is sneaky and often causes trouble. Yet, Bill will surprise everyone when he helps reunite a separated couple.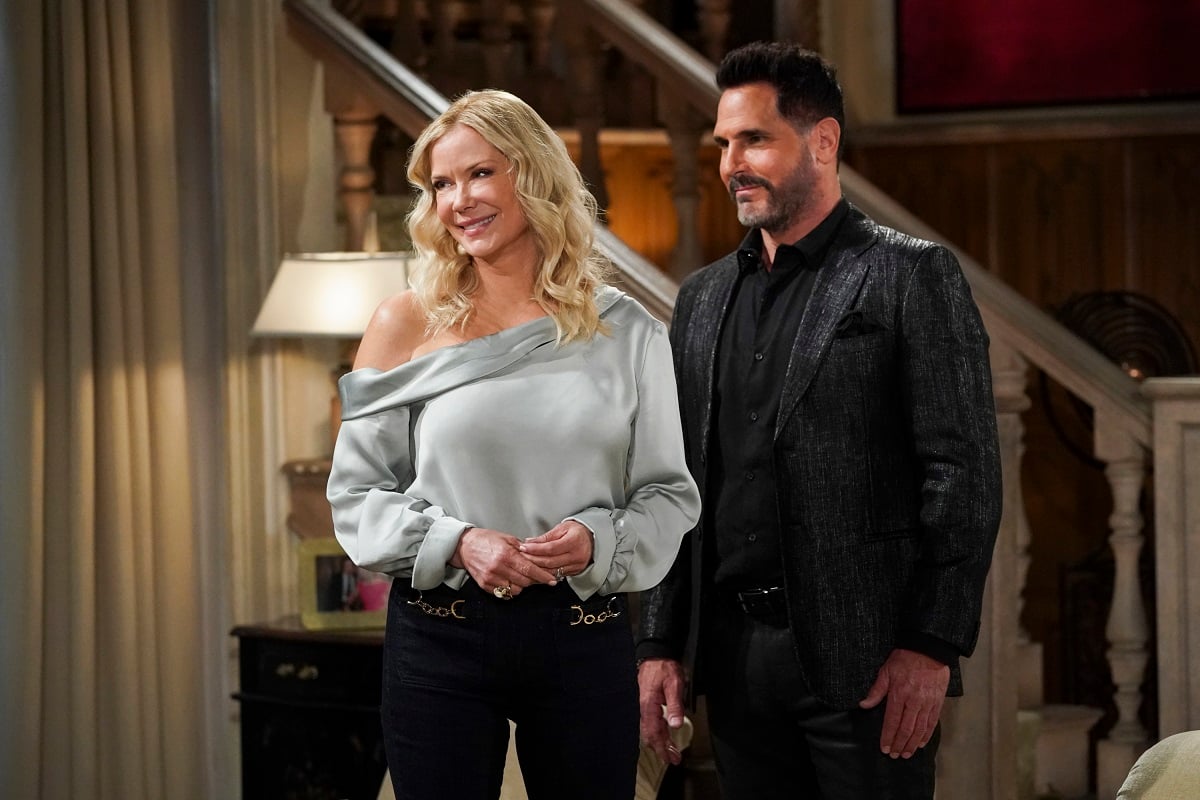 Bill Spencer convinces Ridge Forrester to reunite with Brooke Logan on 'The Bold and the Beautiful'
The Bold and the Beautiful fans know Bill's opinionated. Recently, he's been vocal about the latest breakup between Ridge Forrester (Thorsten Kaye) and Brooke Logan (Katherine Kelly Lang). Naturally, Bill sides with Brooke and feels Ridge was harsh in his reaction.
RELATED: 'The Bold and the Beautiful': Fans Want to See Bill Back Onscreen
As viewers know, Ridge and Brooke separated after her drunken New Year's Eve kiss with Deacon Sharpe (Sean Kanan). However, learning Sheila Carter (Kimberlin Brown) switched Brooke's champagne puts things in a different perspective. Ridge needs more time as he contemplates choosing Brooke or Taylor Hayes (Krista Allen).
Ridge needs a push in the right direction, and according to Celeb Dirty Laundry, Bill offers advice to the fashion designer. With Bill's help, Ridge might realize it's time to go home to Brooke.
Does Bill Spencer have an ulterior motive in reuniting Bridge?
Bill helping to reunite Brooke and Ridge is a shock to fans. Many believed Bill and Brooke would reunite, given his recent support of Brooke. However, Brooke's getting her wish when Ridge returns to her, and she owes it all to Bill.
While Bill's actions are considered a kind gesture from a friend, could he have an ulterior motive in reuniting Bridge?
Speculation is that Bill wants Ridge with Brooke so he can go after Ridge's other ex-wife. After Ridge goes back to Brooke, Taylor will be heartbroken. But she'll find love with an unexpected man, and that guy is Bill. Bill will swoop in to comfort Taylor, and he'll confess his lingering feelings for her.
Taylor will be surprised by Bill's confession, given their history. As fans remember, Taylor shot Bill, and their relationship will be controversial. Yet, controversial romances always spell excitement in soap operas.
The new couple sparks jealousy from Brooke Logan and Ridge Forrester
Bill and Taylor's romance will turn heads on The Bold and the Beautiful. Of course, Steffy Forrester (Jacqueline MacInnes Wood) will oppose the romance. Steffy, at one time, was involved with Bill, and she'll be upset that Bill's with her mother.
But Steffy won't be the only one unsettled by the new couple. Seeing Taylor move on with his rival will spark jealousy in Ridge. Although Ridge is reunited with Brooke, he'll be questioning his love for Taylor.
Also, Brooke won't resist the chance to interfere in the relationship. Since Bill's a friend, Brooke's concerned about whether Taylor is the right woman for him and warns her to steer clear of Bill. But much like Ridge, Brooke's intentions will be questioned.
Is she upset with the romance because she's worried about how it'll affect everyone? Or will Brooke realize she now wants Bill?
RELATED: 'The Bold and the Beautiful': Jacqueline MacInnes Wood Offers Fans Hope of a Steffy and Bill Reunion