'The Bold and the Beautiful' Speculation: Eric Demands Quinn Choose Between Him and Carter
The Bold and the Beautiful couples go through their share of turmoil. Currently, Eric Forrester (John McCook) and Quinn Fuller (Rena Sofer) face issues in the bedroom. The pair has an arrangement with Carter Walton (Lawrence Saint-Victor), and it went smoothly for a while. Now, their situation is taking a heartbreaking turn, with Quinn forced to make a decision.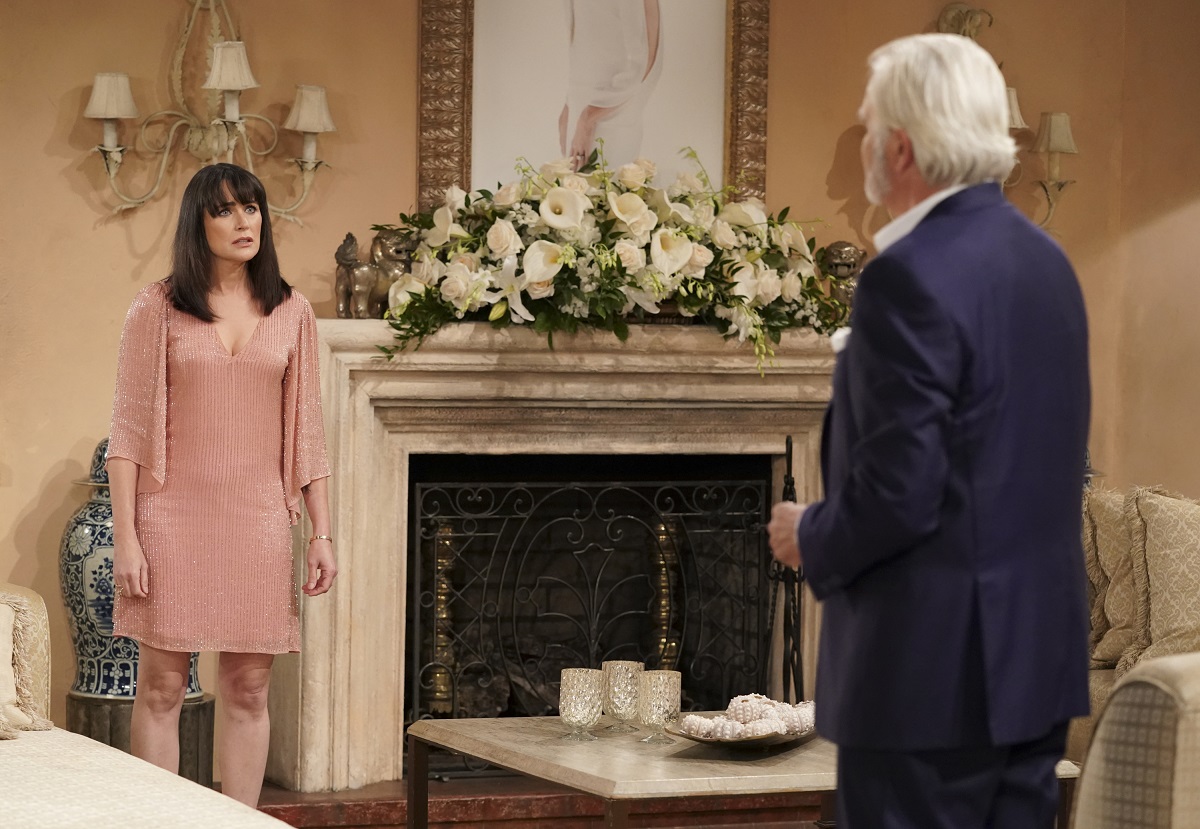 'The Bold and the Beautiful' Eric Forrester makes a demand of his wife
The recent storyline revolving around Eric has been met with criticism from The Bold and the Beautiful fans. Eric's erectile dysfunction diagnosis left him unable to be intimate with Quinn. Realizing he can't give his wife what she needs, he asks her former lover Carter to please Quinn. Despite their attempt to keep their deal a secret, it was exposed by Ridge Forrester (Thorsten Kaye).
Eric had no choice but to confess to Ridge about the arrangement and his reason for doing so. With the truth out, many viewers are wondering where the storyline goes from here. Well, it seems it might be coming to an end soon. According to Soaps.com, upcoming spoilers indicate Eric will make a heartbreaking demand of Quinn.
Quinn Fuller forced to choose between the two men she loves
Speculation is Eric's demand is Quinn choose between him and Carter. Many of The Bold and the Beautiful characters have been in this predicament before. For Quinn, it's a difficult choice because she loves and cares for both men.
Eric's her husband, and she feels loyalty to him. Aside from providing her with a luxury lifestyle, he's also given her self-confidence. Despite everyone's criticism, Eric sees the good in Quinn and gives her plenty of second chances when she doesn't deserve them.
As for Carter, Quinn can't deny the bond they have. The two started as friends when Quinn confided in him about her and Eric's issues. From there, it escalated into an affair, which has continued thanks to Eric's blessing. Quinn loves Carter, and he can fulfill her in ways Eric can't.
Which man will Quinn Fuller choose?
The Bold and the Beautiful fans knew this storyline would lead to heartache, and their prediction is coming true. Eric, Quinn, and Carter can't go on forever in their current arrangement. Viewers have their opinion on who Quinn should be with, but the decision is ultimately up to her.
Eric admitted he doesn't want to be alone, which could play a factor in her choice. She might feel obligated to sacrifice her happiness to cure Eric's loneliness. But how will Quinn feel staying in a sexless marriage?
With Carter, he and Quinn have that physical connection. But is she willing to give up her lavish lifestyle for a few nights of passion? Whoever Quinn chooses, it'll lead to heartbreak on both sides.