'The Bold and the Beautiful' Speculation: Katie Contemplates Reunion With Bill
When it comes to dramatic relationships, The Bold and the Beautiful knows how to write them. For the past three decades, viewers have watched the on-again, off-again saga of several couples. Katie Logan (Heather Tom) and Bill Spencer (Don Diamont) are one pair who've experienced their share of turmoil. Currently, the couple is separated; however, The Bold and the Beautiful writers may be planning a reunion for the exes.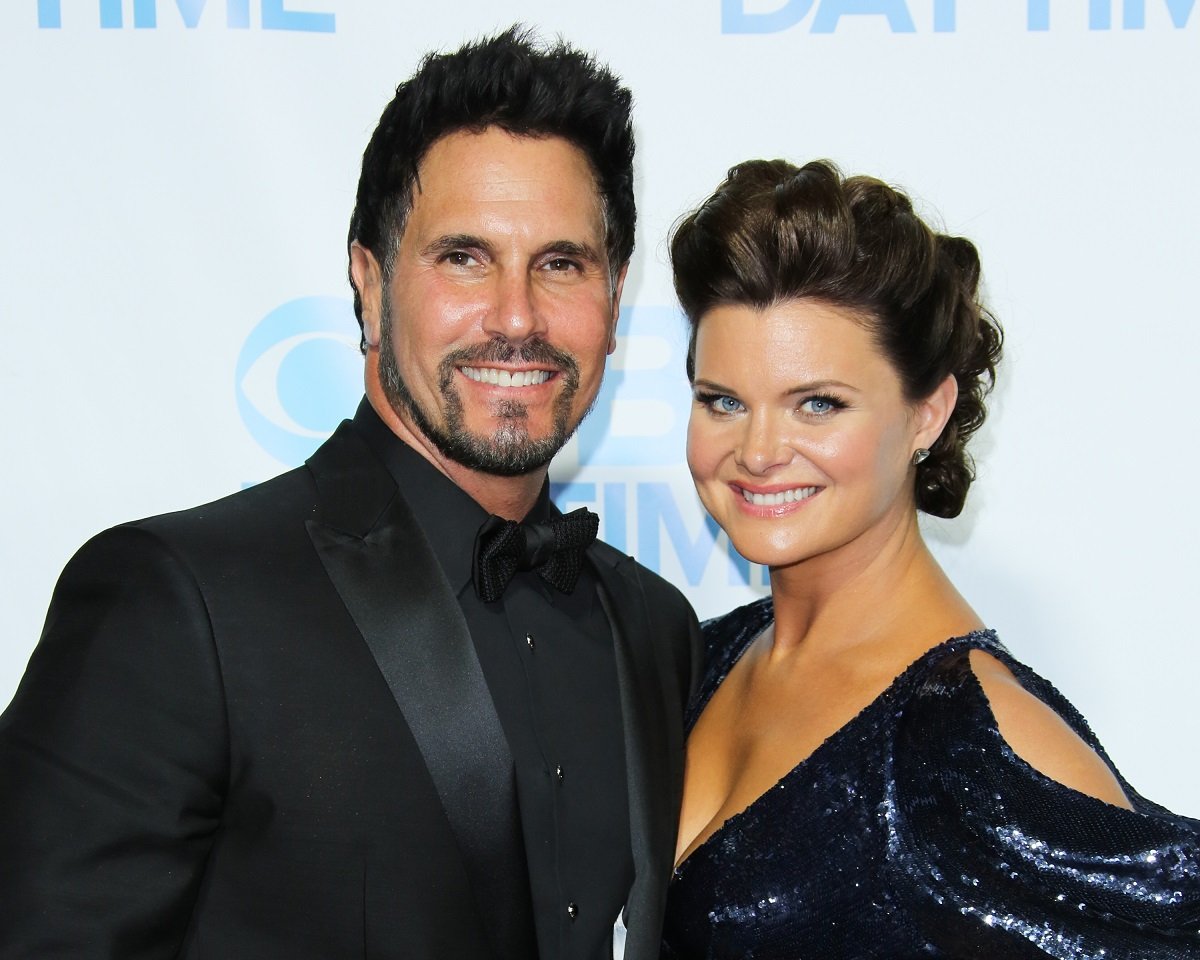 Katie Logan considers reuniting with Bill Spencer on 'The Bold and the Beautiful'
Katie and Bill are one of The Bold and the Beautiful couples who proves the adage of opposites attract is true. The youngest Logan sister has always been shy and self-conscious when it comes to dating. So when she became involved with the show's bad boy publisher, it sent tongues wagging. Nicknamed Batie by fans, Katie and Bill become a popular pairing.
RELATED: 'The Bold and the Beautiful' Fans Want Bill to Revisit an Old Love Triangle
Yet, as with many The Bold and the Beautiful couples, Katie and Bill had their share of drama. The couple's latest problem stems from Bill's kiss with Katie's sister Brooke Logan (Katherine Kelly Lang). Despite Bill's declaration of love toward Katie, she's been reluctant to take him back. However, according to Soaps.com, she may be changing her mind as she contemplates a reunion with her ex.
Katie Logan and Bill Spencer's relationship history
When it comes to Katie and Bill, their relationship has been rocked by one issue after another. Of course, there were Katie's health issues, which included a heart attack and kidney transplant. They also had to deal with infidelity, most stemming from Bill.
Early in their marriage, Bill was tempted by Steffy Forrester (Jacqueline MacInnes Wood). However, he breaks off his developing relationship with Steffy and stays with Katie. Years later, Bill would cheat on Katie again, this time with Brooke. Katie is devastated when she learns of the betrayal from her husband and her sister, and her relationship with both is strained.
Eventually, Katie and Brooke repair their bond. Katie and Bill also take steps in getting back together. However, in March 2020, they split when Katie saw a video of Bill and Brooke kissing.
What does Katie Logan and Bill Spencer's reunion mean for 'The Bold and the Beautiful'?
Although Katie and Bill are two of The Bold and the Beautiful's top characters, their storyline has been pushed to the back burner in recent months. But now, their relationship is getting some much-needed focus. As The Bold and the Beautiful fans know, it's obvious Katie and Bill are reuniting.
However, their happiness will be short-lived when more drama comes their way. There's the Brooke factor. Although Brooke is with Ridge Forrester (Thorsten Kaye), and Bill is committed to Katie, that will not stop Katie's fear of another Brooke and Bill affair. Also, let's not forget about Katie's other suitors. During her split from Bill, she dated other men, including Bill's son Wyatt Spencer (Darin Brooks). Wyatt is now engaged to Katie's niece Flo Fulton (Katrina Bowden), who doesn't know about her aunt's fling with her fiancé. That revelation would be enough to create drama in the Spencer family.