'The Bold and the Beautiful' Speculation: Steffy and Finn's Love Story Comes to a Tragic End
'The Bold and the Beautiful' couple Steffy Forrester and John Finnegan's love story has became one of the most popular in recent history.
The Bold and the Beautiful couple Steffy Forrester (Jacqueline MacInnes Wood) and John "Finn" Finnegan (Tanner Novlan) are a popular duo. Since July 2020, viewers have watched their love story evolve into marriage and children. Yet, like many couples, their story has tragically ended.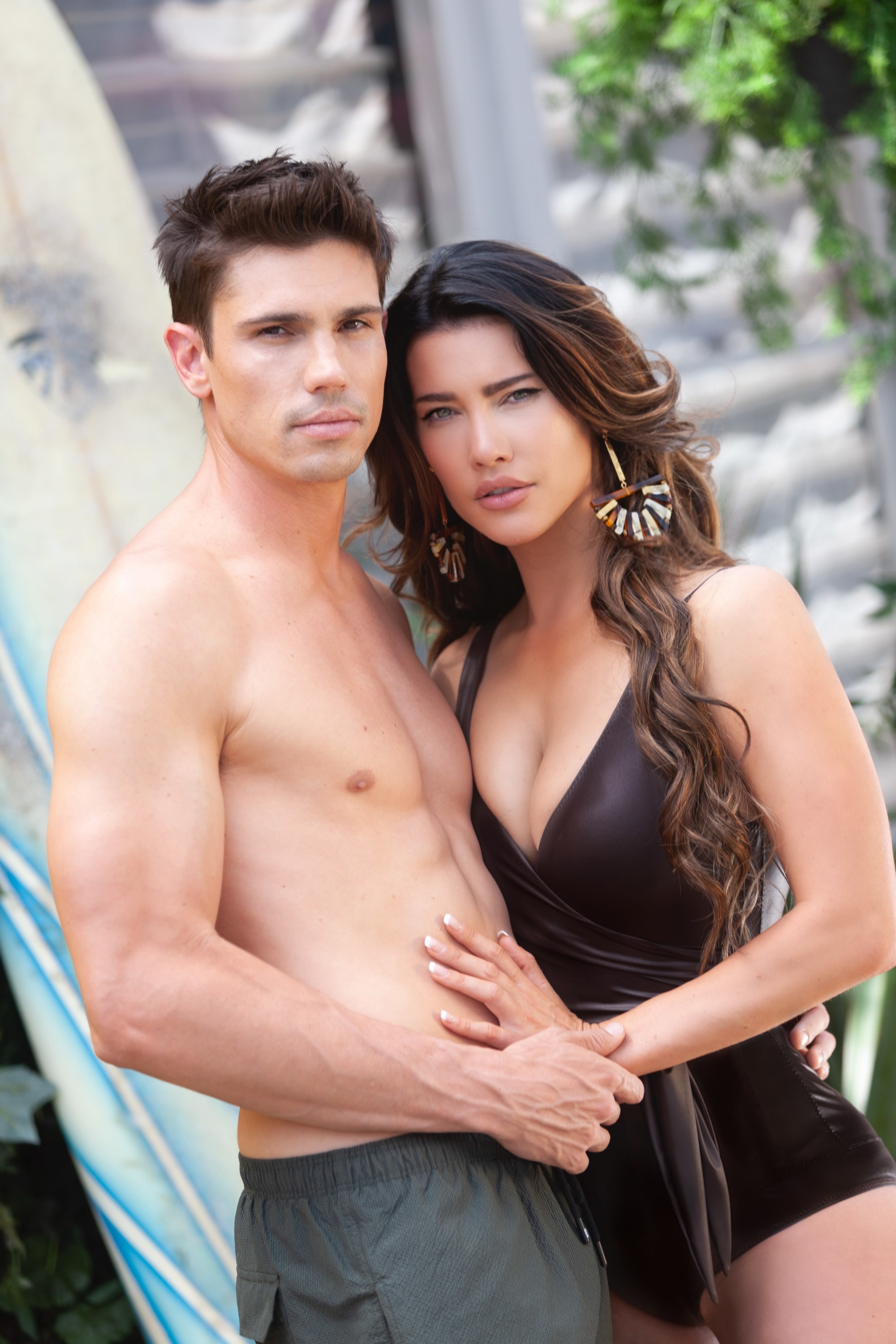 Sheila Carter shot Steffy Forrester and Finn on 'The Bold and the Beautiful'
Steffy and Finn's marriage started off rocky with the return of his birth mother, Sheila Carter (Kimberlin Brown). The Bold and the Beautiful fans knew the notorious villain would cause problems for Steffy and Finn. After months of build-up, their storyline came to a head with deadly consequences.
After learning about Sheila's evil plot against Brooke Logan (Katherine Kelly Lang), Steffy confronts her mother-in-law. Their showdown took place in the alley behind II Giardino, where tension quickly arose. Sheila pulled a gun on Steffy, yet Finn was the unlucky bullet recipient.
A stunned Sheila looked on as a hysterical Steffy pleaded with Finn to stay with her. When Steffy tried to call 911, Sheila aimed her gun and ordered Steffy to hang up. However, Steffy disobeyed the order, resulting in Sheila shooting her.
Deacon Sharpe comes to the rescue
After shooting Finn and Steffy, a panicked Sheila stole the couple's jewelry and wallets to make it look like a robbery. Shortly after running away, Deacon Sharpe (Sean Kanan) came into the alley and discovered the bodies. Deacon acted quickly by calling 911, and help was on the way.
While the situation looks dire for Steffy and Finn, The Bold and the Beautiful viewers hope for a miracle. With Bridget Forrester (Ashley Jones) in town, she'll work hard to save the couple. Yet, their fate remains unknown as their lives hang in the balance.
Will the couple live or die?
The million-dollar question on The Bold and the Beautiful is will Steffy and Finn survive. Speculation is already starting on the outcome of the incident. Since Steffy is a legacy character and a leading lady, it seemed unlikely she'll be killed off. According to upcoming spoilers from Soaps.com, it appears Steffy will survive as her family rallies around her.
However, Finn may not be so fortunate.
Finn's injuries are more severe than Steffy's, so it seems unlikely the doctor will make a miraculous recovery. Sinn fans are already heartbroken over Steffy losing her husband. Their outrage increases as speculation begins on the show setting up a reunion for Steffy and Liam Spencer (Scott Clifton).
Fans believed Finn was the perfect man for Steffy and wanted to see more of their relationship. Yet, sadly Sinn is no more since their life together has been cut short thanks to Sheila. The coming week will be an emotional time for fans as they say goodbye to Finn and recall the memories of his romance with Steffy.