'The Bold and the Beautiful' Speculation: Steffy and Liam's Plotting Ends Both Their Marriages
Family drama is a common theme in The Bold and the Beautiful. Steffy Forrester's (Jacqueline MacInnes Wood) worst nightmare came true when it was revealed Sheila Carter (Kimberlin Brown) is her mother-in-law. Aside from Steffy, Liam Spencer (Scott Clifton) is also unhappy with his father-in-law, Deacon Sharpe (Sean Kanan). Fearing the two are up to no good, Steffy and Liam set out to remove Sheila and Deacon from their lives. But will their plan backfire?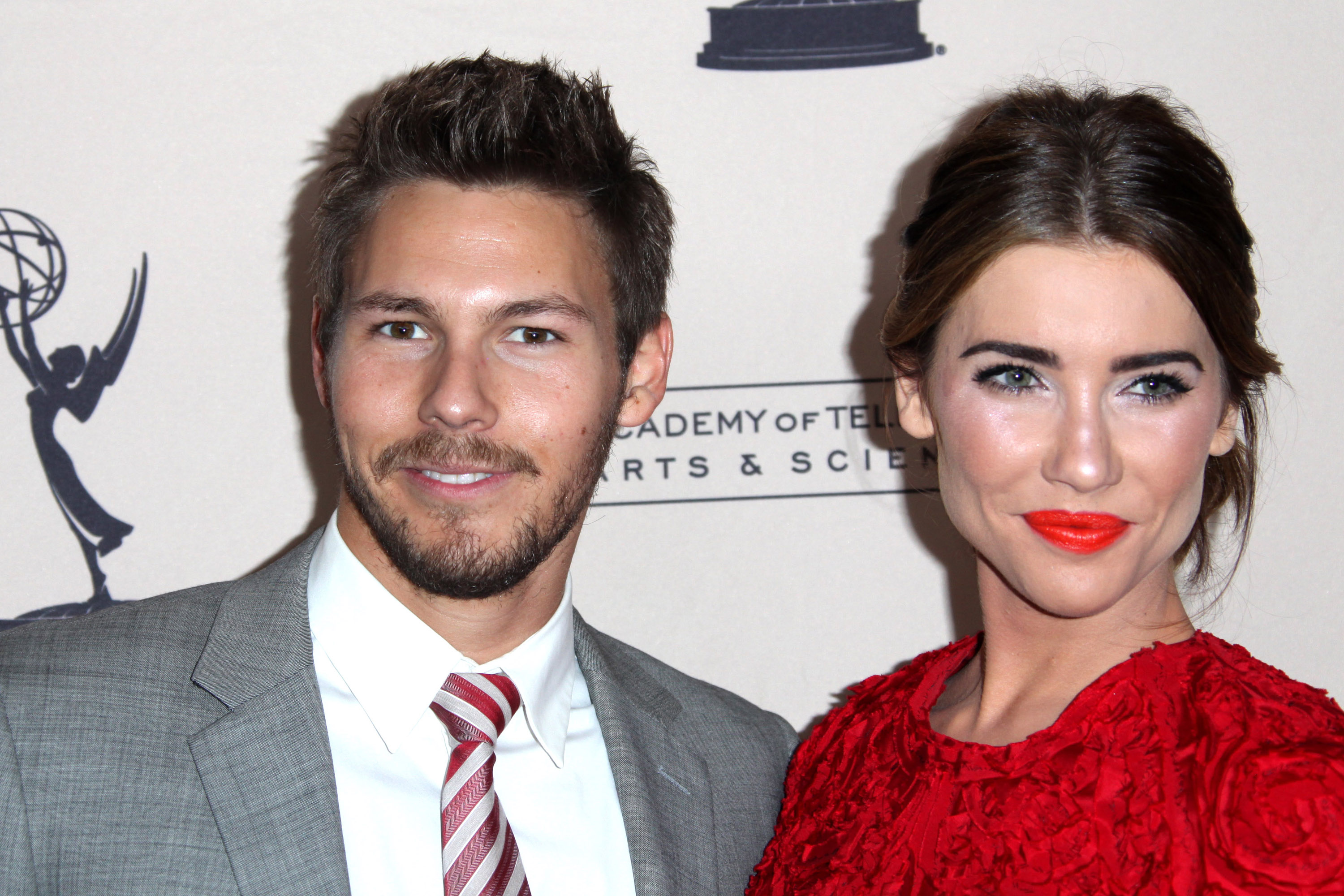 'The Bold and the Beautiful' Liam Spencer and Steffy Forrester team up
Neither Sheila nor Deacon have been welcomed back with open arms upon their return. The only ones pleased by their arrivals are Hope Logan (Annika Noelle) and Dr. John "Finn" Finnegan (Tanner Novlan). However, Hope and Finn's desire to reconnect with their parents is met with opposition from their spouses.
RELATED: 'The Bold and the Beautiful' Sneak Peek: Deacon & Sheila Team Up Against Hope – Who Gets An Ally In Steffy
Sheila and Deacon have shady pasts, and it's understandable why Steffy and Liam don't want them in their lives. Steffy and Liam's suspicions about the devious pair increase when they learn Sheila and Deacon are a couple. Fearing that their families are at risk, Steffy and Liam take action. According to Celebrity Dirty Laundry, team up to keep Finn and Hope away from their parents.
Sheila Carter lures Deacon Sharpe into her latest scheme
Since her return in August 2021, Sheila's been stirring up trouble for Finn and Steffy. Now, she has a new plan and a partner to help her. Sheila believes the only way to be in Finn's life is to remove Steffy from the picture. But to do that, she'll have to destroy Hope and Liam's marriage.
RELATED: 'The Bold and the Beautiful' Speculation: Deacon & Sheila's Match Made In Hell Just May Turn Real
Sheila believes that Finn and Hope are better suited for each other. Hope understands Finn's emotions regarding his situation with Sheila, and she might be the key to getting Sheila into Finn's life. But first, she's got to take care of Steffy and Finn. Sheila knows her and Deacon's fake romance is going to create more tension for the couples. As the drama arises, it's only a matter of time before both marriages crumble.
Steffy Forrester and Liam Spencer's plan backfires
The Bold and the Beautiful foreshadows a possible love quadrangle with Hope, Liam, Steffy, and Finn. It appears it might be happening sooner rather than later. Sheila and Deacon will continue to be a huge source of contention for both couples. Add in Steffy and Liam's plot, and it's a recipe for disaster.
Steffy and Liam have made their feelings known about Shelia and Deacon. Despite their warnings, Finn and Hope don't want to turn their backs on their parents. With Finn and Hope not listening to reason, Steffy and Liam have no other option. However, the pair's plan might backfire on them.
When Hope and Finn discover Steffy and Liam's scheme, they're undoubtedly going to be furious. The two are already upset that Steffy and Liam don't consider their feelings regarding the situation. All Steffy and Liam seem to care about are themselves and not what their spouses want. With neither side willing to budge, this could finally set up a Steffy and Liam reunion and a new relationship for Hope and Finn.