'The Bold and the Beautiful' Speculation: Will Brooke and Deacon Reignite Their Affair?
Brooke Logan (Katherine Kelly Lang) has had many love interests in The Bold and the Beautiful. Of course, Ridge Forrester (Thorsten Kaye) remains her true destiny. However, Brooke's quest for love led to her controversial pairing with Deacon Sharpe (Sean Kanan). The reformed bad boy's return could spell trouble for Brooke and Ridge's marriage.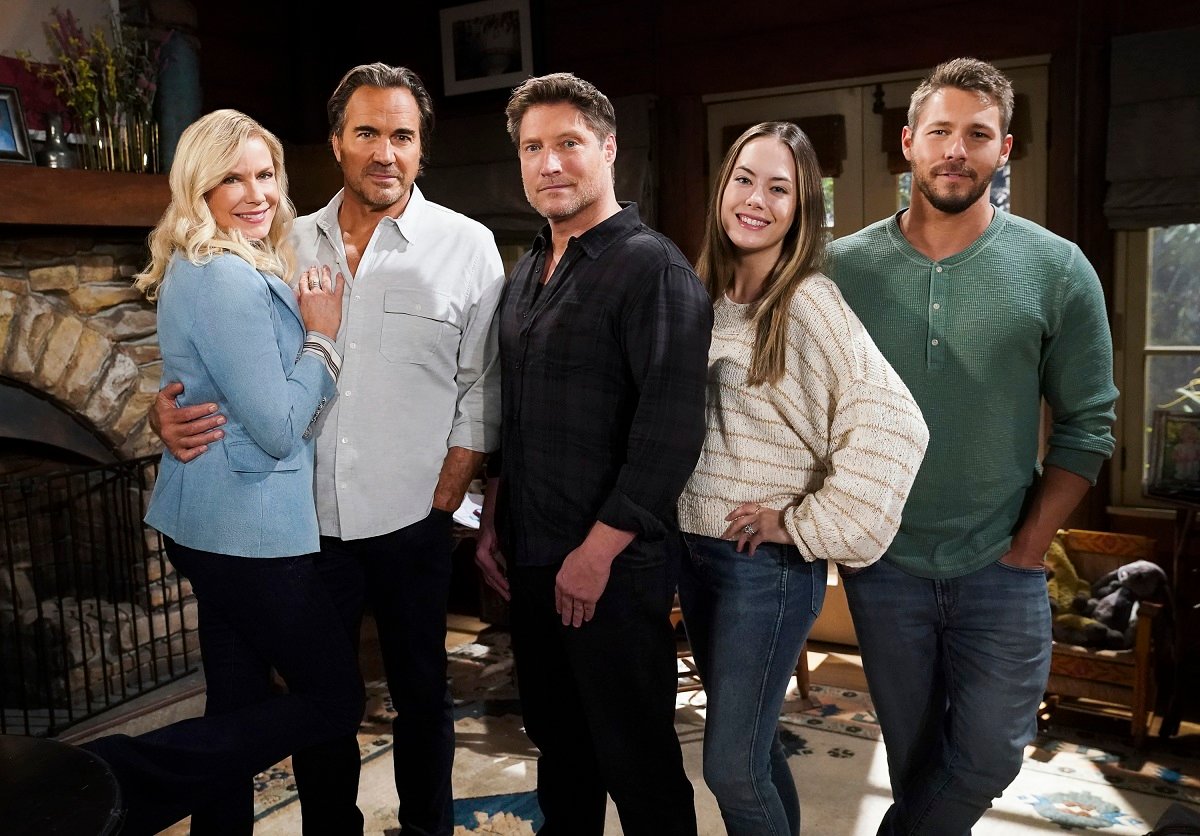 'The Bold and the Beautiful' Brooke Logan and Deacon Sharpe fall back into old habits
Deacon's return is already stirring up drama on The Bold and the Beautiful. Hope Logan (Annika Noelle) and Liam Spencer (Scott Clifton) are at odds over her desire to have Deacon back in her life. Liam isn't the only one thrilled about Hope's bond with Deacon.
RELATED: 'The Bold and the Beautiful' Speculation: Deacon Returns to Shake Things up
Brooke's made it clear she doesn't want Hope to have a relationship with her father. In a poignant moment, Brooke and Hope had a heartfelt discussion during which Brooke recalled her affair with Deacon. Brooke also admitted that Deacon's return could mean trouble for her and Ridge.
Although Brooke's committed to Ridge, she tends to stray. On Twitter, The Bold and the Beautiful fans are already sensing Brooke and Deacon rekindling their affair. "I think Brooke will start to remember how taken she was with Deacon," wrote one viewer.
Another commenter echoed the same sentiments. "Is Brooke going to sleep with Deacon for some reason? After all, she and Ridge haven't broken up yet this year, and it's already November! Tick tock!"
Brooke Logan and Deacon Sharpe's history
The scandalous affair between Brooke and her former son-in-law began in 2001. Although Brooke felt remorse for betraying her daughter Bridget Forrester (Ashley Jones), she and Deacon continued seeing each other. Their relationship became more complicated when Brooke discovered she was pregnant with Hope.
RELATED: 'The Bold and the Beautiful': Did Brooke Logan Fake a Pregnancy?
Despite attempts to keep their affair quiet, their secret was discovered by Stephanie Forrester (Susan Flannery) and later Bridget. Bridget divorced Deacon and had a falling out with her mother. However, Brooke and Bridget later reconciled.
As for Deacon, he remained in and out of Hope's life for years. But with Hope, an adult, she now wants to have a real relationship with her dad, much to everyone's disapproval.
Should Ridge Forrester be concerned?
Ridge is one of the many people unhappy with Deacon's arrival. Like Liam, Ridge is worried Hope will have her heart broken by Deacon. But he's also concerned about what this might do to Brooke.
Brooke regrets her affair with Deacon, but Hope is the best thing to come of it. Brooke also admitted that Deacon had a good side, which is what attracted her to him. Her reminiscing of Deacon could be setting the stage for the end of Bridge and another round of Breacon. If things were explosive the first time, there's no telling how dramatic it'll be this time around.