'The Bold and the Beautiful' Spoilers: Brooke is Torn Between Two Lovers — And Breaking All The Rules?
It's been a long time since The Bold and the Beautiful fans have had a bona fide love triangle. Sure, we got teased with the possibility of a Finn and Paris affair. But thank Heavens that petered out, because the Paris-Thomas-Zende situation is infinitely spicier.
Then there was the mess of the Quinn-Carter-Eric situation, but that was an "open relationship" more than it was a "triangle." And there was even a point where it may have become a square thanks to Katie!
And did we really need a redux of the Steffy-Hope-Finn triangle? No, ma'am, we most certainly did not. Steffy Forrester is one of the most beautiful women in Los Angeles — let's try to pair her with someone besides Liam, shall we?
Alas, this time around, Brooke has her chance at a love triangle with her old thing and her new thing. And we, as fans of The Bold and the Beautiful, deserve! Will she choose Ridge, or will she choose Deacon? Let's try to figure it out.
[Spoiler alert: Potential spoilers for upcoming episodes of The Bold and the Beautiful are ahead.]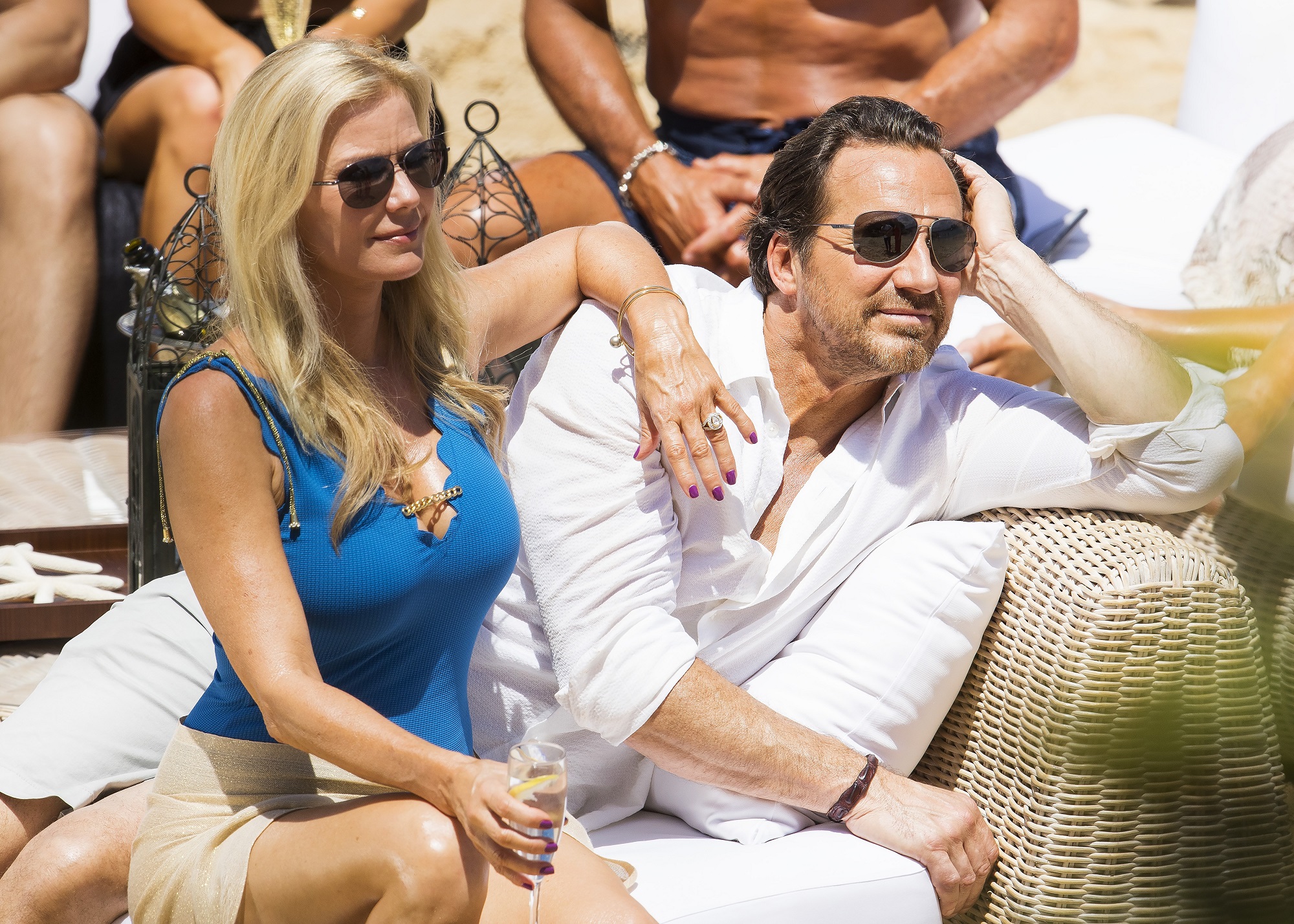 On 'The Bold and the Beautiful,' Brooke is getting wistful for the old times
On this week's episodes of The Bold and the Beautiful, Hope and Deacon will do a lot of bonding. (They certainly have a lot of catching up to do.) At one point, they'll strike a deal about seeing each other which will, at least at first, give Brooke a little cause for pause.
But according to Celeb Dirty Laundry, it's not just Brooke who has an issue with this new "arrangement." Liam, Hope's husband, isn't a fan of Daddy Dearest getting too close to the kids. And it's not like Liam doesn't have the right to be concerned — because aside from Deacon's is-he-or-isn't-he addiction, he's teaming up with Sheila Carter, the literal worst person in Los Angeles.
Hope certainly has her hands full between these two. And that's not all.
Hope is locking horns with Ridge
Even though Ridge has filled in the "father figure" role quite nicely with Hope, he's still not Hope's real father. On previous episodes of The Bold and the Beautiful, Ridge and Hope began locking horns the minute Deacon rode into the frame. And that caused a lot of tension between the two.
But according to a different report from Celeb Dirty Laundry, Hope and Ridge's tension will reach an all-time high this week. And these tensions will lead to a domino effect. Because Hope and Ridge will butt heads, Ridge and Deacon will butt heads.
And who will get stuck in the middle? None other than Brooke, of course.
A bona fide love triangle?
Previous episodes of The Bold and the Beautiful featured Brooke remembering all the good times with Deacon. (Funny how nostalgia works.) And, let's be real: Brooke always will have a spot in her heart for Deacon. That is her daughter's father, after all. But that's not going to fly with good old Ridge.
"The conflict between Deacon and Ridge will escalate, so Deacon seems poised to fight back and make Ridge even more riled than before," reports the outlet. "Brooke Forrester (Katherine Kelly Lang) will feel stuck in the middle of this battle, so she'll have a serious outburst of her own that sends things even further downhill. Ridge's anger will reach a boiling point and go bubbling over, so this fight will be a real doozy! It'll also leave Brooke ready to make a significant choice about her family's future, so that could mean taking drastic action against Ridge and his stubborn stance."
It sounds like the drama is just getting started on The Bold and the Beautiful.
RELATED: Baby Come Back! 'The Bold and the Beautiful' Star Ronn Moss Resumes His Role in the 1970s Rock Band, Player