'The Bold and the Beautiful' Spoilers: Brooke and Ridge Headed for a Split Thanks to Deacon
Like many 'The Bold and the Beautiful' couples, Brooke Logan and Ridge Forrester have split up several times over the years. Once again the pair is experiencing problems. This time their issues stem from Brooke's ex-lover Deacon Sharpe. It appears Brooke may dump Ridge to reunite with Deacon.
The Bold and the Beautiful super couple Brooke Logan (Katherine Kelly Lang) and Ridge Forrester (Thorsten Kaye) are no strangers to drama. The pair's experienced plenty of problems during their three-decade love affair. Yet, the arrival of Brooke's ex-lover, Deacon Sharpe (Sean Kanan), may have the couple headed for splitsville again.
[Spoiler alert: Potential spoilers for upcoming episodes of The Bold and the Beautiful are ahead.]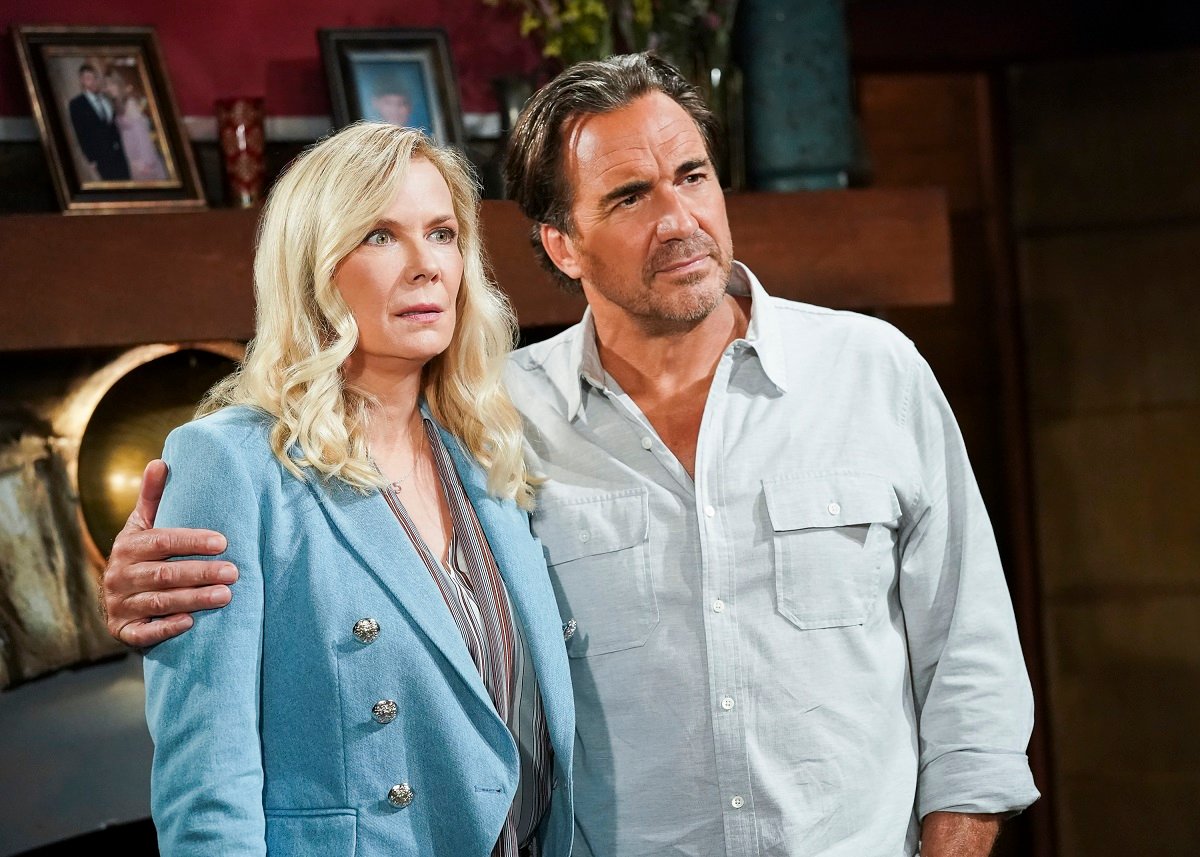 'The Bold and the Beautiful' Brooke Logan and Ridge Forrester at odds over Deacon Sharpe
Deacon's return to The Bold and the Beautiful has undoubtedly created a lot of tension. Hope Logan (Annika Noelle), inviting her father back into her life, is met with disapproval from other people, including Ridge. The fashion designer has made it known he doesn't want Deacon part of their lives.
Brooke sided with Ridge over Hope in the matter. However, it seems she's now changing her mind. According to Soaps.com, Brooke breaks up a heated argument between Ridge and Deacon with a declaration that shocks everyone.
Odds are Brooke tells Ridge that Deacon's going to stay, which will upset him and cause further strain on their marriage.
Ridge Forrester concerned about Deacon Sharpe stealing Brooke Logan
Ridge has made it known he doesn't want Deacon around due to the bad boy's unsavory past. One of Deacon's past misdeeds was his affair with Brooke. Deacon and Brooke's tryst caused a lot of heartache for Bridget Forrester (Ashley Jones).
Brooke admitted her and Deacon's affair was a mistake and a road she doesn't want to go down again. Yet, Ridge can't help but wonder if history will repeat itself. Although Ridge says he's concerned about Hope, it's Brooke who is on his mind.
Deacon seduced Brooke once, and she was vulnerable to falling under his spell. Ridge wants to protect Brooke and keep her from going back to that dark period in her life. Yet, Deacon's return has stirred up old memories, and it may lead to the end of Bridge's marriage.
Is 'The Bold and the Beautiful' planning a Brooke Logan and Deacon Sharpe reunion?
The Bold and the Beautiful has been hinting at a possible reunion between Brooke and Deacon. Brooke telling Hope about her and Deacon's relationship brought back plenty of memories. Although Brooke is adamant Ridge is her destiny, she may be rethinking that stance now that Deacon's back.
In the latest, The Bold and the Beautiful promo, Deacon tells Brooke he hasn't forgotten their connection and asks Brooke if she feels the same. Brooke doesn't reply, yet her facial expression indicates she hasn't forgotten about their relationship either. Later during their conversation, Deacon says he doesn't want to cause any problems for Brooke or her marriage.
Yet, the damage may already be done. Brooke's change of opinion regarding Deacon has Ridge questioning whether she's still in love with him. Brooke and Ridge's marriage is already on thin ice, and things are going to get worse. As Ridge proclaims, "this isn't going to end well."