'The Bold and the Beautiful' Spoilers: Ridge Dashes Brooke's Hopes of a Reunion
The Bold and the Beautiful spoilers indicate a turning point for Ridge Forrester (Thorsten Kaye) and Brooke Logan (Katherine Kelly Lang). The super couple has hit a rough patch in 2022. But a new revelation may mean a reunion for Bridge.
[Spoiler alert: Potential spoilers for upcoming episodes of The Bold and the Beautiful are ahead.]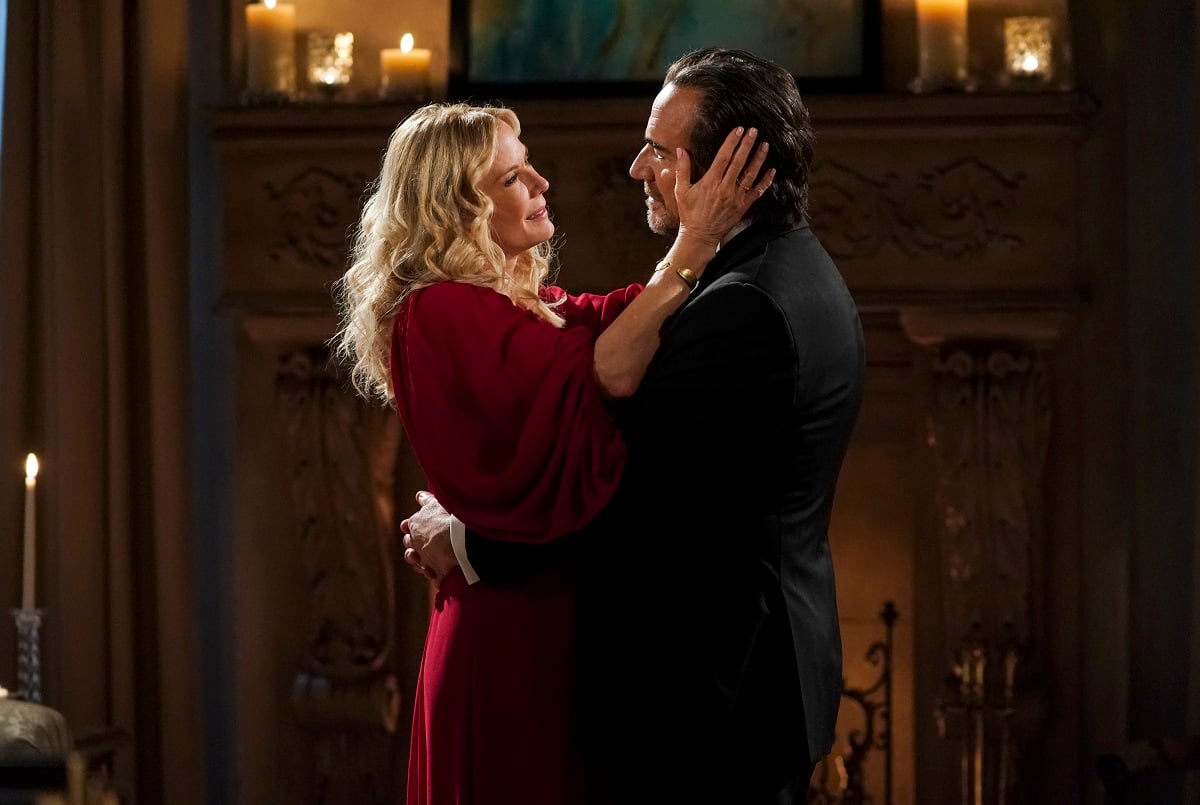 'The Bold and the Beautiful' spoilers say Brooke Logan learns the truth about New Year's Eve
Ridge and Brooke's marital problems began on New Year's Eve. Brooke planned a romantic evening with her destiny, complete with "nonalcoholic" champagne. However, Ridge's flight got delayed, and Brooke ringed in the New Year with her ex-lover, Deacon Sharpe (Sean Kanan). 
Brooke indulged in champagne and vodka shots as she and Deacon reflected on their past. As midnight struck, Brooke planted a kiss on Deacon, who spent the night at her house. A guilt-ridden Brooke tried to keep her and Deacon's liplock a secret but was forced to come clean. 
RELATED: 'The Bold and the Beautiful': Sheila Isn't to Blame for Brooke's Problems
A furious Ridge walked out while Brooke was left wondering why she drank that night. Well, she finally has an answer. According to spoilers from Soaps.com, Brooke learns Sheila switched her champagne setting up the breakup of her marriage.
Ridge Forrester isn't ready to come home
Brooke's been pining after Ridge for the past two months. Although they're separated, Brooke's not ready to give up on her marriage. After learning about Sheila's scheme, Brooke believes Ridge will come home. 
Brooke was a victim in Sheila's twisted plot, and with the truth finally out, the couple can reunite. However, Brooke's hopes are about to be dashed. According to The Bold and the Beautiful spoilers from Celeb Dirty Laundry, Ridge isn't ready to come home. 
Ridge is again torn between Brooke and Taylor Hayes (Krista Allen). Sheila's confession changes everything and has him more confused than ever. He needs time to think and moves in with Eric Forrester (John McCook) until he makes a decision.
More outside forces hinder Bridge reunion
Brooke's intuition about an outside force keeping her and Ridge apart was correct. Now that Sheila's behind bars, everyone can move on, including her and Ridge. Yet, more outsiders will keep the couple from reuniting.
Ridge may not be ready to leave Taylor. After his breakup with Brooke, the couple reunited, and their bond grew stronger during a recent tragedy. Steffy Forrester's (Jacqueline MacInnes Wood) shooting and John "Finn" Finnegan's (Tanner Novlan) death brought the couple closer. Ridge and Taylor will be spending more time together as they help Steffy with the aftermath of Sheila's destruction.
Aside from Taylor, Deacon is another person who'll pose a problem. Before the New Year's incident, Ridge and Brooke argued about Deacon. Ridge made it clear he didn't want Deacon in their home or around Brooke. Yet, Brooke disobeyed him by inviting Deacon over.
Deacon will still be part of Brooke's life because of Hope Logan (Annika Noelle). Although he's tried to respect Brooke and Ridge's marriage, Deacon's still in love with her. If Brooke and Ridge were to reunite, she'd have to cut Deacon out of her life. Is that something she's willing to sacrifice to reunite with her destiny?
RELATED: 'The Bold and the Beautiful': Fans Want a New Man for Brooke