'The Bold and the Beautiful': Steffy and Liam Reunion Coming After He Becomes Involved in the Sheila Situation
Steffy Forrester and Dr. John "Finn" Finnegan's marriage is already on thin ice thanks to the arrival of his mother Sheila Carter. 'The Bold and the Beautiful' previews show more trouble ahead for the newlyweds. When Steffy's ex Liam Spencer becomes involved in the situation, will this lead to a reunion between pair.
The bad news keeps coming for Steffy Forrester (Jacqueline MacInnes Wood) fans. The Bold and the Beautiful viewers were ecstatic when she found a new man in Dr. John "Finn" Finnegan (Tanner Novlan). However, the couple's marriage appears to be over before it already begins. The revelation of Sheila Carter (Kimberlin Brown) has created tension in the Forrester and Finnegan household. If that wasn't bad enough, once again, Steffy's ex Liam Spencer (Scott Clifton) will become involved in her personal affairs.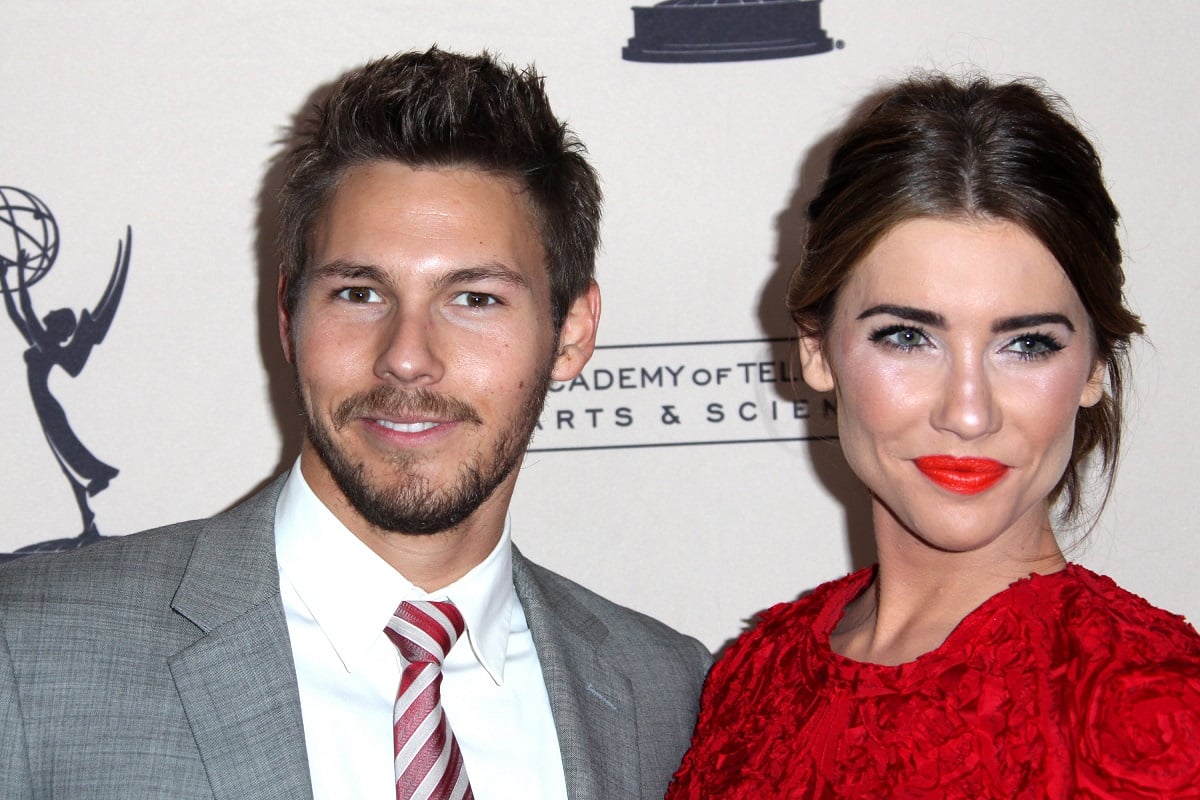 Liam Spencer becomes involved in the Sheila Carter situation on 'The Bold and the Beautiful'
Although they're no longer together, Liam can't resist meddling in Steffy's life. With her husband being related to one of The Bold and the Beautiful's dangerous villains, Liam is concerned about Steffy and their daughter Kelly Spencer's (Avalon and Colette Gray) safety. According to Soap Dirt, Liam's worry intensifies when he discovers Finn allowed Sheila into Steffy's home.
Of course, Liam isn't going to resist the opportunity to criticize Finn for his actions. Finn knows about Sheila's evil past, yet he disregarded Steffy's wishes to keep Sheila out of their lives. By inviting Sheila into their home, Finn put everyone's lives at risk, including Kelly's.
Liam Spencer comforts Steffy Forrester as she stresses over her marriage
Steffy's plans for happy home life with Finn and their son Hayes Finnegan (Samantha Worden) slowly diminish. What should be a happy time for the couple has turned into a nightmare. With Finn betraying her by secretly contacting Sheila, Steffy is left wondering what to do about their marriage.
As Steffy stresses over the situation, Liam will be there to offer comfort. Although the two are no longer a couple, they'll always be friends. Yet, as The Bold and the Beautiful fans have seen, their past is brought up anytime Liam and Steffy are together. With Liam inserting himself into Steffy's latest drama, this could lead to a reunion with the exes.
Another reunion for Steffy Forrester and Liam Spencer
For the past decade, The Bold and the Beautiful fans have watched the ongoing love triangle with Steffy, Liam, and Hope Logan (Annika Noelle). Liam is constantly waffling his way between the two women, which has fans loathing his character. Viewers thought the storyline would finally end with Liam choosing Hope and Steffy moving on with Finn.
However, The Bold and the Beautiful fans know that's not possible. Liam and Hope currently don't have a storyline and need some excitement. Add in Steffy and Finn on the brink of splitsville, and it only means one thing. Another round of Steffy and Hope fighting for Liam's affections.