'The Bold and the Beautiful': Susan Flannery Wanted Stephanie to Die in Brooke's Arms
It's been nine years since The Bold and the Beautiful said goodbye to Stephanie Forrester (Susan Flannery). After 25 years, Flannery decided to retire, which meant the end of her iconic character. The writers did a tremendous job of paying tribute to the Forrester matriarch. Stephanie's death remains one of the most talked-about moments in the show's history.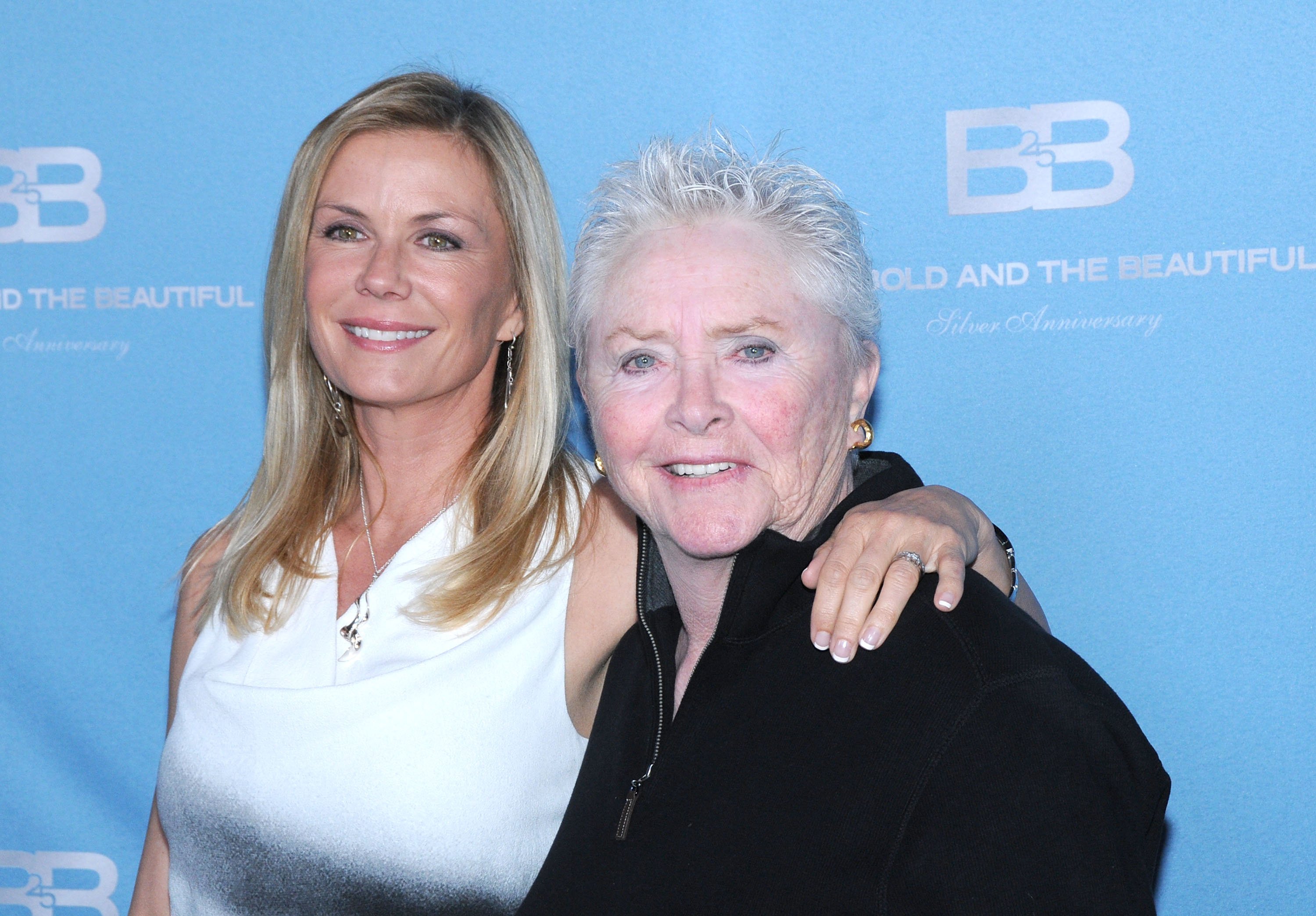 'The Bold and the Beautiful' star Susan Flannery loved Stephanie Forrester's death scenes
Stephanie's death aired on the November 26, 2012, episode of The Bold and the Beautiful. After discovering her lung cancer had returned and progressed worse, Stephanie decided to forego treatment. In her final weeks, Stephanie reminisced about Eric Forrester (John McCook) and their children about the good times.
A party was held a the Forrester mansion celebrating Stephanie's life, then afterward, she and Eric embarked on a trip to Big Bear. When Eric returned to Los Angeles to take care of business, Brooke Logan (Katherine Kelly Lang) agreed to stay with Stephanie. The two sat outside on a bench and recalled their tumultuous history before making peace. As Brooke cuddled and sang to Stephanie, the Forrester matriarch died.
RELATED: 'The Bold and the Beautiful': 5 Character Deaths That Had Fans in Tears
Stephanie dying in Brooke's arms remains a hot topic with fans. Although some viewers disagreed with the decision, Flannery was happy with how it played out. In a 2013 interview with TV Guide, Flannery discussed her final scenes. "I went up to Brad's office and said, 'You're gonna have Brooke there with her at the end, right?' He looked up and gave me this great big grin and said, 'Yes, that's who it is.' I said, 'Fabulous!' I think it worked out really well."
Stephanie Forrester and Brooke Logan's rivalry
Stephanie versus Brooke is The Bold and the Beautiful's most epic feud. The women were at each other's throats for over two decades. The basis for their rivalry was Brooke's relationship with Stephanie's eldest son Ridge Forrester (Thorsten Kaye).
Stephanie disapproved of Brooke and believed Taylor Hayes (Krista Allen) to be the better woman for her son. Their feud escalated when Brooke married Eric and Stephanie's other son Thorne Forrester (Ingo Rademacher). The two had vicious fights over the years, with Stephanie delivering one of the famous slaps to Brooke.
While the women often feuded, they did make peace, and Stephanie showed compassion to Brooke. During Stephanie's final years, she and Brooke became friends, and their bond lasted until the end.
Susan Flannery and Katherine Kelly Lang are friends in real-life
While their characters often fought on The Bold and the Beautiful, Flannery and Lang are friends in real life. Although Flannery is no longer with the show, she, Lang, and other co-stars meet to catch up on old times. Aside from being a friend, Flannery was also a mentor to Lang during the actor's early years on the soap opera.
RELATED: 'The Bold and the Beautiful': John McCook Weighs in on the Stephanie vs. Quinn Debate
In a 2020 interview with TV Insider, Lang spoke about her relationship with Flannery. "I learned so much working with Susan. She taught me a lot. She's tough and doesn't back down. The show and her character meant so much to her. We had the best time working together."