'The Bold and the Beautiful': Thomas and Steffy Need to Stay out of Their Parents' Marriage
The Bold and the Beautiful siblings Thomas and Steffy Forrester (Matthew Atkinson and Jacqueline MacInnes Wood) are celebrating. The duo is thrilled their parents, Ridge Forrester (Thorsten Kaye) and Taylor Hayes (Krista Allen), are back together. None of which would be possible without interference from the Tridge kids. However, fans feel the brother and sister duo need to mind their own business.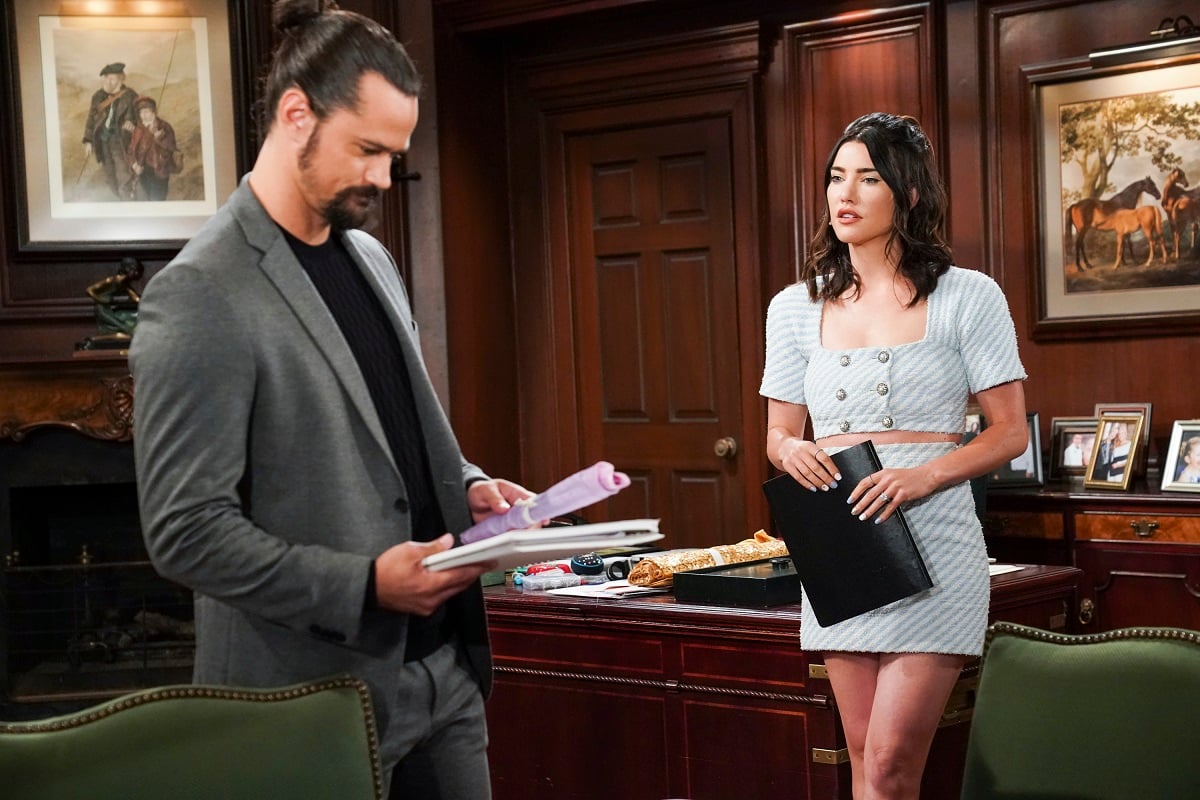 'The Bold and the Beautiful' Thomas and Steffy Forrester need leave their parents alone
Thomas and Steffy know how to create drama on The Bold and the Beautiful. The siblings recently set up a plot to end Ridge's marriage to Brooke Logan (Katherine Kelly Lang). When Ridge finally walked out on Brooke, Steffy didn't waste any time convincing her father he needed to be with Taylor.
Ridge took his children's advice and decided to reunite with Taylor. While Thomas and Steffy are happy, fans think they need to take a step back. On Twitter, fans discussed how immature the siblings are acting in the situation. 
RELATED: 'The Bold and the Beautiful': Hope and Steffy Go to War Over Their Mothers
"Are Steffy and Thomas in their 30s or 10s? Y'all let me know," wrote one viewer. "The writers are writing these two like small children," another commenter chimed in. "I think the whole thing is sickening! Steffy and Thomas should mind their own business!!" a fan replied.
The siblings exposed Brooke Logan's secret
Thomas and Steffy's road to reuniting their parents started by exposing Brooke's secret. The pair became suspicious after Douglas Forrester (Henry Joseph Samiri) revealed he saw Brooke kissing "Santa Claus" on New Year's Eve. With Ridge out of town that night, they realized the other man Brooke was with was Deacon Sharpe (Sean Kanan).
With Charlie Webber's (Dick Christie) help, Steffy found video footage of Deacon at Brooke's house. After Ridge learned from Taylor about Brooke and Deacon, he wasted no time confronting his wife. Brooke admitted to getting drunk and kissing Deacon. While Ridge was leaning toward working out his issues with Brooke, he changed his mind after she defended Deacon.
Believing she still has feelings for Deacon, Ridge walked out on Brooke. Now he's with Taylor and ready to be a family with their kids.
Sheila Carter's secret could destroy the Tridge family
Sheila Carter (Kimberlin Brown) helped set up Brooke and Ridge's split unbeknownst to everyone. She switched Brooke's nonalcoholic champagne, which resulted in Brooke getting drunk and kissing Deacon. Last week during an argument with Thomas, Sheila let slip that she changed Brooke's drink.
RELATED: 'The Bold and the Beautiful': Fans Want Thomas to Tell the Truth
Thomas was disgusted by Sheila's actions, and now he's left with a tough dilemma. If he tells the truth, it'll mean Ridge and Brooke get back together. However, if he keeps quiet, his family reunites, and everyone's happy. 
As Thomas' conscience weighs on him, he'll have Sheila breathing down his neck. Sheila's a dangerous woman, and if Thomas thinks about telling the truth, she has ways of silencing him.