'The Bold and the Beautiful' Wild Speculation: A Rekindled Romance Between Brooke and 'Dollar Bill'?
Because there isn't enough messiness on 'The Bold and the Beautiful,' today's wild speculation throws 'Dollar Bill' Spencer into the mix.
The Bold and the Beautiful has Brooke Logan's life in shambles. One drunken kiss has literally cost her everything she holds dear. And, in a way, it's a tragedy. But on this week's wild speculation, we take a look at the possibility of a reunion between Brooke and "Dollar Bill," aka Bill Spencer, aka her son-in-law's father. Because, sure, why not?
[Spoiler alert: Potential spoilers for upcoming episodes of The Bold and the Beautiful are ahead.]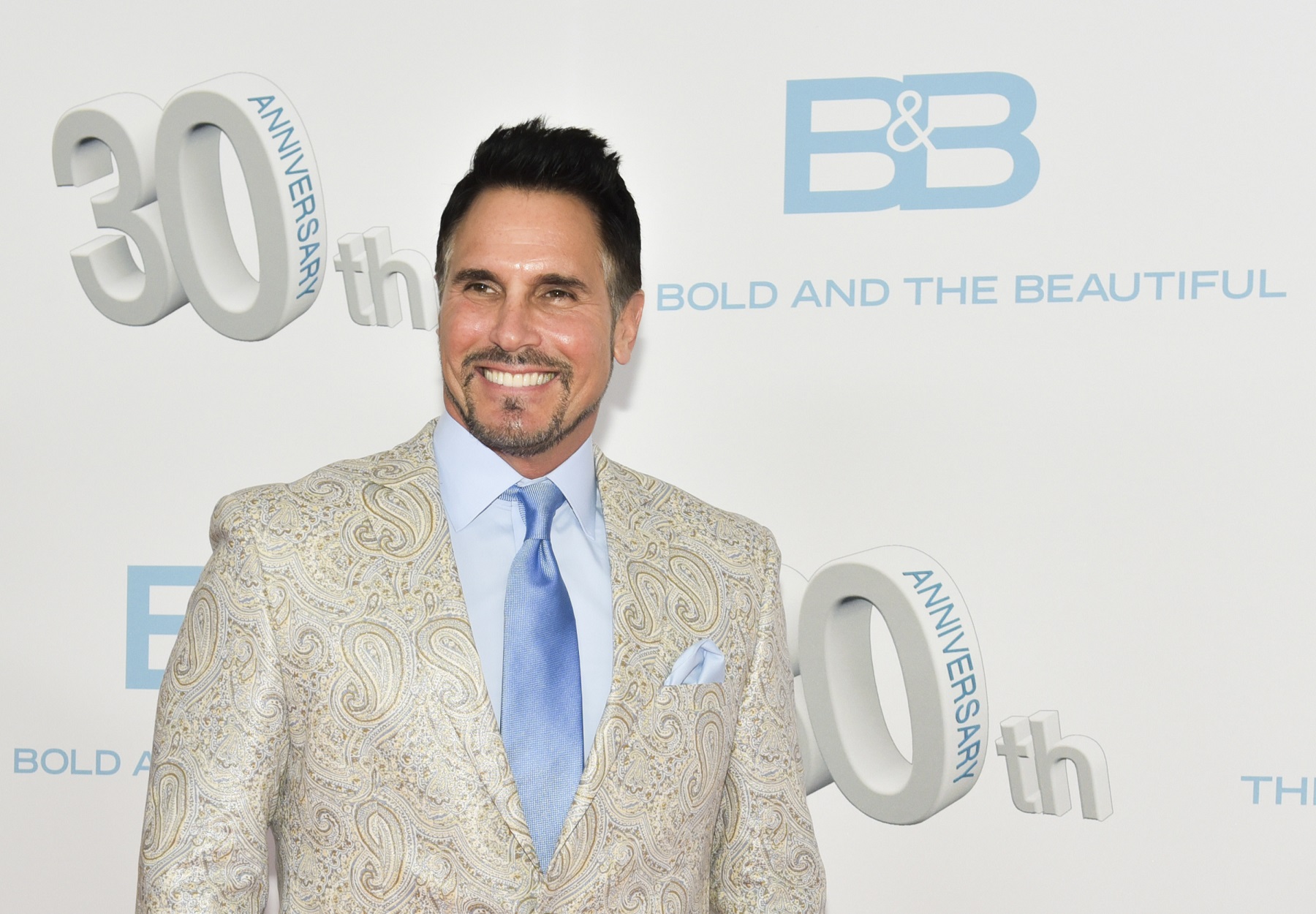 "Dollar Bill" returns to 'The Bold and the Beautiful' on March 4
As Soaps.com reports, "Dollar Bill" will be back on The Bold and the Beautiful canvas on March 4. And, in true Dollar Bill fashion, he has plenty to say about the Brooke and Ridge situation.
"Nobody needs to ask Dollar Bill for his two cents," reports the outlet. "He's perfectly happy to voice his opinion about Ridge and Brooke to Wyatt and Liam. Why do we suspect he won't be too torn up about the dressmaker's wife swap?"
Now, certainly, this is going to make poor Liam uncomfortable. (As if Bill really cares. This is the same Bill who blew up a building with Liam in it, after all — OK, it was an "accident," but still…) After all, Brooke is Liam's mother-in-law. And the last thing Liam needs is more family drama. Hasn't he been through enough?
But fans of The Bold and the Beautiful already know there's a history between Brooke and Bill.
There's a history between Brooke and Bill
Remember the old chestnut of Brooke and Bill's unborn child? The Bold and the Beautiful remembers. But for the benefit of those who don't remember — or weren't old enough to — the situation goes a little something like this.
So, back in the day, Bill was married to Katie (who is, we'll recall, Brooke's sister). Katie fell into a depression, so she sent Brooke and Bill off to Aspen for a bit of R&R. (Yes, we know how ridiculous this sounds. Stay with us here.) So, off Brooke and Bill go to Aspen, and amazingly, Bill remained loyal — though it wouldn't always be this way.
Then, one night, Brooke and Bill crashed into each other — in more ways than one. Long story short, Brooke ends up pregnant with Bill's child (after thinking it was menopause), but Bill and Katie were still married at the time. So Brooke goes running over to her sister and brother-in-law's house to share the "good news" (yikes), but she ends up fainting, which leads to a miscarriage. (Blessing in disguise and all that.) It didn't matter, though, because the news went over with Katie as well as you think it would.
Classic soap opera material, ladies and gentlemen!
But would a return to this situation be a bit too messy?
Fast forward to the present, and both Brooke and Bill are currently unencumbered. Soaps.com even speculates that Bill is bankrolling Sheila to do all this to Brooke so he can "blaze a trail" back to her. (That would be something, wouldn't it?) But while there are some fans of The Bold and the Beautiful who would love to see the "Brill" ship sail again, this one just seems a bit too messy.
Not that "being messy" is beneath Brooke Logan — especially these days — but would returning to Bill's arms just be a bit too messy, even for Brooke? That's something future episodes of the show will have to address sooner rather than later. But, to be fair, how much messier can things really get for Brooke? What would be the difference if, even now, she returns to this guy? And isn't "Dollar Bill" a better option than Deacon, after all?
Well, maybe not by much — especially if the speculation about Bill bankrolling Sheila turns out to be true. Of course, this is all just speculation. We'll just have to tune in to upcoming episodes of The Bold and the Beautiful to find out for sure.