The 'Borat' Sequel: How Rudy Giuliani Is Defending His Unwitting Cameo
Sacha Baron Cohen's new Borat movie is not sitting well with President Trump's personal attorney, Rudy Giuliani.  Borat Subsequent Moviefilm features an unwitting cameo that puts the former New York City mayor in a questionable position. Just a day before the premiere, Giuliani is defending his behavior and calling the film a political "hit job."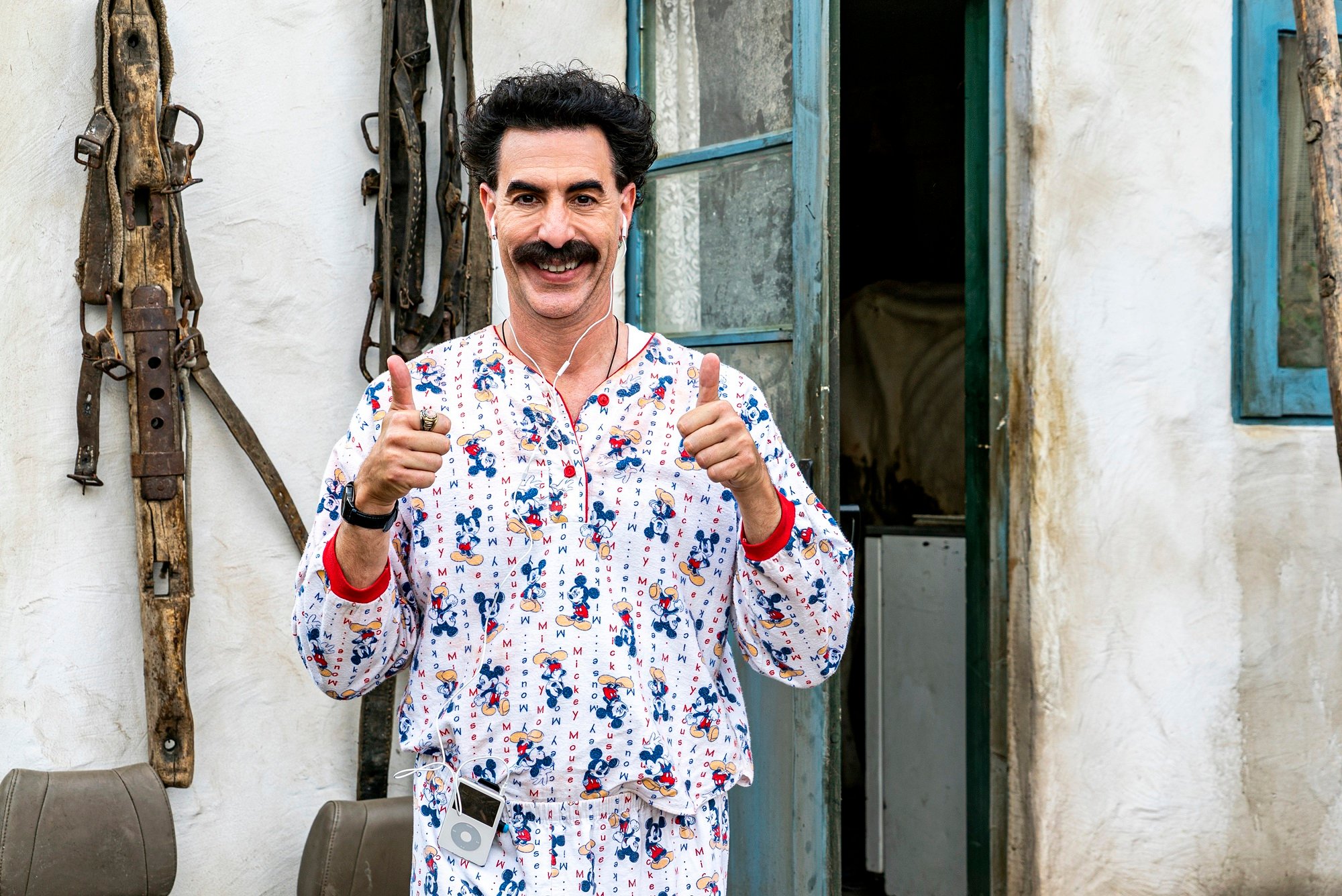 Sacha Baron Cohen pranked Rudy Giuliani over the summer
News of Cohen's run-in with Giuliani made headlines long before the Borat sequel was confirmed. In a July 8 interview with Page Six, Giuliani claimed that he was pranked by Cohen the day before, and vaguely described the incident.
The former mayor said that he was invited to a New York hotel for an interview regarding Trump's COVID-19 response efforts. He said a female interviewer asked him a few questions just before Cohen dropped in wearing women's lingerie.
RELATED: Sacha Baron Cohen Just Pranked Rudy Giuliani Disguised in a Pink Lace Bikini
"This guy comes running in, wearing a crazy, what I would say was a pink transgender outfit," Giuliani said. "It was a pink bikini, with lace, underneath a translucent mesh top, it looked absurd. He had the beard, bare legs, and wasn't what I would call distractingly attractive."
"I only later realized it must have been Sacha Baron Cohen," he continues. "I thought about all the people he previously fooled and I felt good about myself because he didn't get me."
The 'Borat' sequel puts Rudy Giuliani in a compromising position
Giuliani's encounter with Cohen is featured in Borat Subsequent Moviefilm. And it seems to put the attorney in a questionable position. According to NPR, the scene shows Giuliani lying back on a bed while the female interviewer helps him take off his mic.
"The Giuliani scene takes the form of a hotel suite interview with actress Maria Bakalova, who is impersonating a television reporter," NPR reported. "At one point, the actress suggests they continue the conversation in the suite's bedroom, and Giuliani agrees. He is then seen sitting on the bed as she helps him remove his microphone, untucking his shirt in the process. After a cut, he lies back on the bed and reaches into the front of his pants, at which point Borat, wearing an outrageous pink getup, rushes in, interrupting them."
Rudy Giuliani defends his unwitting 'Borat Subsequent Moviefilm' cameo
In an Oct. 22 interview with ABC News Radio, Giuliani defended his behavior and called Cohen's movie a "hit job." "I am tucking my shirt in, I assure you, that's all that I was doing," he said.
Then in a series of tweets, the President's personal attorney went into further detail about the incident. And he suggested the scene was more about the election than anything else.
"The Borat video is a complete fabrication," Giuliani tweeted. "I was tucking in my shirt after taking off the recording equipment. At no time before, during, or after the interview was I ever inappropriate. If Sacha Baron Cohen implies otherwise he is a stone-cold liar — This is an effort to blunt my relentless exposure of the criminality and depravity of Joe Biden and his entire family."
Borat Subsequent Moviefilm premieres on Amazon Prime Video on Oct. 23.