'The Boys': Eric Kripke 'Would Love' to Adapt Herogasm's Missing Sex Scene in 'Diabolical'
TL;DR:
The Boys' take on Herogasm didn't include Homelander and Soldier Boy's sex scene.
Eric Kripke says he'd "love" to explore that moment in another season of Diabolical.
The Boys Presents: Diabolical Season 2 looks like a real possibility.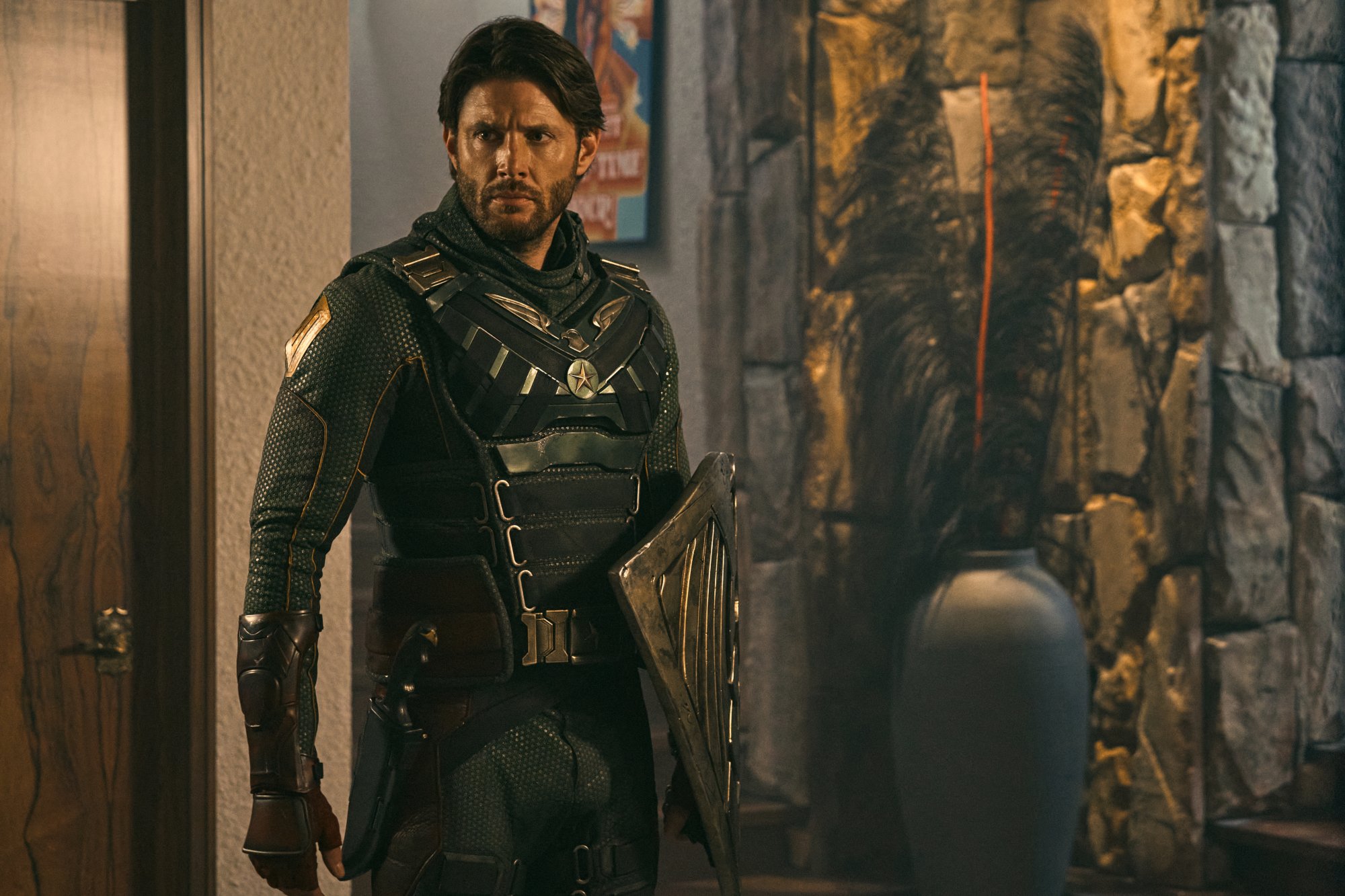 The Boys Season 3 recently aired its adaptation of the comics' Herogasm storyline, and it diverged quite a bit from the source material. Most notably, the show's take on the orgy doesn't feature Homelander and Soldier Boy's sex scene from the comics. Showrunner Eric Kripke had his reasons for excluding that moment. However, he would like to tackle it in another season of The Boys Presents: Diabolical.
'The Boys' adaptation of 'Herogasm' doesn't include a sex scene from the comics
RELATED: 'The Boys' Cast Kept Mistaking Lube for Hand Sanitizer During 'Herogasm'
The Boys showrunner Eric Kripke revealed he had no plans to tackle a Homelander (Antony Starr) and Soldier Boy (Jensen Ackles) sex scene long before season 3's "Herogasm" premiered. In fact, when he addressed questions about Herogasm during a Twitter Q&A, he admitted they weren't adapting that moment from the comics.
"There isn't going to be a Soldier Boy [and] Homelander having sex scene," Kripke admitted. He went on to confirm that Herogasm would still happen, telling fans, "You've earned it, you deserve it, and you're gonna get it."
The Prime Video series delivered on that front, and it saw Homelander and Soldier Boy engaged in an intense showdown instead of having sex. Speaking about the change from the comics more recently, Kripke told Entertainment Weekly that sticking to the source material would have interfered with their plans for Soldier Boy's character.
"We talked about it," Kripke recalled. "It just didn't track. It conflicted with a lot of the other things we were trying to do with Soldier Boy. So, unfortunately, that one had to go."
That said, fans shouldn't give up hope for a proper adaptation just yet. It sounds like we could still see The Boys' big sex scene brought to life — just in an animated Herogasm.
Eric Kripke would like to recreate that 'Herogasm' sex scene in 'The Boys Presents: Diabolical'
Although Herogasm's infamous sex scene is off the table for the live-action series, The Boys showrunner Eric Kripke hasn't written off the idea completely. As he told Entertainment Weekly, he'd happily create an animated version of it, assuming The Boys Presents: Diabolical gets greenlit for season 2.
"If we can get another season of Diabolical and we can get into our multiverse, I would love to see Soldier Boy and Homelander f***ing," Kripke said. "But it can't happen in this show, unfortunately, for reasons everyone understands."
It would certainly be easier to bring that to life using animation. It would also eliminate concerns about such a scene not aligning with Jensen Ackles' version of the character.
So, could an animated take on the Supes' orgy actually happen? It sounds like Kripke could get the chance to bring Herogasm to The Boys Presents: Diabolical after all.
Will Amazon green light 'Diabolical' for season 2?
If you're wondering if The Boys Presents: Diabolical Season 2 is really on the table, there's good news on that front. According to Vernon Sanders, head of global television at Amazon Studios, "There is absolutely the possibility." Sanders told Deadline that discussions about the series' future are already happening:
"We were excited when we launched. We thought there was a two-fold opportunity with Diabolical. One was to get The Boys fans excited about and get it out early. But we also wanted to see if there was another bite of the apple once the mothership show returned, and we are seeing real engagement and growth of the show there. We've definitely had conversations with the producers about what the next installment would look like."
With that in mind, The Boys fans could see a proper adaptation of the comics' Herogasm, sex scene included. With The Boys' season 4 renewal, that leaves plenty for fans to look forward to. And we've still got two chapters of the current outing left.
The Boys Season 3 is currently streaming on Prime Video.
RELATED: 'The Boys' Star Erin Moriarty Recalls Filming 'Herogasm': 'Never Been in a Room With So Many Dildos'