'The Boys': Eric Kripke Chalks Homelander's Arc up to 'White-Male Victimization and Unchecked Ambition'
The Boys always captured real-world political tensions, but fans of the Prime Video series are picking up on those themes more and more in season 3. Showrunner Eric Kripke responded to recent backlash about The Boys' getting political, noting why the writing is leaning further in that direction — and confirming suspicions about Homelander's inspiration.
'The Boys' showrunner comments on political themes in season 3
RELATED: 'The Boys' Actor Antony Starr Thinks America 'Is Definitely in Need of Some Therapy'
The Boys Season 3 premiered this June, bringing viewers back into the world of corrupt Supes — and proving there's no limit on how self-serving some of them can be.
The Prime Video series has always used characters like Homelander (Antony Starr) to comment on real-world issues. However, fans appear to be noticing the show's political commentary more in its latest batch of episodes. As journalist Ryan Broderick noted on Twitter, The Boys' subreddit found itself "in chaos" after fans expressed outrage over its inclusion of politics.
Showrunner Eric Kripke addressed the backlash, stating that The Boys has always been political, with former president Donald Trump influencing his take on Homelander from the beginning.
During an interview with Rolling Stone, Kripke admitted they might be slightly more forthright with their messaging in season 3. He attributed that to the current state of the world:
"He's always been a Trump analogue for me. I'll admit to being a little more bald this season than I have in past seasons. But the world is getting more coarse and less elegant. The urgency of our team's writing reflects that. We're angrier and more scared as the years go on, so that is just being reflected in our writing."
Kripke also delved deeper into Homelander's character, emphasizing that he's meant to capture a certain set of qualities more than a specific person.
Eric Kripke called Homelander a combination of 'white-male victimization and unchecked ambition'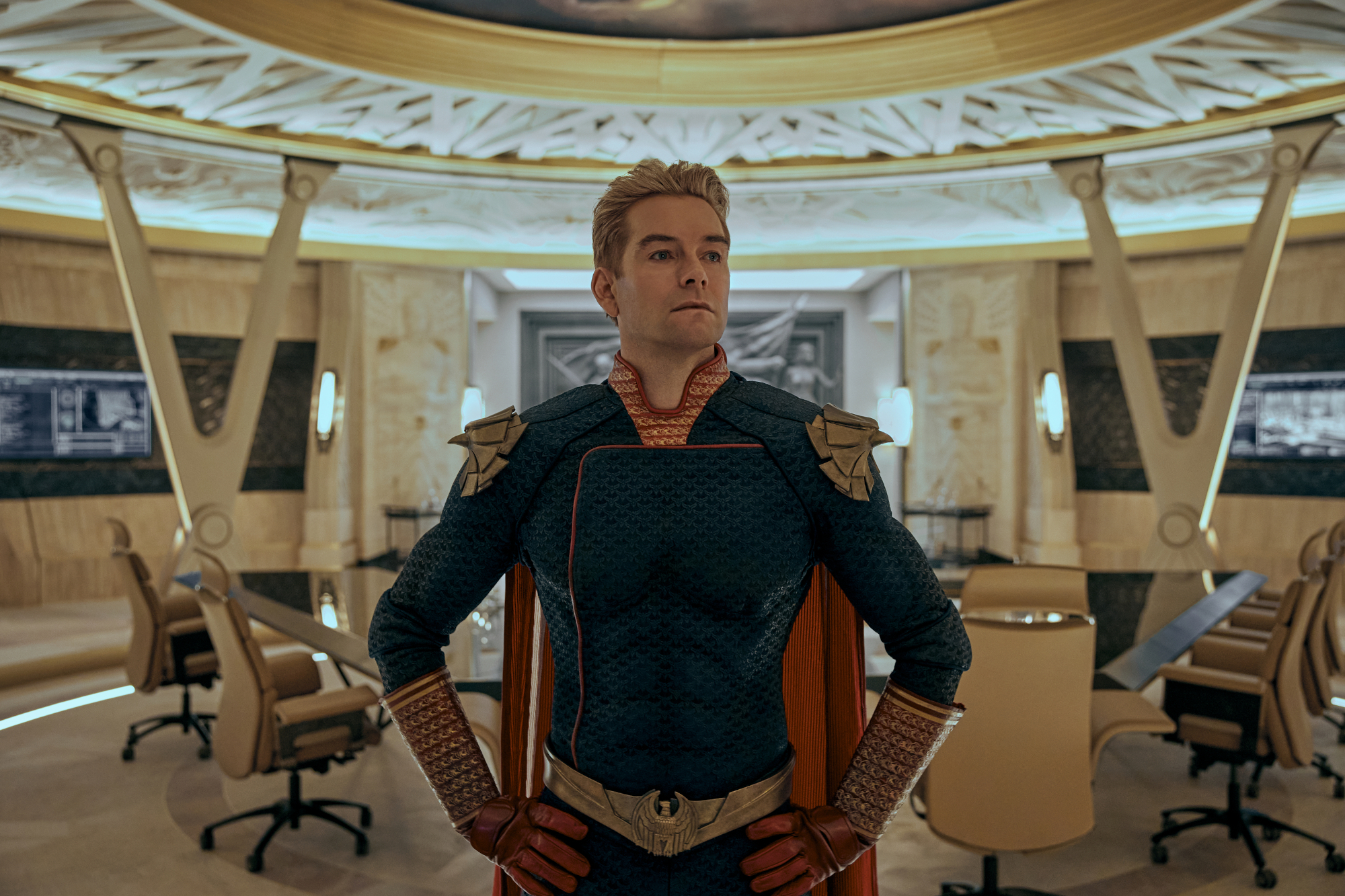 RELATED: 'The Boys' Star Karl Urban Says Season 3 Asks 1 Major Question: 'How Far Are You Willing to Go?'
During his conversation with Rolling Stone, The Boys' boss Eric Kripke dug further into Homelander's characterization. He noted the qualities the Supe exhibits, chalking his arc up to certain shortcomings:
"He has this really combustible mix of complete weakness and insecurity, and just horrible power and ambition, and it's just such a deadly combo. Of course he would feel victimized that people are angry that he dated a Nazi. All he ever wants is to be the most powerful person he can be, even though he's completely inadequate in his abilities to handle it. So it's white-male victimization and unchecked ambition."
Kripke went on to suggest that those attributes pertain to numerous public figures. He included Donald Trump in that sentiment but added that "it's a bigger issue than just Trump."
"The more awful public figures act, the more fans they seem to be getting," he explained. "That's a phenomenon that we wanted to explore, that Homelander is realizing that he can actually show them who he really is and they'll love him for it."
That realization could prove a problem in the future, as Kripke recently hinted at where Homelander's storyline is headed.
Eric Kripke promised Homelander will go 'full sociopath' in 'The Boys'
When it comes to Homelander's future in The Boys, Eric Kripke promised the character will only lean further into villainy.
Speaking with the Writers Guild America West, Kripke teased the direction of Homelander's story arc. It sounds like The Boys team will soon have their hands full trying to stop him.
"So the writers know — and Antony [Starr] is a big part of this as well — that, eventually, whenever the series reaches its climax, this guy is going to go full sociopath, and he has to be stopped before some kind of apocalyptic event," Kripke revealed. "That's what we're building towards."
That sounds like a worrisome development. And apparently, it all goes back to those "fans" Kripke mentioned. The showrunner revealed that Homelander will reach his breaking point when he "realizes he doesn't want love or approval from anybody."
It's unclear if that will happen in season 3, The Boys' newly greenlit season 4, or further down the line. We'll have to wait and see how Homelander's arc progresses.
The first five episodes of The Boys Season 3 are currently streaming on Prime Video.
RELATED: 'The Boys': Antony Starr Plans to 'Fast-Forward Through' Season 3's Herogasm Episode