'The Boys': Eric Kripke Teases Homelander Going 'Full Sociopath'
TL;DR:
The Boys Season 3 is pushing Homelander to his breaking point.
Showrunner Eric Kripke teased the Supe going "full sociopath."
Antony Starr wants viewers to love to hate his character.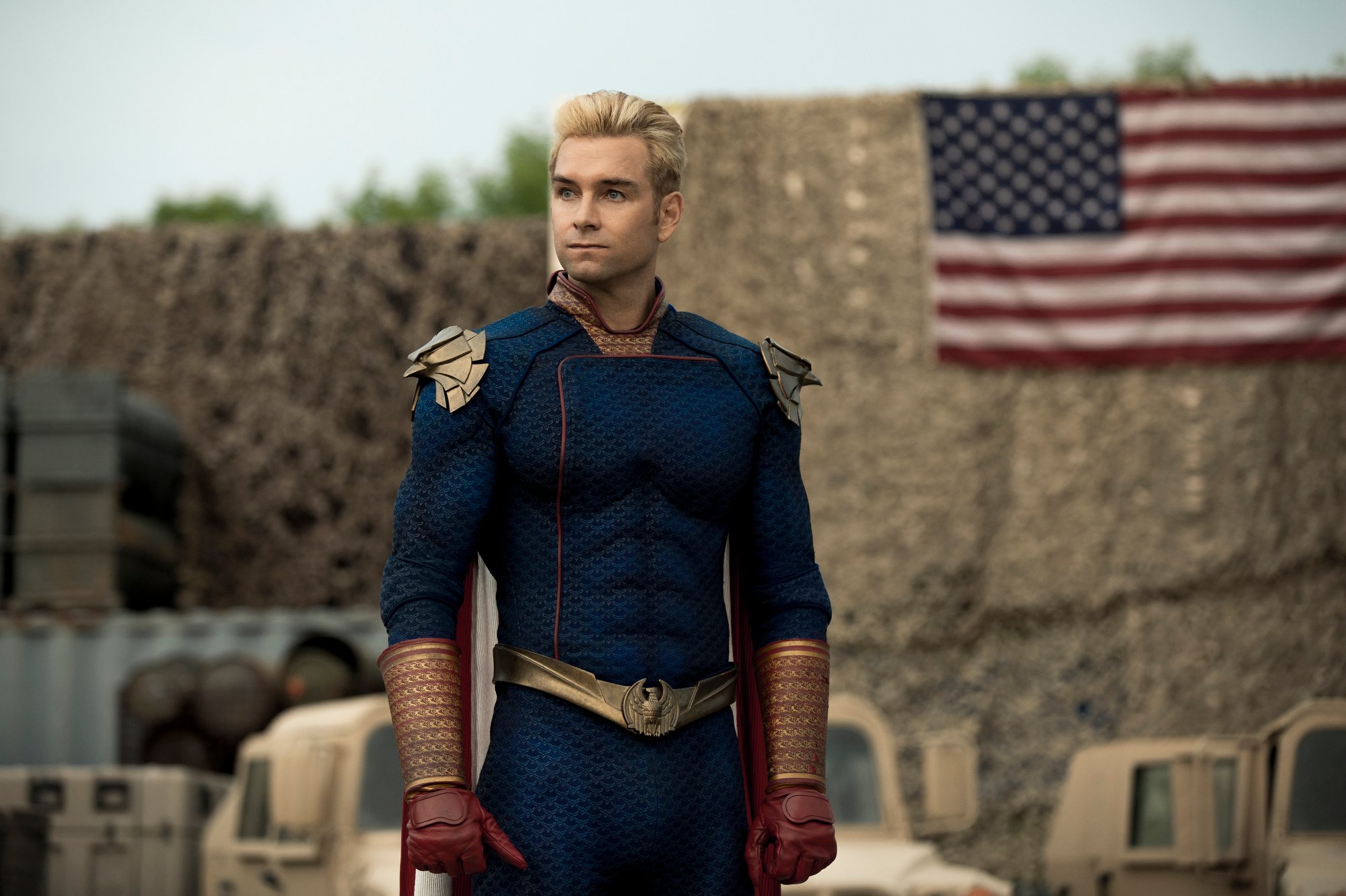 The Boys Season 3 is building to a massive showdown between Homelander (Antony Starr) and Soldier Boy (Jensen Ackles), but that's not all showrunner Eric Kripke has planned for the show's future. It seems the leader of The Seven could get even more dangerous as the Prime Video series continues. In fact, Kripke teased Homelander going "full sociopath" somewhere down the line.
Homelander is in a worrisome position in 'The Boys' Season 3
Homelander has always put self-interest before the good of others, but he veers further and further toward villainy as The Boys continues. Season 3 has put the character in a worrisome position. Not only does he have the ear of congresswoman Victoria Neuman (Claudia Doumit), but he's taken the reins at Vought International. That presents him with nearly unlimited power — and the ability to twist his actions into whatever narrative he pleases.
Right now, there are few things holding Homelander back from going fully over the edge. Stan Edgar (Giancarlo Esposito) certainly isn't keeping him in check any longer. However, the return of Soldier Boy — and Homelander's near-defeat during "Herogasm" — could
Of course, showrunner Eric Kripke promised he'll still "go full sociopath" at some point.
Eric Kripke says Homelander will eventually go 'full sociopath'
RELATED: 'The Boys' Actor Antony Starr Thinks America 'Is Definitely in Need of Some Therapy'
Those wondering if Homelander will get worse as The Boys moves forward can apparently look forward to a "full sociopath" moment. During an interview with the Writers Guild of America West, Eric Kripke promised that Antony Starr's character will get more extreme — and the outcome could be cataclysmic:
"You could track the meta-mythology of the series essentially as the slow unraveling of Homelander. So the writers know — and Antony [Starr, who plays Homelander] is a big part of this as well — that, eventually, whenever the series reaches its climax, this guy is going to go full sociopath, and he has to be stopped before some kind of apocalyptic event. That's what we're building towards."
It's unclear if Kripke plans to delve into that storyline during the current outing or in The Boys Season 4. However, he did point to what could serve as a catalyst. According to the showrunner, once Homelander loses "the adoration of fans and the approval and love of his son," all bets are off.
We'll have to wait and see if that happens sooner or later. In the meantime, Antony Starr is enjoying the reactions to his character's arc.
Antony Starr wants 'The Boys' fans to love to hate his character
As Eric Kripke points out, The Boys actor Antony Starr knows exactly where Homelander's arc is headed. And it seems the actor is enjoying making fans hate his character.
During an interview with The New York Times, Starr admitted he wants people to root against Homelander. However, he also wants them to enjoy the character's cruelty.
"I want people to revel in seeing him in pain," he said. "I want people to really enjoy watching him do horrible things with a little bit of a glint in his eye."
If that's what he's going for, he's succeeding in the role. Homelander has certainly elicited such reactions among fans. And if Kripke is to be believed, such responses will only get stronger.
The Boys Season 3 is currently streaming on Prime Video.
RELATED: 'The Boys' Boss Chalks Homelander's Arc up to 'White-Male Victimization and Unchecked Ambition'