'The Boys' Live-Tweets Its Own Supe Red Carpet on Emmy Awards Night
The Boys is known for its hilarious meta-marketing campaigns. And just in time for the 2021 Primetime Emmy Awards, the Amazon series created fake awards, TV shows, and a red carpet to get in on all the real-world Emmy excitement.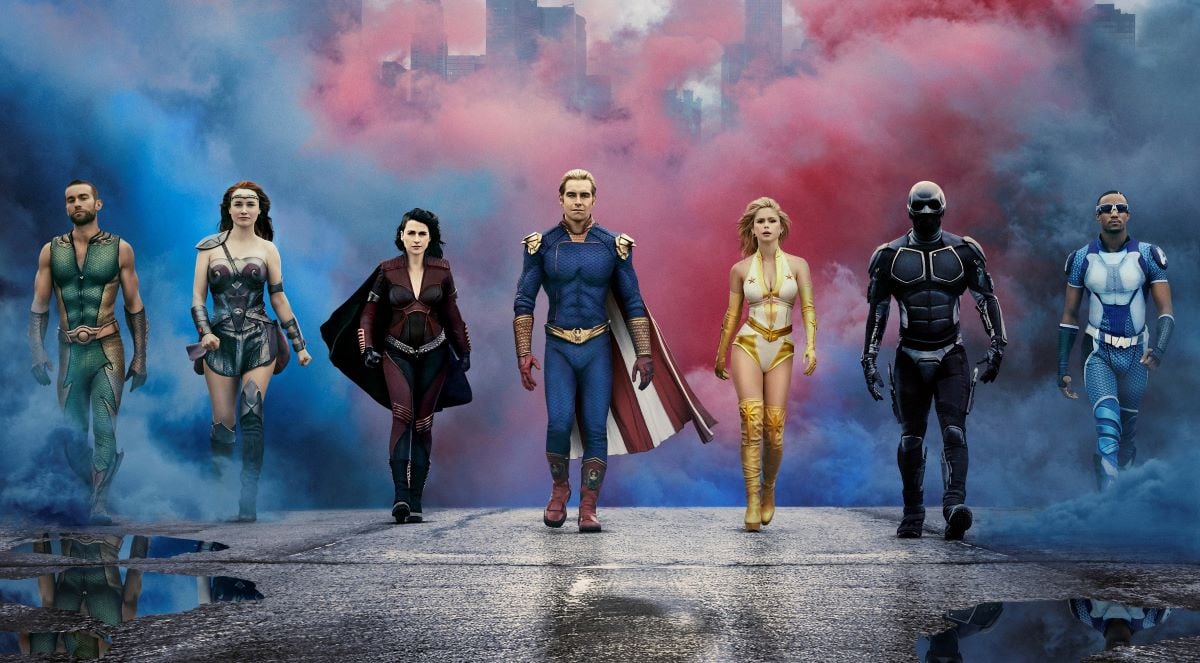 'The Boys' Season 2 earns five 2021 Emmy nominations
The Boys premiered in 2019 and earned one Emmy nomination for Outstanding Sound Editing for its first season. But the Amazon show is getting a lot more love from the Television Academy for season 2.
The provocative superhero series picked up five Emmy nominations in 2021, including one for Outstanding Drama Series and another for Outstanding Writing for a Drama Series.
Days before the 2021 Primetime Emmy Awards aired, showrunner Eric Kripke confirmed The Boys Season 3 finished filming. And he gave a shout-out to the entire cast and crew for making the show a success.
RELATED: 'The Boys' Twitter Account Trolls Fans with Season 3 Spoiler
The Supies are 'The Boys' version of the Emmys 
With potential Emmy wins looming, The Boys created its own version of the television awards called the Supies. And while announcing their big Supie win, the Vought International Twitter account highlighted Her Deepness, a (fake) documentary series about The Deep (Chace Crawford).
"We didn't score an Emmy nom, but as always, ALL Vought+ Originals won a Supie!" the Vought tweet reads. "Starting with this profoundly moving and surprisingly steamy doc. Explore The Deep's intimate relationship with one very special and flexible octopus in Her Deepness."
RELATED: 'The Boys' Showrunner Reveals Exciting New Details About Season 3
Vought's Twitter account also released promos for other meta shows, including Maeve of Easttown, obviously a play on Mare of Easttown, and Love, Sausage, a parody of Love, Simon.
Vought International live tweets a Supies red carpet
The Boys' Vought International Twitter account also live-tweeted a Supies red carpet to make Emmy night even more fun. "Welcome to our red carpet coverage of The Supies, the only television awards program airing tonight!" it tweeted. "We'll be threading our favorite looks from the Vought family.
Homelander (Antony Starr), the leader of The Seven, arrived at Supies wearing an American flag and a golden crown. "kicked off the evening with a patriotic show-stopping look designed by Vought International," the Vought tweet read. "The fabrics are all made in America by American laborers, paid in American dollars. God Bless!"
Queen Maeve (Dominique McElligott) was decked out like a bejeweled Victorian royal. A-Train (Jessie T. Usher) appeared in a custom suit and matching wings. Starlight (Erin Moriarty) shined in a sunny yellow flapper-style dress. And Black Noir (Nathan Mitchell) showed up in his regular costume, supposedly wearing a necklace underneath.
According to Vought, The Deep is now back in the fold. And he came to the Supies honoring a sea creature that is supposedly going extinct.
"Back from his temporary leave, it's The Deep!" Vought tweeted. "He walked the carpet dressed as a jellyfish, which is apparently an animal made extinct in recent years by underwater fracking! Ya learn something new every day (and news to us because Vought does not participate in such things)."