'The Boys Presents: Diabolical': Release Date, Trailer, and Everything We Know About the Spinoff
March is officially upon us, which means The Boys Presents: Diabolical will make its debut on Prime Video. The animated spinoff of The Boys promises to explore Supes and Vought International in a new way. Of course, the anthology series looks to keep the bloody, crude nature of the original as well.
So, when can fans expect The Boys Presents: Diabolical to debut on Prime Video? And what do we know about the spinoff so far?
'The Boys Presents: Diabolical' release date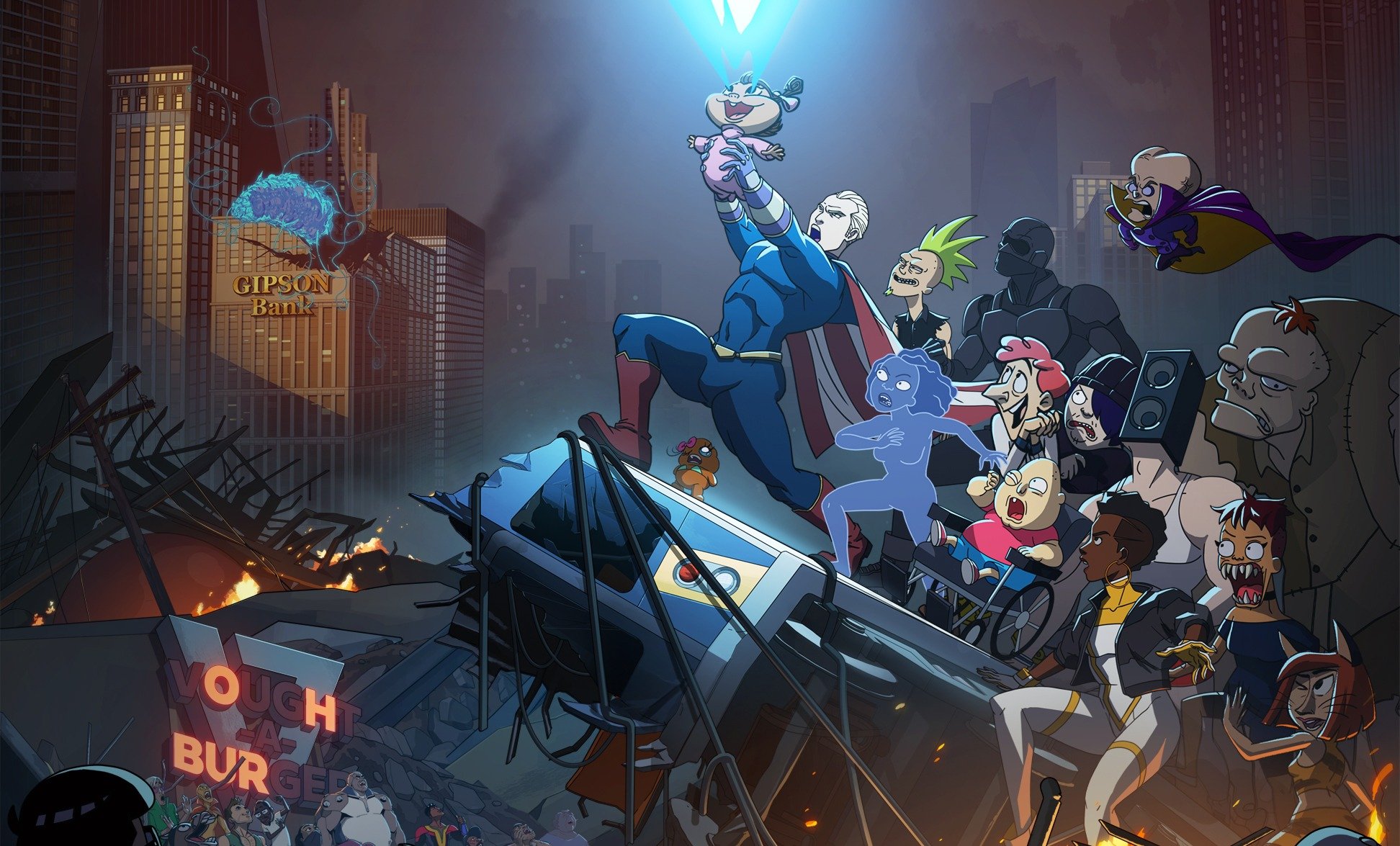 The Boys Presents: Diabolical has a release date of March 4, giving fans something to enjoy in the early months of 2022. With The Boys Season 3 coming out this summer, Diabolical should make a nice snack ahead of the main series' big return. Of course, the trailer and promotional images tease stories that are anything but appetizing.
According to Amazon Studios, the spinoff is comprised of eight "fun-size" installments. All of them will drop simultaneously on Prime Video on March 4. That means fans can power through them in one go or space them out to savor the new content.
As far as what viewers can expect from these mini-episodes, Amazon states they'll "reveal unseen stories within The Boys universe." And fans can look to the trailers to speculate about what those stories might include.
'The Boys Presents: Diabolical' trailers tease various storylines
Amazon has released two looks at The Boys Presents: Diabolical — one featuring a fast-food chain called Vought-A-Burger and another showcasing multiple storylines planned for the spinoff.
Amazon's Vought-A-Burger teaser highlights another money-maker for Vought International, promoting burgers and fries using the popularity of Supes. Like the Supes themselves, the restaurant is less appealing behind the scenes. But the concept of Little Super Meals still drags in customers. And viewers will get to experience Vought-A-Burger when the anthology series premieres as well.
The other trailer features a number of scenarios we'll see in Diabolical. Most notably, it gives some insight into what Homelander's (Antony Starr) animated counterpart will look like. (Spoiler alert: He's not much different than the live-action Supe.)
This footage also teases a substance labeled "Petero-Jel," which non-Supes seem to be using to enhance their appearances. It looks suspiciously like Compound V, so perhaps it will call back to the main series.
Who's in the voice cast of the Prime Video series?
The first footage of The Boys Presents: Diabolical offers plenty of reasons to be excited about the spinoff. However, the voice cast takes things to the next level. It features a huge list of recognizable names, some from the main show and others coming to the franchise for the first time.
Stars from The Boys who will also appear in the spinoff include Antony Starr, Giancarlo Esposito, Chace Crawford, Simon Pegg, Elisabeth Shue, and Aisha Tyler. Most seem to be tackling the same roles as in the live-action series, but Variety revealed that Pegg would voice Hughie Campbell instead of his father.
In addition to those stars, the first lineup of talent Amazon announced featured Awkwafina, Michael Cera, Don Cheadle, Kieran Culkin, Eliot Glazer, Jason Isaacs, Kumail Nanjiani, Justin Roiland, Seth Rogen, Andy Samberg, Ben Schwartz, Christian Slater, Kevin Smith, Nasim Pedrad, Kenan Thompson, and Youn Yuh Jung.
More talent confirmed for The Boys Presents: Diabolical cast includes: Nicole Byer, John DiMaggio, Caleb McLaughlin, and Retta.
Viewers are in for a treat with an impressive voice cast when Diabolical arrives. So, what else do we know about the series?
'The Boys' spinoff features talented writers and directors
Those wondering if The Boys Presents: Diabolical will live up to the original series can rest easy: early reviews dropped, earned the spinoff a Fresh score on Rotten Tomatoes. Critics suggest that Diabolical contains all the best elements of the main show — although Variety's Jordan Moreau reveals it isn't "required viewing."
Because Eric Kripke is developing the spinoff, it's probably no surprise it maintains what fans love about The Boys. As for who's directing and writing the series, Amazon recently shared the full list of episodes. It also revealed with the talent behind each and what inspired the animation:
"Laser Baby's Day Out"
Writers: Evan Goldberg & Seth Rogen
Directors: Crystal Chesney-Thompson and Derek Thompson
Animation Style: Inspired by classic American animated shorts.

"An Animated Short Where Pissed-Off Supes Kill Their Parents"
Writers: Justin Roiland & Ben Bayouth
Director: Parker Simmons
Animation Style: Inspired by Justin Roiland's aesthetic.

"I'm Your Pusher"
Writer: Garth Ennis
Director: Giancarlo Volpe
Animation Style: An homage to the original The Boys comics.

"Boyd in 3D"
Writer: Eliot Glazer
Story by: Eliot Glazer & Ilana Glazer
Director: Naz Ghodrati-Azadi
Animation Style: Inspired by French comics and animation.

"BFFs"
Writer: Awkwafina
Director: Madeleine Flores
Animation Style: Inspired by Saturday morning animation imports.

"Nubian vs Nubian"
Writer: Aisha Tyler
Director: Matthew Bordenave
Animation Style: Anime inspired

"John and Sun-Hee"
Writer: Andy Samberg
Director: Steve Ahn
Animation Style: Inspired by Korean drama and horror.

"One Plus One Equals Two"
Writer: Simon Racioppa
Directors: Jae Kim and Giancarlo Volpe
Animation Style: A darker take on American superhero animation.
Needless to say, fans have plenty to look forward to when The Boys Presents: Diabolical hits Prime Video. Catch it on the platform starting March 4.
RELATED: Jensen Ackles Fought to Join 'The Boys' Cast: 'Sony Was Talking to Some Much Bigger Names'