'The Boys' Season 2 Finale: Fan Theories on Who's Going to Die and Homelander's Bloody Face
Only one more day until The Boys Season 2 finale drops on Amazon, and it's going to be a blood spatter-filled frenzy.
No one knows if we'll finally learn who's behind the head explosions or Black Noir's current status, but a TV finale showdown is guaranteed. Kimiko wants to knock Stormfront's face off, Butcher and Co. want to expose Vought, and The Seven are trying to quell Supe hate for a takeover.
People will die, but who? Starlight and Maeve have big coup energy while The Boys are about to go on another rescue mission. Any way you slice it, they have to square up against the Supes. Fans are guessing who won't make it out of the season alive based on hints, evidence, story arcs, and that blood on Homelander's face.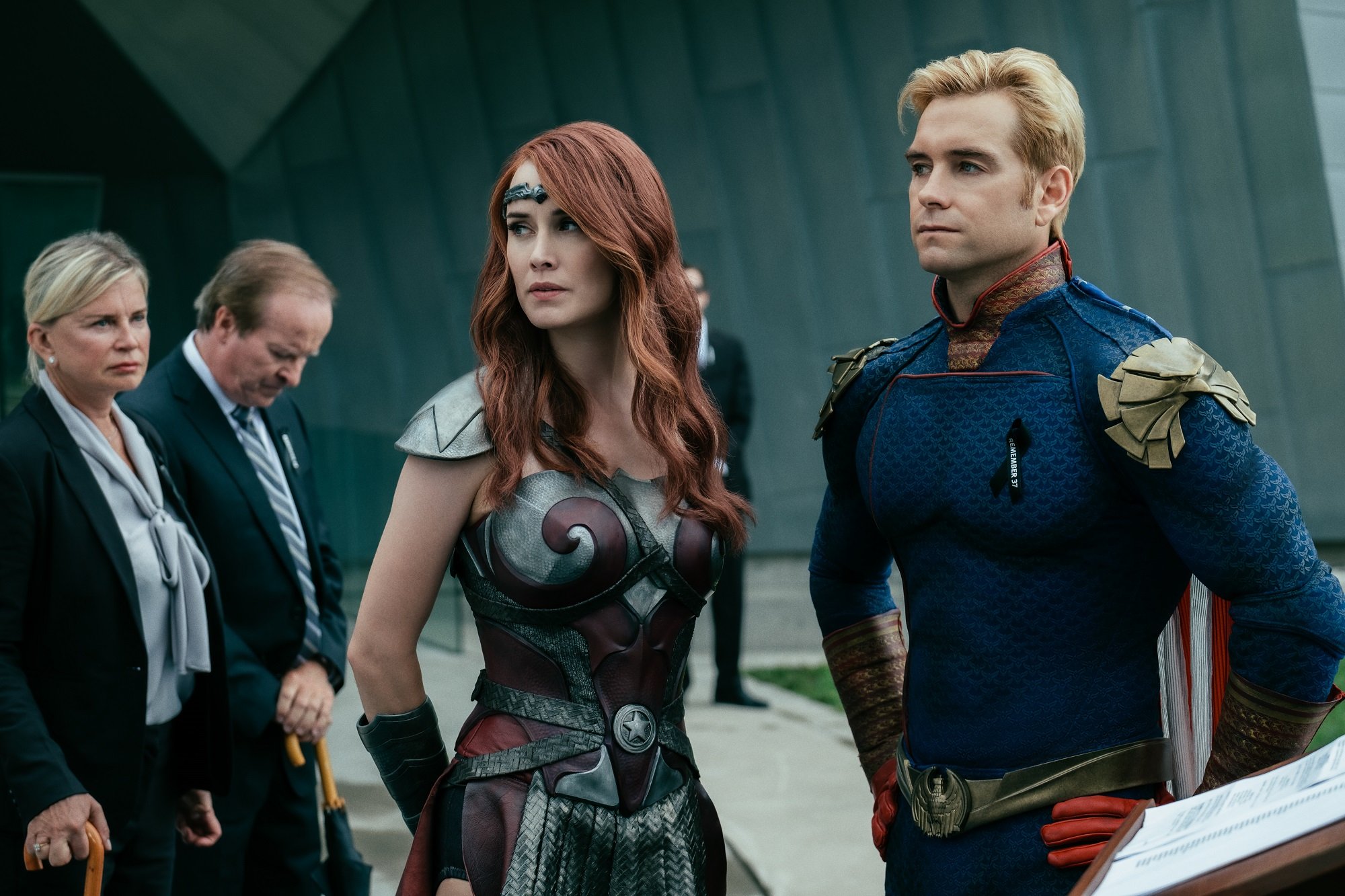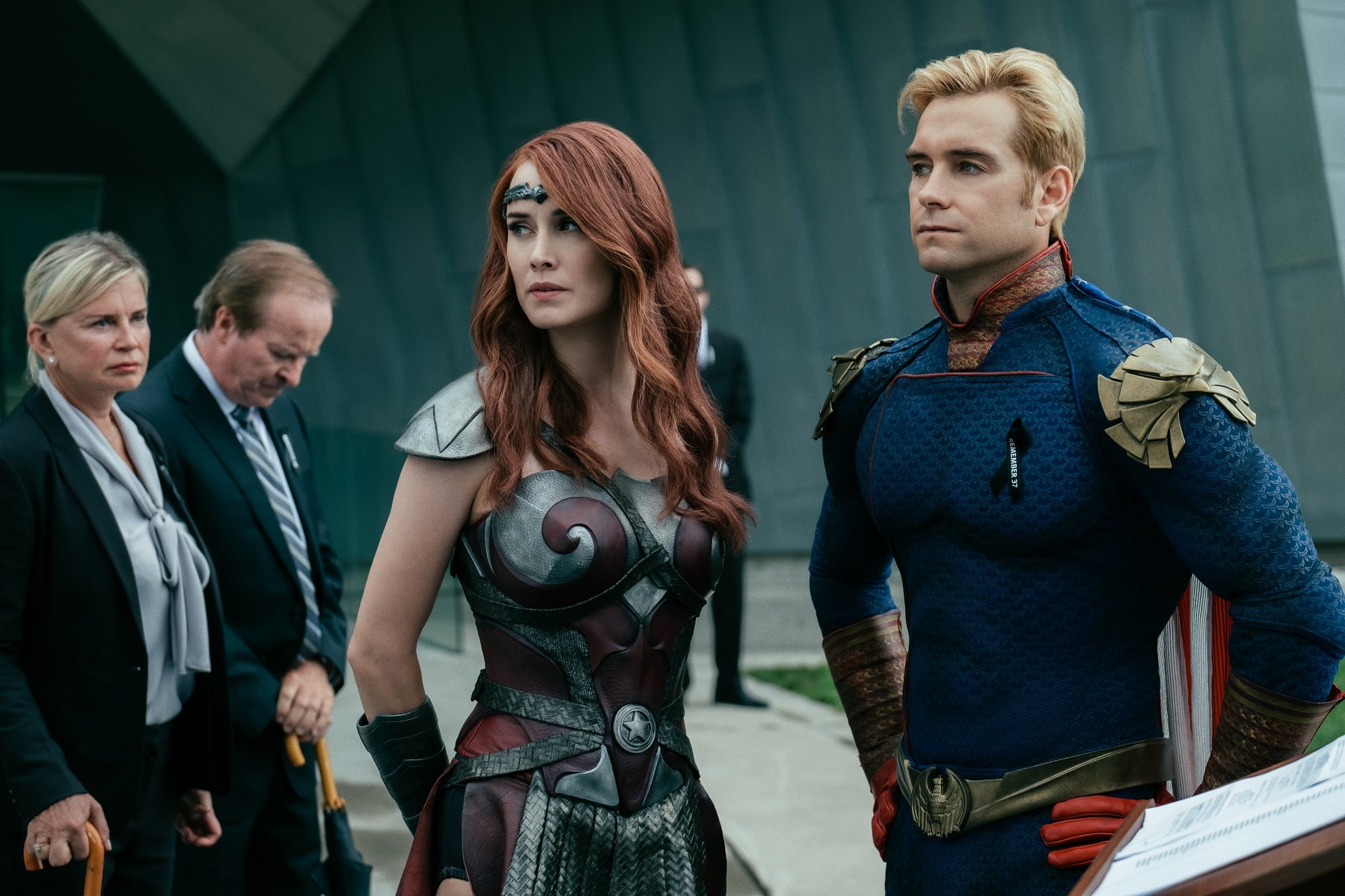 Becca
There are some who may doubt that Becca is in harm's way. The trailer revealed that she runs to Butcher's safe house for help in getting Ryan back from Homelander. He agrees and they mount up, but she comes with them. How do we know?
There's a photo on this Instagram account that shows Butcher, Becca, and Ryan in the woods together. Is it Stormfront they're running from? Some fans think Becca will be killed intentionally by Stormfront or unintentionally by Homelander while trying to protect her son.
Stormfront
Peep the episode 8 regular trailer and preview clip and you'll notice that Stormfront faces off against Kimiko, Starlight, and Maeve. Remember the girl power dynamic Vought wanted? It's happening in a distorted fight-to-the-death way.
Fans noticed that in one of the episode 8 shots, Maeve socked Stormfront in the face and knocked one of her eyes out. This is similar to the comic book series where The Female (Kimiko in the TV show) ripped out Stormfront's eye during a fight.
Some viewers believe Starlight will absorb Stormfront's lightning zaps, Kimiko will unleash her vengeance, and Maeve will use her strength to weaken and kill the Supe. One YouTuber spoiler channel shared that the epic fight scene is mostly The Boys versus Stormfront with a little bit of Homelander.
Expect big surprises, including one that may involve Homelander or Ryan blasting Stormfront to bits.
Queen Maeve
Another guess is that Homelander or Stormfront will best Maeve and kill her for betraying the team. This would also be similar to the comic books where Maeve saved Starlight from Homelander, ultimately sacrificing her own life. In that version, he ripped her head off.
That could explain the blood on Homelander's face but it may belong to one of the guards he enlisted at the cabin to look after Ryan. YouTube and Reddit users seem to think the story may follow this arc, but others note that the TV series veers away from the comics.
It could be one of The Boys…
Early whispers about the last episode say that there's an emotional moment with Butcher. Could that mean someone close to him dies? Frenchie? Terror? Mother's Milk? Becca?
There are also rumors that Homelander has a tender moment with Ryan that shows a different side of him. When he floats down to the ground with that look of pity, some viewers assume it's Ryan or Stormfront he's gazing at—dead or alive. Fans should expect to see the lead Supe go full psychopath in season 3 after things are set up with this season finale.