'The Boys' Season 2 Finale: Showrunner Eric Kripke Explains Stormfront's Current Status
Season 3 of The Boys can't come fast enough after the way things just ended for the Supes and the Boys.
Though some loose ends were tied up, other storylines were left flapping in the wind until the next installment. Questions about the Church of the Collective, Victoria Neuman, and Ryan are on viewers' minds, but some are also wondering about Aya Cash's Stormfront.
Showrunner Eric Kripke weighed on her current status and whether she's out of the woods.
[Spoiler alert: This article contains spoilers for The Boys Season 2 finale]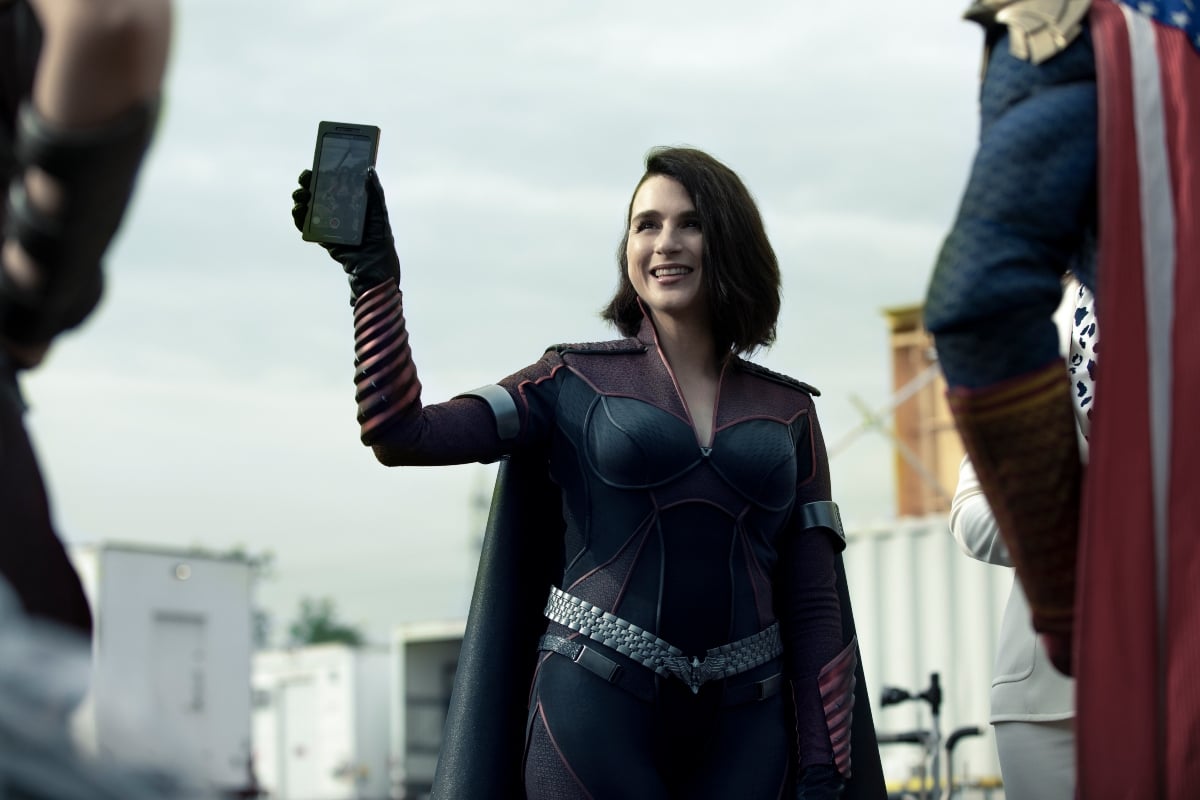 Homelander hinted at Stormfront's condition
Fans who have already watched the finale witnessed the three-woman beatdown delivered to Stormfront by Maeve, Starlight, and Kimiko. Her attempt to escape that whooping resulted in a confrontation with Butcher, Becca, and an unassuming but powerful Ryan.
He laser-beamed her into toast, leaving her with missing limbs and hallucinations about life in Germany. There in the forest, Homelander landed beside her and expressed sadness and solemnity over her near lifeless state.
Later at a press conference toward the end of the episode, he revealed that Stormfront was sent to an undisclosed location. Was that purposely ambiguous or a Vought cover-up?
RELATED: 'The Boys' Showrunner Eric Kripke on [Spoiler's] Death: 'I Would Have Kept Him Alive for Longer'
Stormfront is alive but…
Kripke told TV Guide that Stormfront received her just desserts for being an evil Nazi and stated that she is indeed still alive. Though he shared the writers' new nickname for her, he wouldn't confirm whether she'll appear in season 3.
"I'm not going to say one way or another, but I will confirm that she is not dead and that she is now officially Stumpfront," he said. "She's just this kind of living torso. She cannot regenerate. The strength of Ryan's lasers — which were surprisingly powerful — are way more powerful than even Homelander's when Ryan gets angry enough."
When speaking to The Wrap, Kripke brought up Stormfront's genetic longevity when discussing her fate. "And remember, she ages very slow, so she's got a long time to be living in this messed up state. So I think she richly deserves that."
Kripke said Ryan's hand in her destruction was intentional
For viewers, it may have felt like Kimiko would have been the most likely candidate to rip Stormfront to shreds. The Boys writing team wanted to ensure she got some form of revenge.
Kripke explained to The Wrap there was another endgame dynamic writers had to consider for Stormfront's arc, and that was her push to become Ryan's stepmom.
He said that they set up the conditions early in the season that would force Ryan to choose to between two families, with one that could essentially affect the fate of the world in a catastrophic way. They weighed Stormfront's impact on his life and storyline.
"Because if she raises him, a kid that powerful would be like a super Nazi. That's a bad, bad deal. So you know, that was a big part of the story too. And then having Ryan react the way he reacted."
Kripke noted how Ryan (who's just a little kid) lost his temper with his father in episode 3 and was protective of his mom. As a child who's operating on emotion, it did not bode well for the ill-intentioned Stumpfront.