'The Boys' Season 3: Antony Starr Says Homelander Becomes 'Homicidal Maniac' in New Episodes
From the beginning, Prime Video's The Boys has demonstrated Homelander's (Antony Starr) unpredictability. Things won't be much different for the egotistical Supe, who Starr teases will go over the edge in The Boys Season 3. Here's what we know about what's to come for Homelander, plus details about when to watch new episodes.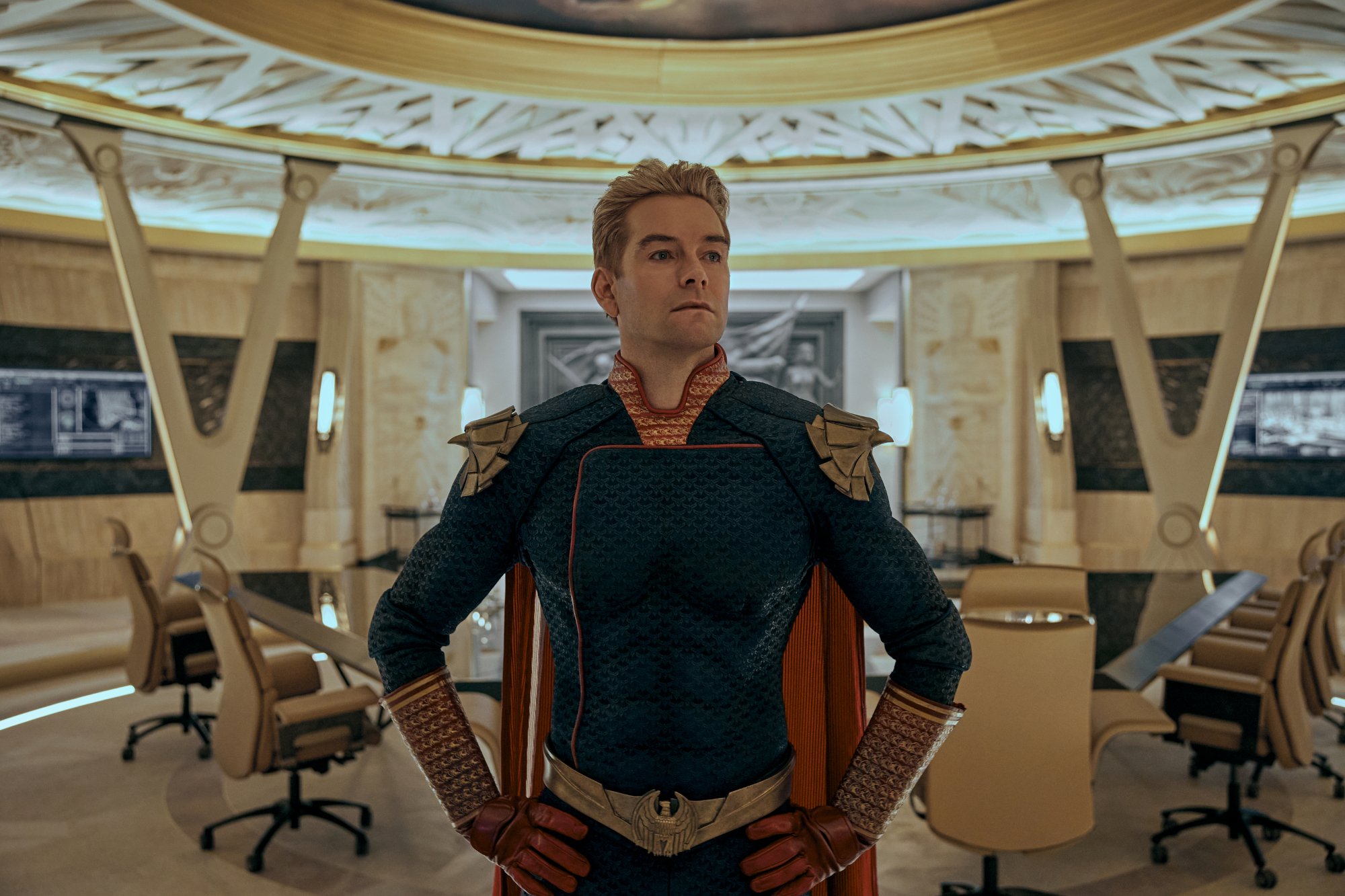 Homelander loses Nazi girlfriend and his son at the end of 'The Boys' Season 2
In the season 2 finale, Homelander's son Ryan Butcher (Cameron Crovetti) lasers off his Nazi girlfriend Stormfront's (Aya Cash) limbs. Stormfront's injuries leave her in a dazed state on the ground and muttering in German. Later, the leader of The Seven announces Stormfront has been incarcerated.
When Billy Butcher (Karl Urban) takes Ryan back from Homelander, Maeve (Dominique McElligott) forces him to let them go using the footage of Homelander abandoning the passengers in the plane from season 1 as leverage. Frustrated, the Supe goes into a rage and repeats: "I can do whatever I want!"
Antony Starr describes Homelander as a 'homicidal maniac' in 'The Boys' Season 3
The Boys writer and producer Eric Kripke gave Starr some guidance about Homelander in season 3 of the Prime Video series. "There are two words that Eric has said to me about season 3," Starr told Collider.
"His description for Homelander Season 3 was, 'Two words, homicidal maniac.' That's all I know."
Starr elaborated, mentioning how he's "looking forward" to seeing Homelander "off the leash." He continued:
"It'll be really fun, just seeing him go unhinged and exact revenge." Starr teased more specifically which Boys character should watch their back in the new season.
"If you look at the end of season 2, some people should be more scared than others, for sure," he said. "William Butcher should always have an alarm bell ringing in his head, and I think some other people have firmly put themselves in the line of fire for season 3. It should be a lot of fun."
'The Boys' fans think Homelander will 'unravel' in new episodes
After dissecting the trailer for The Boys Season 3, many fans on Reddit can see Homelander coming undone in new episodes of the Prime Video series. "I think it's going to be Homelander slowly unraveling this season," wrote one Redditor.
"The sounds of the camera get more intense during this scene not only to emphasize the tension that HL brings into every scene but also because the POV switched to how John's super hearing makes every camera flash noise way louder than it is to normal humans."
"I hope Homelander f***ing snaps this season," added another Reddit user. "They've been beating him with blackmail up until now, what if he just decided to not care anymore and goes on a rampage." Fans will finally get to see new episodes of The Boys on June 3.
'The Boys' Season 3 episode release schedule
Season 3 of The Boys will consist of eight episodes. The first three will drop on Prime Video on Friday, June 3. After that, one new episode will drop weekly until the finale on July 8.
Catch up on The Boys on Prime Video.
For more on the entertainment world and exclusive interviews, subscribe to Showbiz Cheat Sheet's YouTube channel.
RELATED: 'The Boys': 5 Burning Questions We Need Answered in Season 3