'The Boys' Season 3: When Are New Episodes on Prime Video? Episode 7 Release Date and Time
The Boys Season 3 Episode 6 finally delivers an adaptation of the comics' "Herogasm" storyline, but the latest installment goes beyond that. "Herogasm" also features the first showdown between Homelander (Antony Starr), Soldier Boy (Jensen Ackles), and Butcher (Karl Urban) — and judging by the outcome, fans have more to look forward to when the release date for The Boys Season 3 Episode 7 arrives.
[Warning: Spoilers ahead for The Boys Season 3 Episode 6, "Herogasm."]
'The Boys' Season 3 Episode 6 ends with a clash between characters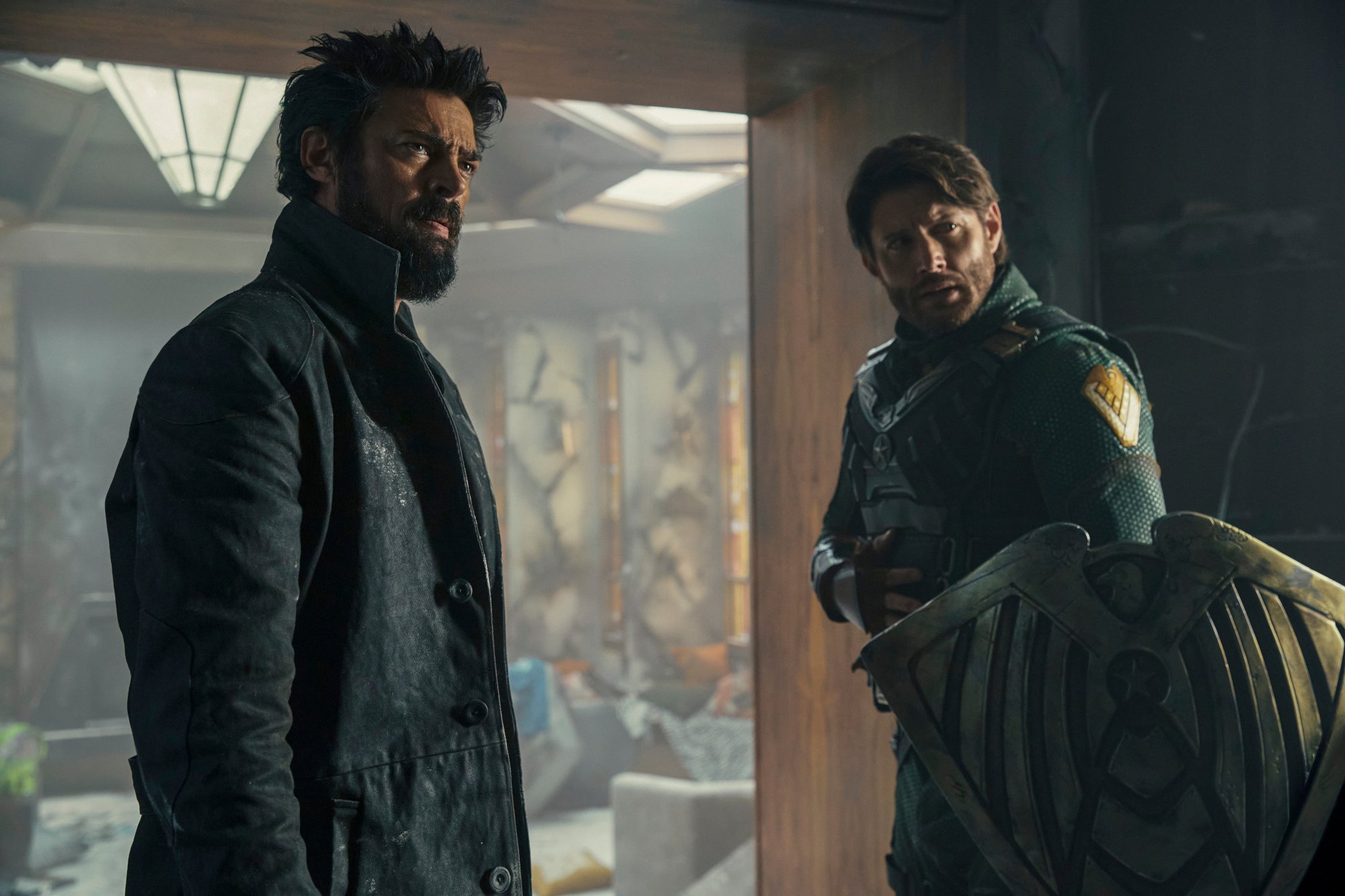 RELATED: 'The Boys': Antony Starr Plans to 'Fast-Forward Through' Season 3's Herogasm Episode
As its title suggests, The Boys Season 3 Episode 6 features the Prime Video series' much-anticipated take on Herogasm. However, that's far from the only noteworthy development to take place in the latest chapter. The latter half of "Herogasm" will have fans eager to reach the release date for The Boys Season 3 Episode 7. That's because it concludes with a clash between the show's major characters.
That's right, fans finally get to see Soldier Boy and Butcher take on Homelander. And although Homelander gets away from his enemies in one piece, it's a close call. Their interaction promises another showdown before season 3 comes to a close. That's not to mention the other tensions ramping up as we head into the last two chapters of season 3.
Hughie (Jack Quaid) and Starlight (Erin Moriarty) also have a bit of a falling out during "Herogasm," the result of Hughie taking Temp V. His true reasons for wanting its power come out this week — and they're enough to leave Starlight questioning where they stand.
Additionally, A-Train (Jessie Usher) has another run-in with Gunpowder (Sean Patrick Flannery). That ends fatally for Gunpowder, leaving fans to wonder what's next for A-Train's storyline. It wouldn't be the first time he's gotten away with murder, so he might not face too many consequences.
We'll find out where all the Supes stand when The Boys Season 3 Episode 7 hits Prime Video. When is its release date, and how many more installments can we expect from here?
When do new episodes of 'The Boys' Season 3 come out? Episode 7 release date and time
RELATED: Jensen Ackles Says Jeffrey Dean Morgan Wanted Him to Spoil 'The Boys' Season 3
With many of the characters at odds with one another, tensions are high heading into The Boys Season 3 Episode 7 — so, when is its release date?
New episodes of The Boys Season 3 drop on Prime Video every Friday around 12 a.m. GMT. Because of the time difference, installments typically arrive on Thursday night in the U.S. That's when fans can start looking for each chapter on the platform. They can also find the full release schedule for The Boys Season 3 below:
Episodes 1-3: June 3
Episode 4: June 10
Episode 5: June 17
Episode 6: June 24
Episode 7: July 1
Episode 8: July 8
With just two episodes left, the third season is likely to ramp things up from here. There may not be as much debauchery in the final chapters, but they're sure to feature plenty more action. After all, Butcher and Soldier Boy aren't done with Homelander yet.
What to expect when episode 7 hits Prime Video
Without a preview for The Boys Season 3 Episode 7, it's hard to say exactly what viewers can expect on its release date. However, we can make a few guesses about where things are headed. For one, Soldier Boy is still hunting the members of his old team. That includes Black Noir (Nathan Mitchell), who disappeared after the other Supe's return. Whether they'll reunite next week or in the finale remains to be seen, but it seems inevitable that they will.
Homelander's likely to be on a rampage after his defeat as well, especially taking Starlight's announcement into account. The end of episode 6 sees her quitting the Seven after telling all of her followers that Soldier Boy is back — something Homelander has vehemently denied. That will create issues for Vought, and it could push Homelander closer to breaking point.
According to IMDb, the title of episode 7 is "Here Comes a Candle to Light You to Bed." That's a line from the nursery rhyme "Oranges and Lemons." How it relates back to The Boys is anyone's guess, but we'll find out when the next installment comes out.
The Boys Season 3 Episode 7 arrives on Prime Video on Friday, July 1.
RELATED: 'The Boys' Boss Chalks Homelander's Arc up to 'White-Male Victimization and Unchecked Ambition'